Melania Trump snaps festive Christmas selfie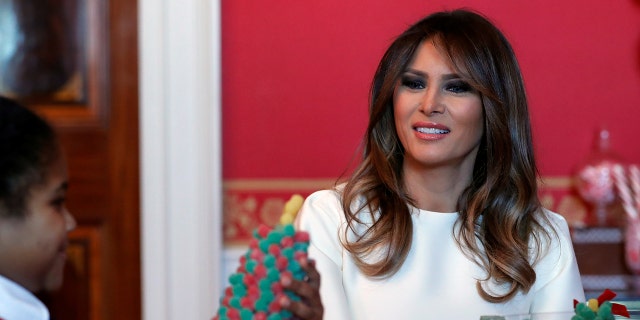 NEWYou can now listen to Fox News articles!
The first lady snapped a festive selfie as she celebrates Christmas at the "Winter White House."
Melania Trump posted the photo of herself on social media using a Christmas Snapchat filter that showed her wearing a Santa hat with illuminated, flying reindeer and the caption #MerryChristmas.
The first family is celebrating Christmas at their Mar-A-Lago estate in Florida.
The Santa-hat selfie -- which has since had thousands of retweets -- followed a slew of images showing the first couple getting in the Christmas spirit. The White House earlier released a photo on Christmas Eve of President Trump and the first lady making phone calls to children across the U.S. as part of the traditional NORAD tracking of Santa's trip around the globe.
"POTUS and I had fun helping children track Santa tonight," the first lady tweeted. "Wishing everyone a wonderful Christmas Eve."
Late Sunday night, the president also took some credit for bringing back the phrase, Merry Christmas.
"People are proud to be saying Merry Christmas again," the president tweeted shortly before 10 p.m. EST. "I am proud to have led the charge against the assault of our cherished and beautiful phrase. MERRY CHRISTMAS!!!!!"
Trump released a Christmas message on Monday as well, posting a video to Twitter in which he said: "In the season of joy, we spend time with our families, we renew the bonds of love and goodwill between our citizens and most importantly we celebrate the miracle of Christmas.
"For Christians we remember the story of Jesus, Mary and Joseph that began more than 2,000 years ago. As the book of Isaiah tells us, for to us a child is born, to us a son is given and the government will be on his shoulders and he will be called Wonderful Counselor, Mighty God, Everlasting Father, Prince of Peace. This good news is the greatest Christmas gift of all, the reason for our joy and the true source of our hope."
The president tweeted again Monday evening.
"I hope everyone is having a great Christmas, then tomorrow it's back to work in order to Make America Great Again (which is happening faster than anyone anticipated!"
MELANIA MOCKED OVER WHITE HOUSE CHRISTMAS DECORATIONS
The Trumps received a standing ovation upon their arrival at the Christmas Eve service at The Episcopal Church of Bethesda-by-the-Sea.
A recent Gallup poll revealed that Melania Trump's favorability has increased 17 points since January to 54 percent.