McCarthy announces run for House speaker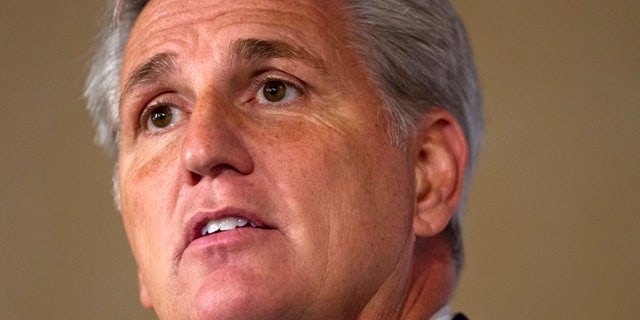 NEWYou can now listen to Fox News articles!
House Majority Leader Kevin McCarthy, as widely expected, announced Monday that he will run for speaker as John Boehner prepares to step down at the end of next month.
"I have decided to run for Speaker of the House and graciously ask for your support," he said in a statement.
Watch McCarthy on Fox News' "Special Report with Bret Baier" at 6 p.m. ET on Monday.
McCarthy, R-Calif., made the announcement three days after Boehner stunned Washington by announcing his resignation. Even before Monday's statement, McCarthy was seen as the heavy favorite to replace the Ohio Republican in the top post, though he faces a challenge from Florida Republican Rep. Daniel Webster.
McCarthy indicated he's interested in patching up the divisions in the caucus.
"We can't ignore the differences that exist, but we can and must heal the divisions in our conference with work, time, and trust," he said, adding that's why he's decided to run. "... I am running to be your Speaker because I know that the People's House works best when the leadership you elect listens to members and respects the legislative process entrusted to committees."
He added that he's also "sensitive to what is happening outside of the Beltway."
"If elected Speaker, I promise you that we will have the courage to lead the fight for our conservative principles and make our case to the American people. But we will also have the wisdom to listen to our constituents and each other so that we always move forward together," he said. "I look forward to fighting with you for our shared conservative principles."
McCarthy released the statement shortly after delivering a foreign policy speech in which he denounced President Obama's foreign policy, saying the U.S. has "lost the respect of allies and adversaries alike."
McCarthy, who spoke after the president addressed the United Nations, said the U.S. should consider putting some special forces on the ground in Iraq to help coordinate airstrikes against Islamic State militants.
He also backed a no-fly zone in northern Syria to stem the flow of refugees, and provide a space for Syrian rebels to fight the militants -- steps the White House has so far opposed.
"We must wage this war against radical Islam as if our life depended on it. Because it does," said McCarthy, who also reiterated his criticism of the international nuclear deal with Iran.
"We have lost the respect of allies and adversaries alike. We have isolated Israel while emboldening nations like Iran. We let North Korea threaten South Korea, Russia encroach on Ukraine and now China is asserting a greater sphere of influence," McCarthy said. "Wherever we look, the world is less safe and less secure because America is less engaged."
The Associated Press contributed to this report.