McCain makes secret trip to Syria as US debates new plans to fight Islamic State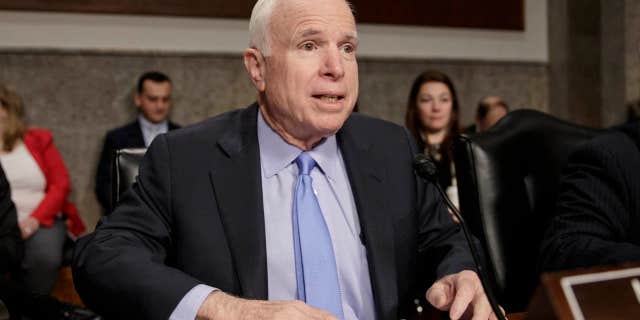 Sen. John McCain made a secret trip to northern Syria to visit U.S. military officials and Kurdish fighters and to discuss the campaign for defeating the Islamic State, his office said Wednesday.
McCain, R-Ariz., made the visit to the war-torn country as U.S.-coalition forces prepare for a major battled to oust militants from ISIS' de facto capital of Raqqa. A statement from the senator's office did not give the dates of his travel, saying only that he made the visit last week.
"Senator McCain's visit was a valuable opportunity to assess dynamic conditions on the ground in Syria and Iraq," the statement reads. It says the president "has rightly ordered a review of U.S. strategy and plans to defeat" the Islamic State group and McCain looks forward to working with the administration and military leaders "to optimize our approach."
Officials told The Wall Street Journal that the visit was arranged with help from the U.S. military. It comes as the Trump administration debates plans for an increased military campaign against ISIS. President Trump had previously asked the U.S. military to present him with a new plan to destroy ISIS. The report is supposed to be finished by the end of the month.
U.S. officials familiar with the visit told the Journal that McCain traveled to Kobani, which sits along the Syria-Turkey border and has been controlled by Kurdish forces since 2012.
McCain, the chairman of the Senate Armed Services Committee and one of Trump's biggest critics, recently declared Trump's administration was in disarray and expressed concern over how national security decisions were being handled.
During a speech Friday at the Munich Security Conference, McCain delivered a withering critique of Trump's worldview as he lamented a shift in the U.S. and Europe away from the "universal values" that forged the Western alliance 70 years ago.
McCain on Monday welcomed Trump's selection of Army Lt. Gen. H.R. McMaster to be his national security adviser, calling the pick an "outstanding choice."
McCain first visited Syria in 2013 to meet with leaders of the Free Syrian Army, which is backed by U.S. forces and is the opposition to Syria's President Bashar al-Assad. The trip is believed to be his first since then, according to The Wall Street Journal. He's also believed to be the first U.S. lawmaker to travel to Kurdish-controlled region of Syria since the U.S. made it its base for special-forces operations.
It's unusual, however, for members of Congress to visit Syria, which has no diplomatic relations with the United States. Rep. Tulsi Gabbard, D-Hawaii, generated a backlash when she visited Syria in January and met with Assad. Gabbard, a member of the House Armed Services Committee, is an outspoken opponent of what she's called "our counterproductive regime change war" in Syria.
But Rep. Adam Kinzinger, R-Ill., an Air Force veteran who served in Iraq and Afghanistan, said Gabbard gave Assad credibility by meeting with him.
Lawmakers have accused the Assad government of war crimes and even genocide as the number of people killed during the violence in Syria continues to mount. The war, now in its sixth year, has killed hundreds of thousands of people, contributed to Europe's worst refugee crisis since World War II and given the Islamic State group room to grow into a global terror threat.
The Associated Press contributed to this report.