Massachusetts primary elections a test for incumbents across the state: A look at the races to watch
NEWYou can now listen to Fox News articles!
It's primary day in Massachusetts, and several races have the potential for upsets and fresh faces.
Several members of the state's all-Democratic U.S. House delegation faces spirited challengers, including those within their own party. There's also a battle to unseat popular Republican Gov. Charlie Baker and a move to replace Sen. Elizabeth Warren.
Read on for a look at key races to watch on Sept. 4.
Governor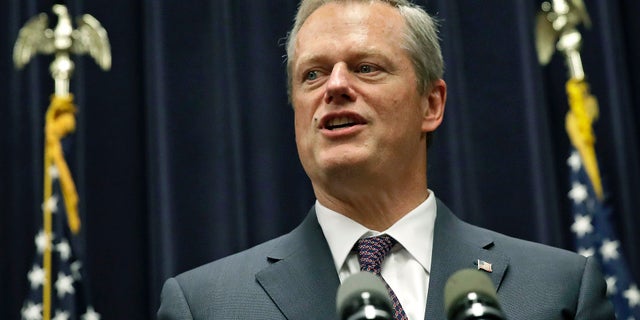 Republican Gov. Charlie Baker is running for re-election in the typically deep-blue Massachusetts. Often considered to be one of the most popular governors in the U.S., Baker faces Scott Lively in the GOP primary.
Baker has distanced himself from President Trump and hasn't been afraid to criticize the administration. He's signed laws to protect abortion rights and has supported more gun control and a minimum wage increase.
Lively, on the other hand, is a pastor well known for his anti-gay sentiments. He said he is anti-abortion and is running against Baker to "bring Biblical values back into the political arena here" on his campaign website.
MASSACHUSETTS' GOP GOVERNOR AVOIDS LIBERAL BACKLASH TO TRUMP, EYES RE-ELECTION
For the Democrats, environmentalist and activist Bob Massie and Jay Gonzalez, the former secretary of administration and finance under Democratic Gov. Deval Patrick, are going head-to-head in Tuesday's primary. But neither candidate has much name recognition outside Democratic activist circles.
Fox News has ranked the gubernatorial election as leaning Republican.
Senate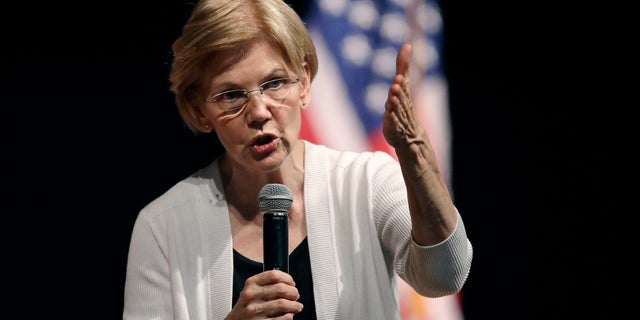 Sen. Elizabeth Warren doesn't have any Democratic challengers, but there are a handful of Republicans hoping for a chance to unseat the longtime liberal lawmaker including: state Rep. Geoff Diehl, businessman John Kingston and Beth Lindstrom, a former official under Gov. Mitt Romney's administration.
All three have accused Warren of focusing too much on fighting with Trump and not enough on the state.
"People know that she's done nothing for Massachusetts," Kingston told The Associated Press. "God bless her if she wants to run for president – then go run for president and don't pretend that you're not."
Lindstrom, too, criticized Warren when she was endorsed by the New England Benevolent Police Association, saying the Democrat is "out of touch with the people she's supposed to represent."
"It's time for us to tell our politicians to stop disrespecting our points of view and start reflecting our values," Lindstrom said. "These values include respecting the work of people in our criminal justice system."
FOX NEWS MIDTERM ELECTIONS HEADQUARTERS
Warren is one of several Democrats who have called for the abolishment of the U.S. Immigration and Customs Enforcement (ICE) agency – a federal group that has come under fire particularly under the Trump administration.
Of the three Republicans, it's Diehl who has been quick to embrace Trump as opposed to his opponents. Diehl co-chaired Trump's 2016 Massachusetts campaign – something he's quick to bring up to voters.
Lindstrom has said she'll support Trump when it's "right for the people of Massachusetts." And Kingston has promised to "work with the administration when it's actually doing good things for Massachusetts."
Fox News has ranked the Senate race as likely Democrat.
House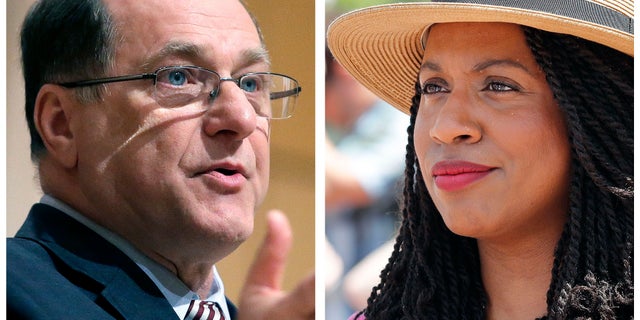 All eyes are on Ayanna Pressley, a Democratic candidate for House who could become the first black woman elected to Congress from Massachusetts.
Pressley – who has drawn comparisons to Alexandria Ocasio-Cortez, the young, progressive New Yorker who unseated longtime Democratic incumbent Rep. Joseph Crowley earlier this year – is challenging Rep. Michael Capuano in the 7th congressional district.
Capuano, a 66-year-old Democrat, has served in his seat since 2013.
Pressley is a Boston city council member – and was the first woman of color to be elected to that legislative body, according to her campaign website.
"I know our … campaign is one that is disruptive and makes a lot of people uncomfortable in a dark blue district where we don't primary Democrats, but I think we are in different times," Pressley told Elle magazine. "These are times that require bold activist leadership and a reliable vote."
Whoever wins the primary will likely win the general election. No Republicans are running in this district.
MASSACHUSETTS DEMOCRAT CALLS TO IMPEACH JUSTICE CLARENCE THOMAS IN PLAN TO COMBAT SEXUAL MISCONDUCT
Another congressional race worth watching is the 3rd district, where 10 Democrats are fighting to take over the seat being vacated by incumbent Rep. Niki Tsongas. A Democrat, Tsongas has held the seat – once also held by her late husband – since 2013.
Running are Jeff Ballinger, a global workers rights activist; Alexandra Chandler, a former U.S. Naval intelligence officer and the state's first transgender congressional candidate; Beej Das, a constitutional lawyer and hotel developer; Rufus Gifford, a former U.S. Ambassador to Denmark; Leonard Golder, a former Stow selectman; Dan Koh, former chief of staff to Boston Mayor Marty Walsh; Barbara L'Italien, a state senator; Bopha Malone, a former bank executive; Juana Matias, a state representative; and Lori Trahan, who served as chief of staff to former Democratic Rep. Martin Meehan.
L'Italien made headlines during her campaign when she released a comprehensive plan to combat sexual misconduct in public office – which included a plan to impeach Supreme Court Justice Clarence Thomas and to open a congressional hearing into allegations against Trump.
She also accused Koh of not helping a former city employee who accused her boss of sexual harassment. Koh's campaign brushed off her accusations as "false personal attacks."
There is only one Republican gunning for the seat: business owner and founder of the conservative Massachusetts Fiscal Alliance Rick Green.
The Associated Press contributed to this report.