Low-key WV Senate Debate Belies Differences in Candidates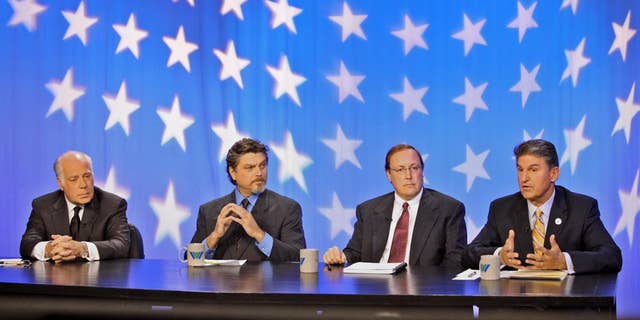 It was a debate for the four candidates vying to fill the seat long held by the late Sen. Robert C. Byrd , a remarkably tame affair Monday night, but it was President Obama who took center stage at various points in the one hour discussion.
"I hate to inform my opponent, but Mr. Obama's name will not be on the ballot," the Democrat, Gov. Joe Manchin said, and good thing, as recent polls put the president's disapproval rating in the Mountain State in the 60's. "I'm not a rubber stamp for anybody and never have been in my life," the governor declared.
Millionaire businessman John Raese slammed the governor, as he has repeatedly in television ads, as an Obama yes man and "career politician," criticizing everything from Obamacare" to the $814 billion stimulus bill, despite the fact that the governor never voted for those policies.
Regardless, the Republican said "people like Obama and certainly Manchin" are bad for business, as he touted his own successful record of creating jobs.
And that was probably the toughest exchange of the buttoned-down night in Morgantown, a day after Kentuckians saw their Senate candidates use each other like proverbial punching bags with one even walking off the stage refusing to shake his opponent's hand after being accused of controversial acts he may have performed 30 years ago when he was in college. The West Virginia debate saw not a single personal attack.
Manchin, a popular two-term governor, was widely expected to coast to victory when he first announced his intention to seek the Senate seat in the special election on Nov. 2, but with Obama and his ambitious policies so deeply unpopular in this red state, the governor now finds himself in a dead heat with his opponent.
Jesse Johnson of the Mountain Party and Jeff Becker of the Constitution Party were book-ended by the two candidates most had come to see. The two fielded several questions but then were all but ignored about three-quarters of the way through the debate.
Manchin and Raese clashed on health care, energy policy, mine safety, federal spending, and more at the only Senate candidate debate this cycle.
Repeating a refrain from tea party candidates across the nation, the Republican referred to health care reform as "socialism" and slammed the law for its tax increases and health care panels. "What I'd like to do is repeal every part of it. It is pure unadulterated socialism," the Republican accused.
"I'm not prepared to scrap the entire bill," Manchin said, adding that he is not prepared to tell children or miners with black lung that they cannot get care. Children under 26 are allowed to remain on their parent's policy, and no American can be denied health care because of pre-existing conditions under the Obama plan. The governor also said he would not touch the prescription drug coverage for seniors in the measure.
But the governor did cite several specific provisions he would strip, including the very heart of the plan - the health care mandate. Manchin also cited the 1099 requirement that has so many small business owners up in arms, as well as the firewall that is designed to fence off federal money from funding abortion. Many social conservatives doubt this will happen.
"I don't think it's the best answer for the problems of West Virginia," Raese said of federal earmarks, a near legendary staple of the late Sen. Byrd, who many called "the king of pork." The Republican said he wanted "to bring back the spirit of capitalism ... to create the freedom of an individual," as he repeatedly trumpeted the private sector, with less federal regulation, as a solution to the many ailments in this recession.
But Manchin said poorer, rural states, like West Virginia, need key infrastructure assistance from the feds, adding, ""The free enterprise system is not going to go there. They're only going to go where the market is."
Raese denounced cap and trade legislation as "disastrous for this state and for this country," and called global warming a "myth" - a clear effort to set himself apart from his Democratic opponent who was recently seen in a television ad literally shooting a hole in the bill that passed in House but locked up in the Senate because of bipartisan opposition.
"I respectfully disagree with President Obama," said Manchin, "We need to mine every lump of coal we can." But the moderator sought no reply from the governor on global warming.
Raese, whose family has been in the asphalt and limestone business for years, said there is still a big question about "when the coal runs out," saying there are about 200 years of reserve, though Manchin calculated that there could only be about 30 or 50 years remaining.
In a state that has seen its share of mining disasters, Raese said he would like to see more of the private sector involved in mine safety, while Manchin said there needs to be more coordination among state and federal authorities.
Manchin said he would not "privatize" Social Security, something Raese has advocated, as many Republicans have this cycle.
The governor praised the minimum wage, using that part of the discussion to tout his successful record cleaning up the state's budget, but his opponent disagreed.
"My opposition to minimum wage is I don't agree with minimum wage as something (people) can live on," Raese said, calling it a government "price control." The millionaire businessman said, "Manchin and Obama enjoy people working for $7.25," as he suggested cutting taxes and spending to "raise the playing field."
The Republican hit President Obama on Afghanistan, as well, slamming the Commander in Chief for not accepting the original request from his commander on the ground, Stanley McChrystal, who reportedly sought 70,000 troops before shrinking that number in the face of a stiff debate about personnel needs. Raese said his solution was simple, "We win. You lose."
Manchin, for his part, said simply that he supported the president's late 2009 surge of 30,000 troops into the war-torn nation.
Closing out the night, Raese reminded West Virginia voters that they are sending a senator to Washington immediately after the election for a lame duck session scheduled to begin Nov. 15 during which major issues are expected to be tackled from extending the Bush tax cuts to spending legislation.
Monday night's debate, aired statewide by West Virginia Public Broadcasting, offered viewers a chance to see two very different candidates - the Democrat promoting his own record and highlighting, more importantly, his differences on some topics with an unpopular president; the Republican burnishing his business credentials, offering the private sector as the solution to the nation's fiscal problems as he attempted to portray his opponent as beholden to Washington.