Lieberman Calls Syria's Assad a 'Thug,' Urges Tougher U.S. Stance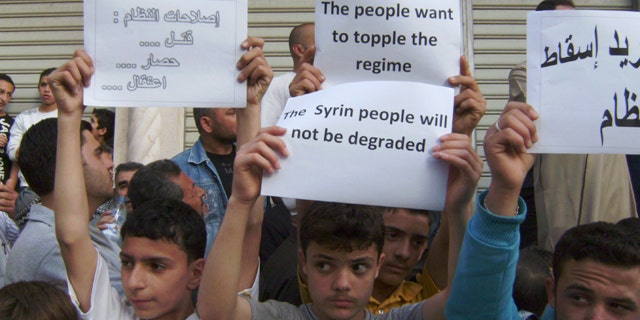 NEWYou can now listen to Fox News articles!
Sen. Joe Lieberman called Syrian President Bashar al-Assad a "thug" on Thursday as he added to intensifying calls on Capitol Hill for President Obama to get tougher on Assad amid a crackdown on dissent.
Lieberman said it's "time for him to go" during a speech about the Assad regime on the Senate floor.
"Unfortunately, there are still many in Syria and throughout the Middle East who believe the United States is hedging its bets," he said. "It is time to put these doubts to rest."
Lieberman's comments come a week after he joined Republican Senators John McCain and Lindsey Graham in issuing a statement telling Obama to "state unequivocally" that Assad must step down. They warned the situation had reached a "decisive point," urging the U.S. to isolate the regime.
Assad has faced increasing domestic and international pressure over a bloody crackdown against protesters who are calling for democratic reforms. More than 550 people have been killed during the six-week revolt.
The leader has used a combination of brute force, intimidation and promises of reform to quell the unrest, but his attempts have failed so far.
The United States and Italy warned Syria on Thursday that it will face penalties and increasing isolation if it does not halt its violent crackdown.
U.S. Secretary of State Hillary Clinton said Syria had to know that there would be "consequences for this brutal crackdown."
Speaking at a news conference with Italian Foreign Minister Franco Frattini, Clinton said the U.S. is looking at boosting sanctions it has already imposed on Syrian leaders. Frattini said Italy would support similar measures by the European Union.
Last month, the Obama administration imposed financial penalties on three top Syrian officials, including Assad's brother, Maher, as well as Syria's intelligence agency and Iran's Revolutionary Guard over the crackdown.
At U.N. headquarters in New York, spokesman Martin Nesirky said Secretary-General Ban Ki-moon spoke with Assad by telephone Wednesday and told him "now is the time for bold and decisive measures, for political reforms."
Nesirky said the U.N. chief also asked that Syria cooperate with the commission set up by the U.N. Human Rights Council, and "allow in a humanitarian assessment team given the widespread concerns in the international community."
Syria blames the unrest on a foreign conspiracy and "terrorist groups" that it says have taken advantage of protests.
The Associated Press contributed to this report.