Lawmakers Return From Recess to Face Budget Quagmire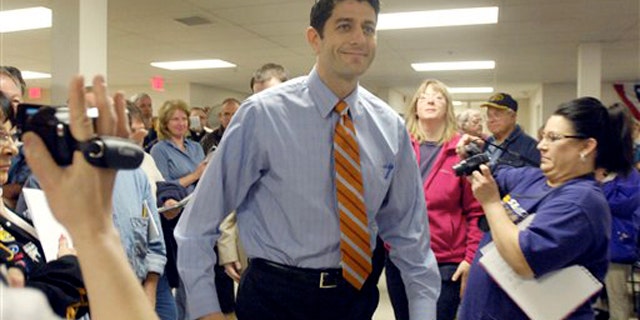 NEWYou can now listen to Fox News articles!
The nation's capital looked in need of an elusive grand bargain Sunday as lawmakers prepared to return from recess with a host of budget challenges on their plate.
If left unresolved, those challenges could lead to a fiscal calamity, officials say. But the political hurdles have only mounted in recent weeks, raising the possibility of a stalemate if lawmakers can't come together on a deal. In a sign of how tenuous the times are, both parties -- after introducing their own budget plans -- continue to watch anxiously as a bipartisan group of six senators works toward a tentative budget proposal which may or may not get finished and may or may not attract more support.
"If they can't come up with something, I don't know what we do," Sen. Lindsey Graham, R-S.C., said on "Fox News Sunday."
The budget talks are intertwined with the more immediate problem of the debt ceiling, which will be reached in the coming weeks unless Congress votes to raise it. Republicans from the top down have long threatened to vote against raising the cap unless they see a plan for significant spending cuts. But several Senate Democrats recently have echoed that call, virtually assuring President Obama will not get the kind of "clean" vote he wanted on the debt ceiling -- and will instead be compelled to haggle with lawmakers on both sides about what should be attached to it.
Sen. Kent Conrad, D-N.D., among the moderate Democrats calling for conditions on the debt ceiling vote, reiterated Sunday that he will not support a long-term increase of the $14.3 trillion cap "unless there is a credible and serious plan to deal with the debt."
The Treasury Department claims that if Congress does not vote to raise the ceiling by mid-May, it can use a few financial maneuvers to stave off defaulting on U.S. debt for several more weeks. But the administration warns that failing to raise the ceiling by that point would have dire consequences.
"It would be disastrous for the American economy," Rep. Chris Van Hollen, D-Md., said Sunday. "It would put people back out of work. It would make the last recession look like a cakewalk."
He accused those threatening to withhold their vote of "reckless" behavior.
Republicans, and some moderate Democrats, say they have no intention of driving the country into default and are rather looking to use this opportunity to extract a deficit plan that will help the nation in the long run.
However, to say Washington is divided over what form that deficit reduction plan should take would be an understatement.
Conrad, who is part of the "gang of six" talks on a fresh budget proposal, said he's optimistic the group could unveil a plan soon, though he declined to get into specifics. "If we don't, we're simply not going to be relevant," he said.
Barring a new proposal from the group, Washington has a lot of negotiating to do. On one side is Republican Rep. Paul Ryan's plan, which he claims would save $4.4 trillion over 10 years -- in part by overhauling Medicare and Medicaid. On the other side is a plan by Obama which the White House claims would save $2.9 trillion over the same period.
Graham said Sunday that while he likes what Ryan proposed, "At the end of the day, his plan is not going to make it through the Senate."
Senate Democratic Leader Harry Reid says he'll bring the Ryan budget up for a vote. But Graham said bluntly that it won't get a filibuster-proof 60 votes.
In a troubling sign for the GOP, conservative Rep. Michele Bachmann, R-Minn., on Sunday also raised concern about the pivotal Medicare component of the plan -- which would eventually end direct government payments to doctors and instead subsidize the cost of private insurance policies for seniors.
Though Bachmann applauded Ryan's deficit-reduction ideas, she expressed concern that seniors might have to "assume the cost" of the change.
"One position that I'm concerned about is shifting the cost burden to senior citizens. Seniors are saying, 'Look, I'm not in a position to be able to handle that.' I also share that real fear," Bachmann told "Fox News Sunday."
Ryan, speaking on ABC's "This Week," said he's certainly willing to negotiate on the specifics of the plan with lawmakers on both sides of the aisle.
"We're probably not going to get some grand-slam agreement that fixes all of these problems," he said. "My ... hope is to get a single or a double, to get something done that gets us on the right path."
Ryan, who along with other congressional Republicans has faced tough crowds back home during the spring recess, also accused Democrats of putting out "misinformation" to try and "scare seniors" into opposing the plan.
But the Democratic plan likewise has close to zero support from Republicans. Graham said that, like Ryan's plan, Obama's entitlement reform will not make it through the Senate.
Sen. John Barrasso, R-Wyo., speaking alongside Van Hollen on CNN's "State of the Union," said Obama's plan doesn't do enough to fix Medicare, which he called "broken."
Graham seemed to agree.
"I do know this. Medicare is a great program that is going to fail and bring the whole country down with it, like other entitlements, if we don't do something," Graham said.