Laura Bush Opens Up About Fatal Crash in Her New Book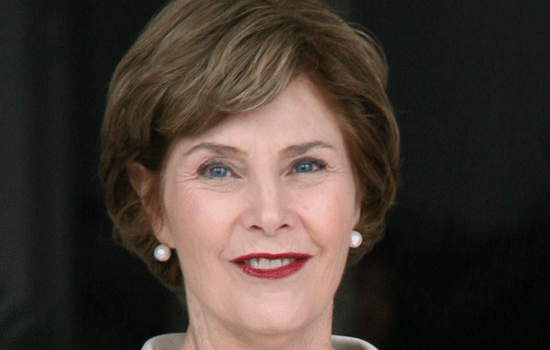 Former first lady Laura Bush was agonized by guilt for decades after a car crash that claimed the life of a young high school friend when she was only 17 — one of a host of revelations from a new memoir due out next week.
In her new book, "Spoken from the Heart," the usually restrained Bush opens up a floodgate of personal memory over 456 pages on her time in and out of the White House — including a previously undisclosed story about the possible poisoning of her husband, George W. Bush.
In 2007, Laura Bush joined the president at the G8 summit in Germany, but was left ill and bedridden shortly after her arrival, according to a passage clipped by The Politico. "Over the next day nearly a dozen members of our delegation were stricken, even George, who started to feel sick during an early morning staff briefing," she writes.
The Secret Service went on full alert, according to the account, combing the resort for poisons -- well aware of a spate of such high-profile attacks in Europe in recent months. A military aide and senior staffer have still not recovered from what the president's doctors concluded may have been the work of a virus that attacks the inner ear.
But it is a brush with death many years earlier that left a far deeper mark on Laura Bush. In November 1963, she was driving to see a movie at night in Midland, Texas, and missed a stop sign as she chatted with a girlfriend sitting in the passenger seat. She smashed into a car being driven by Mike Douglas, a star athlete at her school, the New York Times reported.
"In those awful seconds, the car door must have been flung open by the impact and my body rose in the air until gravity took over and I was pulled, hard and fast, back to earth. ... The whole time, I was praying that the person in the other car was alive. In my mind, I was calling 'Please, God. Please, God. Please, God,' over and over and over again."
Bush admits she was lost in conversation as she drove, but also cited mitigating factors in the crash: a pitch-black road, a dangerous intersection, the small size of the stop sign, and the unreliable car the victim was driving — a Chevrolet Corvair, dwarfed by the Impala she was steering, the Times reported.
"But none of that would ever ease the night of November 6. Not for me, and never for the Douglases," she writes, describing the years of guilt she felt after the crash, and after skipping Mike Douglas' funeral, unable to face his parents.
"I lost my faith that November, lost it for many, many years," she says. "It was the first time that I had prayed to God for something, begged him for something, not the simple childhood wishing on a star but humbly begging for another human life. And it was as if no one heard. My begging, to my seventeen-year-old mind, had made no difference. The only answer was the sound of Mrs. Douglas's sobs on the other side of that thin emergency room curtain."
Among other stories revealed in the book:
GAY MARRIAGE
"In 2004 the social question that animated the campaign was gay marriage. Before the election season had unfolded, I had talked to George about not making gay marriage a significant issue. We have, I reminded him, a number of close friends who are gay or whose children are gay. But at that moment I could never have imagined what path this issue would take and where it would lead." Politico
BARBARA WALTERS
"On December 18 [2002], ABC broadcast Barbara Walters's annual special on the Ten Most fascinating people of the year. Barbara had selected me as 2002's most fascinating person, calling me a 'beacon of calm in the center of the storm.' It was flattering, but even as it aired, I said to George with a smile, 'Bushie, what goes up must come down.'" Politico
HURRICANE KATRINA
"He did not want one single life to be lost because someone was catering to the logistical requirements of a president. He did not want his convoy of vehicles to block trucks delivering water or food or medical supplies, or to impede National Guardsmen from around the nation who were arriving to help." NY Times
SADDAM HUSSEIN
President Bush told his daughters Jenna and Barbara in a 2002 note that "he prayed Saddam Hussein would disarm, that he would give up his weapons of death and destruction, and that there would be peace. ... George did not want war. No president ever does. He knew how precious any child is, and every person sent into war is someone's child, and often someone's mother or father too. ... There would be no war for oil or some kind of U.S. presence in the Middle East. There was war because only one man would not choose peace. That was Saddam Hussein." Politico
PRINCE CHARLES
"The royal family is not without its quirks. When Prince Charles and Camilla, Duchess of Cornwall, came to visit us, they requested glasses of ice before we began a long receiving line. The staff dutifully produced them, and the prince removed a flask from his pocket and added to each a small splash of what I presume was straight gin, so that they might be fortified before the hour of shaking hands." Politico
HARRY REID/NANCY PELOSI
Speaker of the House Pelosi called President Bush "incompetent" and Reid blasted him as a "liar," prompting this response from Mrs. Bush in the book: "The comments were uncalled for and graceless. While a president's political opponents, as well as his supporters, are entitled to make what they see as legitimate criticisms, and while our national debates should be spirited, these particular worlds revealed the petty and parochial nature of some who serve in Congress." NY Times
PRESIDENTIAL KIDS
"The strategy of making Mary Cheney's private life an issue failed with the voters in November of 2004. But in the years since, it has become acceptable to mock candidates and their families, and other elected officeholders, in highly personal ways; David Letterman feels free to ridicule Sarah Palin's teenager daughters, and the audience laughs. That is the legacy of the 2004 campaign." Politico