Keystone: Pipeline Battle Pits Economy vs. Environment, Again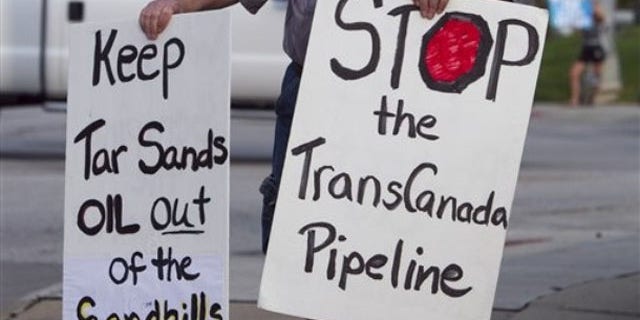 NEWYou can now listen to Fox News articles!
Keystone-XL will rank alongside the pyramids in Giza as one of the most ambitious construction projects ever undertaken – if the $7 billion pipeline ever gets built.
The proposed route runs south over 330 miles of southern Canadian soil, clipping the corner of Saskatchewan to reach the border with America, then snakes gently southeast across seven U.S. states, extending another 1,370 miles until it branches off to hit two destinations in the Gulf of Mexico.
But none of that will happen unless and until the State Department green lights the initiative. If granted, that will take the form of a presidential permit, required because the company applying for it, TransCanada, is a foreign-owned corporation. And to the dismay of environmentalists, the Obama administration appears likely to give that approval before year's end.
Energy industry sources claimed the new pipeline would bring online an additional 830,000 barrels of crude oil a day. The source for the black gold is the rich deposits of bitumen found in Alberta, Canada, from which the crude is extracted. Already, an existing Keystone pipeline – originating in the same place but running to refineries in Oklahoma and southern Illinois – sends approximately 500,000 barrels of crude a day to American consumers.
Proponents of Keystone-XL in both countries, including numerous lawmakers in the U.S. Congress, say proper exploitation of the Alberta "oil sands" would immediately create 20,000 direct American jobs, and generate $34 billion in revenue for the U.S. Treasury. Greater rewards would accrue over time, they say.
"The U.S. oil and natural gas industry right now supports 9.2 million jobs throughout the economy," said Marty Durbin, vice president of the American Petroleum Institute, a trade group representing 400 companies involved in various facets of oil production and distribution. "Through full utilization of Canada's oil sands, we can actually create 340,000 U.S. jobs between 2011 and 2015."
Keystone-XL's opponents warned that the proposed route would take the pipeline over the Ogallala Aquifer, which provides drinking and irrigation water to eight states. Environmentalists have also cautioned that the kind of pipe TransCanada proposes to use is dangerously susceptible to rupture, and that the "life-cycle" emission of greenhouse gases from tar sands oil, such as that found in Alberta, exceeds the average for crude oil imported from other sources, like Venezuela and the Middle East.
"The pipeline would pump some of the dirtiest oil on earth down from Alberta, Canada and put our farms at risk of oil spills, and it will increase pollution in communities surrounding refineries," said Alex Moore of Friends of the Earth. "It has much higher levels of heavy metals like lead, and when it's refined those metals end up in the air – and that means more kids with asthma, and it means more elderly people with respiratory diseases."
The most recent draft text from the State Department found that the Keystone-XL project would pose only "limited adverse environmental impacts." Moreover, the department's analysts found that an additional period of public comment on the project had turned up "no new issues of substance."
Both of those conclusions drew fierce dispute from environmental critics. They cite the pipeline explosion that occurred near Kalamazoo, Michigan last July, sending more than 850,000 gallons into the Kalamazoo River and prompting then-Gov. Jennifer Granholm to declare a state of emergency. That pipeline, operated by Enbridge Energy Partners, also originated in the oil sands of Alberta.
Moore said there are "hundreds" of pipeline accidents each year, and faulted the State Department for conducting an incomplete analysis. "Their first draft analysis did not include adequate analysis of oil spills, of pollution in communities surrounding refineries, and whether or not we really need this pipeline," he said.
Still, analysts in and out of the energy industry predicted the Obama administration would allow Keystone-XL to proceed. In an April 19 newsletter the Eurasia Group, a private capital risk-assessment group, told subscribers approval was "likely."
The group cited President Obama's speech on "America's Energy Security," delivered at Georgetown University on March 30, as evidence of which way the administration is leaning. "When it comes to the oil we import from other nations," the president said, "obviously we've got to look at neighbors like Canada and Mexico that are stable and steady and reliable sources."
Canada is already America's leading source of foreign oil, exporting to the U.S. an estimated two million barrels per day.
With input from nearly a dozen other federal agencies in hand, the State Department is expected to issue its final ruling by year's end. Last month the Republican-controlled House Energy and Commerce Committee voted to approve a measure that would force the State Department to rule on Keystone-XL by November 1.