Ketanji Brown Jackson confirmation: Senators spar on 'soft on crime;' Jackson defends child porn sentences
Sen. Lindsey Graham tells Jackson she's all 'wrong' on her approach of criminal sex offender sentences
NEWYou can now listen to Fox News articles!
Senate Republicans tangled with Judge Ketanji Brown Jackson Wednesday about whether her sentences as a trial judge show she's soft on crime – as Democrats came to the defense of President Biden's Supreme Court nominee and highlighted the historic significance of her nomination.
At one moment in the hearing, Jackson couldn't hold back tears as Sen. Alex Padilla, D-Calif., reflected on the significance of nominating the first Black woman to the Supreme Court.
"I hope to inspire people to try to follow this path," Jackson said in a message to young people, "because I love this country, because I love the law, because I think it is important that we all invest in our future and the young people are the future.
"I want them to know that they can do and be anything. … I would tell them to persevere."
SUPREME COURT CONFIRMATION: LIVE UPDATES
GOP Sens. Lindsey Graham of South Carolina, Ted Cruz of Texas, Josh Hawley of Missouri and Sen. Tom Cotton of Arkansas spent time Wednesday digging through her sentences in several child pornography cases. They repeatedly questioned why she didn't sentence them for longer time behind bars.
Cotton further pressed Jackson on her handling of a resentencing for a fentanyl dealer.
The drama came to a head on Wednesday when Graham accused Jackson of being "wrong" on her approach to sentencing internet-based child porn crimes. He said he hoped such criminals would "go to jail for 50 years."
"All I can say is that your view of how to deter child pornography is not my view," Graham said in advocating for lengthier sentences. "I think you're doing it wrong. And every judge who does what you're doing is making it easier for the children to be exploited."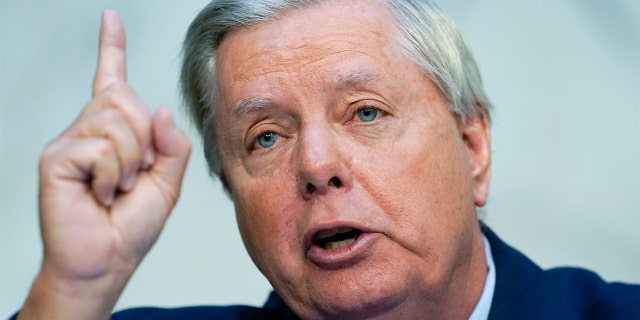 KETANJI BROWN JACKSON HEARING DECORUM FAR CRY FROM EXPLOSIVE KAVANAUGH CONFIRMATION: 'BEHAVING THEMSELVES'
Democrats, meanwhile, pushed back hard on Republicans "soft on crime" case. Judiciary Committee Chairman Dick Durbin, D-Ill., said Republicans simply want to "showcase talking points for the November election."
"You've made a mess of their stereotype," Durbin told Jackson. "The endorsement of the Fraternal Order Police, the International Association of Chiefs of Police just doesn't fit with their stereotype of a Harvard grad Black woman who is aspiring to the highest court in the land."
Sen. Cory Booker, D-N.J., clapped between his words as he emphasized the point about Jackson's endorsement from the Fraternal Order of Police.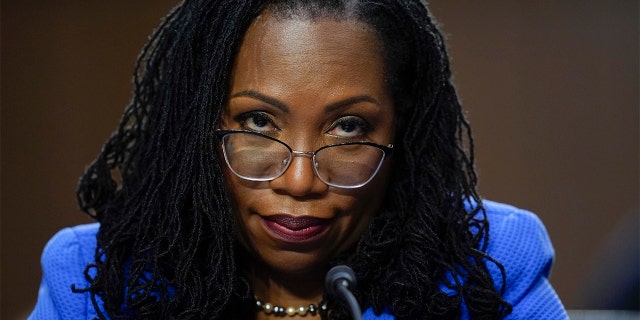 "You were endorsed by the largest organization of rank and file police officers," Booker said.
JUDICIAL CRISIS NETWORK PUTS $1.5M BEHIND AD ACCUSING JUDGE JACKSON OF MISUNDERSTANDING JUSTICE THOMAS
Jackson explained to Graham that child pornography guidelines were initially created when offenders were sending individual images in the mail. Computers dramatically changed the landscape, she said.
Now thousands of images can be distributed "with one click," Jackson said. Judges rely on the system that Congress created "to be rational in our dealing with some of the most horrible kinds of behavior."
"You can be doing this for 15 minutes, and all of a sudden you are looking at 30, 40, 50 years in prison," Jackson said, in explaining her sentencing decisions.
"Good, good. Absolutely good," Graham interrupted.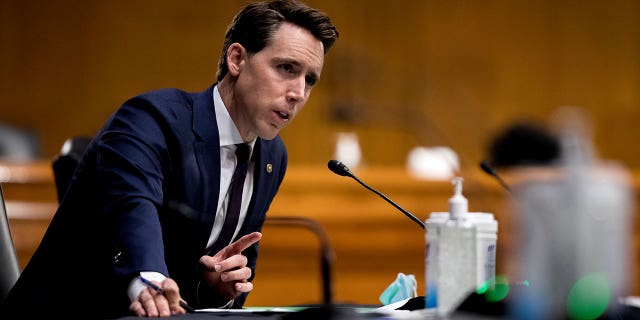 "So you don't think that's a bad thing. I think that's a horrible thing," he said.
Jackson also told Graham: "Every person in all of these charts and documents I sent to jail because I know how serious this crime is."
Graham also repeatedly complained about how Democrats treated past GOP nominees. He asked Jackson Wednesday to weigh in on how Justice Brett Kavanaugh was treated. He accused Democrats of sitting on sexual assault allegations against President Trump's nominee until the "last minute."
"He was ambushed," Graham said. "How would you feel if we did that to you?"
JACKSON SUPREME COURT CONFIRMATION: SPARKS FLY AS SENATORS PRESS NOMINEE CHILD PORN SENTENCING, CRT IN SCHOOL
"Senator, I don't have any comment on what procedures took place in this body regarding Justice Kavanaugh," Jackson eventually said.
Wednesday will be the final day of questioning of Jackson, before a hearing Thursday with outside witnesses. Democrats are optimistic she has the votes in the Senate and Durbin is still hoping she may get some GOP support. If confirmed, she'll replace the retiring Justice Stephen Breyer, for whom she once clerked.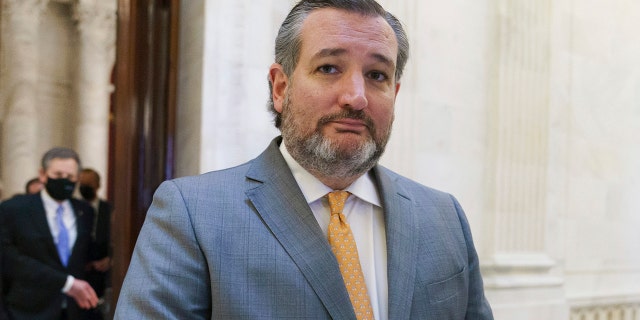 Like Tuesday, the toughest lines of questioning came from past and potential presidential hopefuls. That included one child porn case in which Jackson sentenced an 18-year-old male to three months when the government recommended a longer sentence of 24 months.
"You gave him three months. My question is, do you regret it or not?" Hawley said.
Jackson replied: "What I regret is that in a hearing about my qualifications to be a justice on the Supreme Court, we've spent a lot of time focusing on this small subset of my sentences."
Cruz displayed a poster of eight child porn cases where he said Jackson sentenced the defendants to less time than what the government prosecutors and sentencing guidelines recommended. He asked why she consistently gave out lesser sentences on child porn cases "100% of the time."
"Senator, no one case can stand in for a judge's entire sentencing record," Jackson said. "I've sentenced more than 100 people. You have eight or nine cases in that chart."
Cruz continued to press for answers on her sentencing decisions, which prompted Durbin to intervene. Cruz lashed out and accused Durbin of filibustering on behalf of Jackson.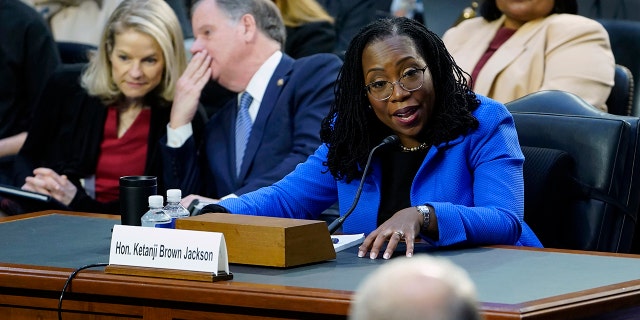 That prompted a lengthy and heated exchange between Cruz and Durbin which delayed the hearing.
"I have never seen the chairman refuse to allow a witness to answer a question," Cruz told Durbin as the chairman pounded the gavel. "You can bang it as loud as you want."
"At some point you have to follow the rules," Durbin shot back in trying to restore order.
Republicans Wednesday also accused the White House of withholding documents from GOP senators.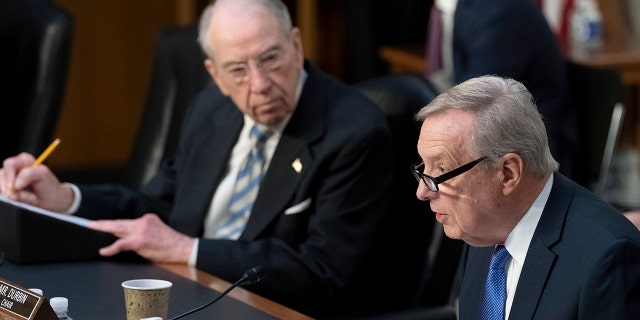 But Jackson, with the help of Democrats on Senate Judiciary Committee, sought to pivot to her personal biography by highlighting how far the country has come on civil rights with her parents growing up in "Florida under lawful segregation" and now, a generation later, she's having the opportunity to become the nation's 116th Supreme Court justice.
"What my being here," Jackson told the senators, "… is about the progress that we've made in this country in a very short period of time," Jackson said.
"Seems like a long time but in one generation we've gone from the reality of my parents upbringing to the reality of mine," she continued. "I do consider myself having been born in 1970 to be the first generation to benefit from the civil rights movement," she said.
At one point, Jackson teared up when Booker talked at length about the historic nature of being the first Black woman nominated to the Supreme Court and what it means for many other Americans.
"You have earned this spot," Booker told her. "You are worthy. You are a great American."
With a lifetime appointment to the Supreme Court in the balance, senators sought to drill down her previous record as a federal trial judge and her judicial philosophy but complained they didn't have the same access to information that Democrats did.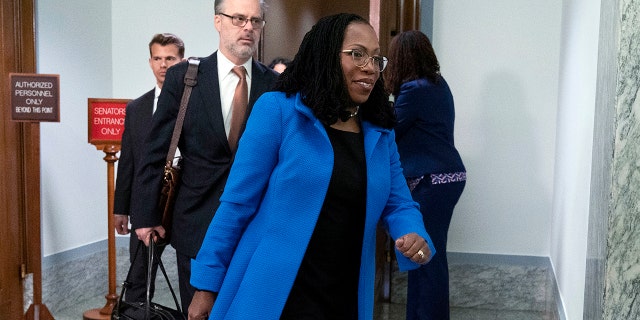 DURBIN HOLDS OUT HOPE FOR GOP SUPPORT TO CONFIRM JUDGE JACKSON, GRAHAM SAYS 'STAY TUNED'
Sens. Chuck Grassley, R-Iowa, Ben Sasse, R-Neb., John Cornyn, R-Texas, and others quizzed Jackson about several different issues in constitutional law. Sasse discussed issues of free speech. Grassley asked Jackson how she would weigh precedent in key cases. Cornyn asked about unenumerated rights. But Republicans did not appear to be satisfied with her answers.
"I believe we still haven't heard your judicial philosophy. And I wish I'd made more progress with you on that," Sasse said.
Jackson, meanwhile, said her "philosophy" is the method with which she approaches cases.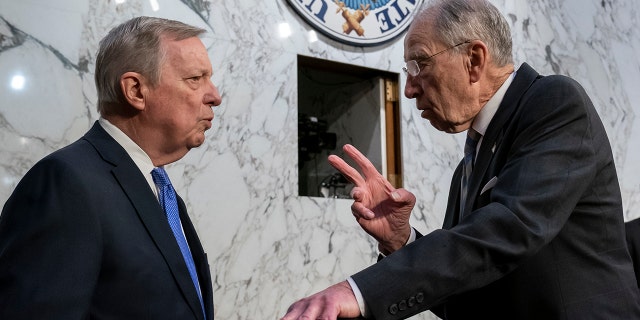 CLICK HERE TO GET THE FOX NEWS APP
"Senator, I do have a philosophy," Jackson told Grassley Wednesday. "The philosophy is my methodology. It is a philosophy that I have developed from practice."
On other issues, Jackson said she doesn't know whether a 20-week-old unborn child can feel pain. She also promised to recuse herself from an upcoming case on Harvard University allegedly discriminating against Asian-American students. Jackson is a member of the Harvard University Board of Overseers.
Thursday's hearing will feature testimony from outside groups and character witnesses, but not from Jackson herself.