Kerry Weighs Trip to Iran in What Would Be Highest-Level U.S. Visit in 30 Years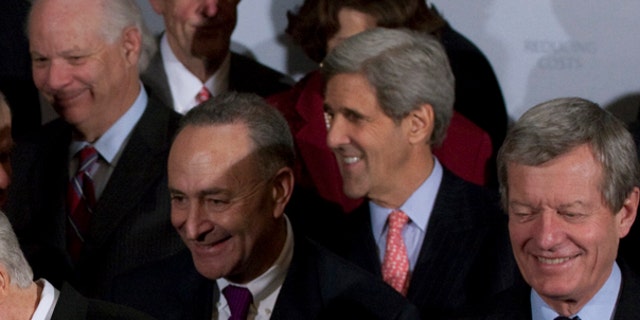 NEWYou can now listen to Fox News articles!
The White House appears fine with letting John Kerry head over to Tehran to chat up Iran's leaders, but the senator will be doing so of his own accord, a senior administration official said Thursday.
The Massachusett Democrat's office has not yet said whether Kerry will go, but if he does, it would be the highest-ranking visit by a U.S. envoy to the Islamic Republic since the 1979 revolution that put the mullahs in charge. Also unclear is whether Iran would welcome a Kerry visit.
"This is the kind of trip that is appropriate for the chair of Senate Foreign Relations Committee," the official told Fox News. "This is a Kerry initiative and not at the behest of the White House."
U.S. relations with Iran remain as tense as ever. Iranian President Mahmoud Ahmadinejad thumbed his nose to the international community in a speech to supporters this week in which he said Iran will not be pressured to swap enriched uranium for nuclear fuel as the U.N. International Atomic Energy Agency has requested as a means of monitoring Iran's nuclear development.
"We don't care" about deadlines, Ahmadinehad said. "We are not afraid of sanctions against us and we are not intimidated."
The Iranian leader added that Iran would be "brave enough" to tell the West if it were making a bomb and his country is "10 times stronger than last year."
Complicating matters for the U.S., Iran is also in a proxy war with Saudi Arabia in Yemen, a situation that has led the Arab Kingdom reportedly to tell Israel it would turn its cheek if the Jewish nation launched an attack on its would-be Muslim brethren's nuclear facilities.
The United States is also said to be helping the Yemenis fight Iran-backed Shiite rebels, who are using that country as a launching pad for attacks on neighboring Saudi Arabia. On Thursday, Yemenis killed 30 militants, including the head of Al Qaeda in the Arabian Peninsula and Anwar Awlaki, the cleric linked to Fort Hood shooting suspect Nidal Hasan.
Despite word of U.S.-sponsored air strikes in Yemen, a State Department official said Tuesday the United States has "no direct role in what's happening along the border."
But David Wurmser, president of Delphi Global Analysis Group and a former senior Bush administration official, said the U.S. cannot allow Iran to go unchecked.
"Since this is a proxy war between Iran and Saudi Arabia in a larger conflict between Iran, now, and the West, via Saudi Arabia, any perception of loss would again signal Western weakness, and further encourage Iran, and further encourage in the region a bandwagon effect toward Iran," Wurmser said.
Separately, the U.S. Senate is heading toward stronger sanctions on Iran after it returns from recess. The House has already overwhelmingly passed the Iran Refined Petroleum Sanctions Act and the Iran Sanctions Enabling Act, and Senate Majority Leader Harry Reid said Thursday that he is committed to getting legislation passed in January.
"This important piece of legislation ... would impose new sanctions on Iran's refined petroleum sector and tighten existing US sanctions in an effort to create new pressure on the Iranian regime and help stop Iran from acquiring a nuclear weapon," Reid said of the petroleum sanctions.
Kerry also voiced support for moving on the sanctions. But analysts speaking to the Wall Street Journal, which was first to report Kerry's possible trip, said Kerry's heading to Iran now sends the wrong message.
"We've eschewed high-level visits to Iran for the last 30 years. I think now -- when the Iranian regime's fate is less certain than ever -- is not the best time to begin," Karim Sadjadpour, an Iran analyst at the Carnegie Endowment for International Peace, told the newspaper.
"The wrong message would be sent to the Iranian people by such a high-level visit: The U.S. loves dictatorial regimes," Hossein Askari, a professor at George Washington University and former adviser to Iranian governments, reportedly said.
Click here to read the Wall Street Journal article.
Fox News' Wendell Goler and James Rosen contributed to this report.