Kaine worries progressives with reluctance to confirm 'no' vote on Kavanaugh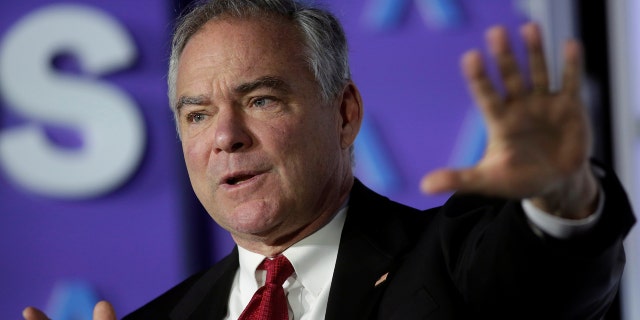 NEWYou can now listen to Fox News articles!
Democratic Sen. Tim Kaine's apparent reluctance to publicly confirm he'll cast a "no" vote when Brett Kavanaugh's Supreme Court confirmation comes to the Senate floor has drawn the ire of many progressive groups across the country.
The 2016 Democratic vice presidential nominee is one of a handful of Democrats worrying pro-choice and other progressive activists as they seek to block Kavanaugh's confirmation in the GOP-controlled Senate later this year.
"This is the former nominee of the Democratic Party for vice president who can't seem to realize the kind of massive threat to women's rights and women's lives that Brett Kavanaugh poses and that's just mind-boggling," said Neil Sroka, a spokesman for Democracy for America, according to The Hill.
Kaine, D-Va., who enjoys a sizable lead over Republican Corey Stewart in his reelection bid, argues that he is taking his duty seriously and that he's being consistent with how he considered President Barack Obama's nomination of Merrick Garland and President Trump's nomination of Neil Gorsuch. Kaine met with Gorsuch, but decided to vote against his nomination.
Kaine added that he thought it was important to wait to see what Kavanaugh said during his hearing.
"If everybody takes a position before the hearings, why have the hearings?" Kaine said. "You could just discharge and put something right on the floor and then that would be really bad for the American public so I think that the right thing to do on a Supreme Court nominee is to meet with them, wait for the hearing."
The confirmation of Kavanaugh has become one of the most polarizing issues dividing Democrats and Republicans.
Vice President Mike Pence said Friday that Democrats have turned the Senate's traditional role of providing advice and consent into "obstruct and oppose" when it comes to President Donald Trump's judicial nominees.
Speaking to the Republican National Lawyers Association, Pence said Democrats were "pulling out all the stops" to defeat Brett Kavanaugh's confirmation to the Supreme Court.
"The truth is, if we lived in a more respectful time, Judge Kavanaugh would be overwhelmingly confirmed," Pence said before noting that the late Supreme Court Justice Antonin Scalia had been approved 98-0 and Justice Ruth Bader Ginsburg received 96 votes.
Pence's comments Friday came as all 10 Democratic members of the Senate Judiciary Committee called for a delay in Kavanaugh's confirmation hearings.
The Democrats cited "the possibility of criminal wrongdoing" by Trump and said Kavanaugh has "consistently and clearly" expressed doubt about investigating sitting presidents.
The Associated Press contributed to this report.