John Kelly 'brokenhearted' by Dem rep's attacks on Trump
White House Chief of Staff John Kelly said Thursday he was "stunned" and "brokenhearted" after a condolence call President Trump made to the widow of a slain soldier turned into a public and political spectacle pitting the administration against a Democratic lawmaker.
In a rare and emotional moment from the White House briefing room podium, Kelly condemned Rep. Frederica Wilson, D-Fla., for listening to that phone call and then criticizing the president's tone in the press.
"I was stunned when I came to work yesterday morning and broken-hearted, at what I saw a member of Congress doing -- a member of Congress who listened in on a phone call from the president" to the widow, Kelly told reporters.
"It stuns me that a member of Congress would have listened in on that conversation, absolutely stuns me. … I thought at least that was sacred," he said, blasting what he called Wilson's "selfish behavior."
Kelly, whose son Second Lt. Robert Kelly was killed in battle in Afghanistan in 2010, said he was so shocked by the escalation of events that he went to Arlington National Cemetery to take a walk.
The Trump call in question was made to the widow of Army Sgt. La David Johnson, one of four Americans killed in an ambush in Niger on Oct. 4.
Wilson within hours went to the press to criticize Trump for allegedly saying during that phone call that "he knew what he signed up for," claiming the remarks were insensitive.
Trump denied it, while Wilson stood by her account.
Kelly on Thursday seemed to back up part of Wilson's account, but sought to put the president's words in the proper context -- while blasting Wilson for listening to the conversation at all.
Kelly said Trump was trying to say something akin to what Gen. Joseph Dunford, now chairman of the Joint Chiefs of Staff, told him when his own son died: That "he was doing exactly what he wanted to do … he knew what he was getting into."
Soon after Kelly's remarks, Wilson responded.
"Let me tell you what my mother told me when I was little. She said 'The dog can bark at the moon all night long, but it doesn't become an issue until the moon barks back,'" Wilson told reporters.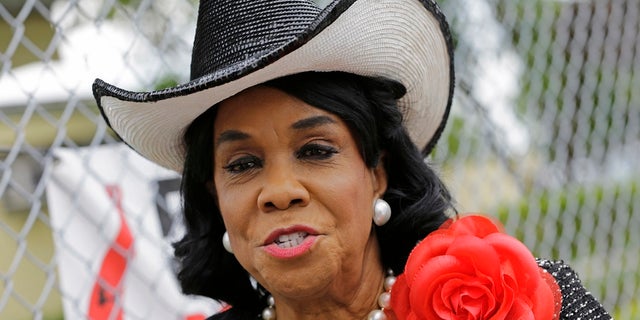 Trump ignited a political controversy over how presidents interact with Gold Star families earlier this week after he questioned whether former President Barack Obama called the families of fallen troops during his eight years in office. This was as he faced questions about his administration's response to the Niger ambush.
Obama did call and write letters to families of some fallen soldiers, though Kelly said Thursday that Obama did not call him when his son died. However, he stressed that he did not say that as a "criticism" of Obama.
When Trump called Johnson's widow 12 days after the attack, Wilson later spoke to the media and criticized his choice of words.
Kelly told reporters Thursday that he advised Trump what to say to the families of the soldiers who had died in battle. Initially, Kelly said he instructed the president not to make the phone call.