Jobless Rate Rises to 9.2 Percent in June, Obama Says Economy Has 'Long Way to Go'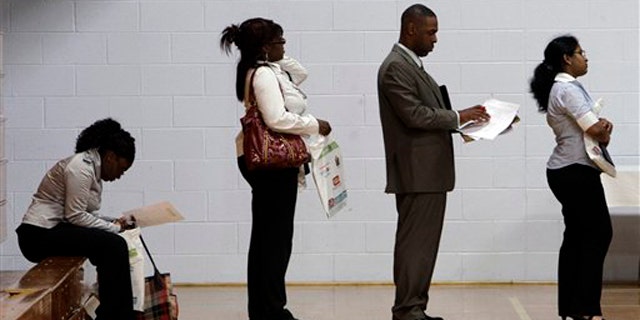 Hiring slowed to a stagnant pace last month, pushing the unemployment rate up for the third consecutive month and raising questions about whether the economy has what it takes to climb out of its post-recession slump.
President Obama, addressing the bleak report outside the White House Friday, acknowledged the economy still has a "long way to go" to fill the jobs hole left in the wake of the 2008 recession. "Our economy as a whole just isn't producing nearly enough jobs for everybody who's looking," Obama said.
The Labor Department reported that employers added just 18,000 net jobs in June, the fewest in nine months. The jobless rate ticked up to 9.2 percent from 9.1 percent. The pace of job growth is not even enough to keep up with population growth -- it would take about 125,000 jobs per months to do so -- and certainly not enough to bring down the unemployment rate.
The president blamed "headwinds" like rising gas prices, European financial crises, state and local budget cuts and uncertainty over the debt limit for hampering growth. He called on Washington to "redouble" its efforts by investing in infrastructure, approving trade agreements, passing a new patent law, extending a one-year tax cut and working in earnest to hammer out a deal to raise the debt ceiling.
"I'm ready to roll up my sleeves," Obama said.
But Republicans claimed they've been trying all along to pass jobs-creation measures, as they lined up Friday morning to pin blame for the bleak outlook on the Obama administration's economic policies.
"After two-and-a-half years, it is time for him to take responsibility," Rep. Jeb Hensarling, R-Texas, said, acknowledging that Obama inherited a bad economy but accusing him of making it worse with "job-killing regulations" and other policies.
Republicans continued to promote their own jobs bills, while pointing to the unemployment report in arguing Congress cannot and will not raise taxes as part of any deal to raise the country's debt ceiling.
"It just does not make sense for Americans to suffer under higher taxes in an economy like this," House Majority Leader Eric Cantor said.
The economic situation has hung over the president as the 2012 presidential race gets underway and his GOP opponents make the weak recovery a centerpiece of their respective campaigns. Before Obama spoke Friday, the 2012 candidates blasted out tweets and statements assailing him for the jobs numbers.
Since Obama took office, the economy is down 2.5 million jobs. The jobless rate has been at 9 percent or higher for 24 of the past 26 months.
In June, businesses added the fewest jobs in more than a year. Governments cut 39,000 jobs. Over the past eight months, federal, state and local governments have cut a combined 238,000 positions.
The latest report offered evidence that that the recovery will be painfully slow. Two years after the recession officially ended, companies are adding fewer workers despite record cash stockpiles and healthy profit margins.
Hiring has slowed sharply in the past two months, after the economy added an average of 215,000 jobs per month in the previous three months.
Economists have said that temporary factors have, in part, forced some employers to pull back. High gas prices have cut into consumer spending. And supply-chain disruptions stemming from the Japan crisis slowed U.S. manufacturing production.
Unemployment has never been so high so long after a recession ended. At the same point after the previous three recessions, unemployment averaged just 6.8 percent.
Average hourly wages declined last month. After-tax incomes, adjusted for inflation, have been flat this year. The average work week declined to 34.3 hours, from 34.4, which means employers demanded less work from their existing staffs.
The number of unemployed workers rose almost 175,000 to 14.1 million, pushing up the unemployment rate. The number of long-term unemployed -- those without a job for 27 weeks or more -- made up nearly half of that number.
There are signs that economy could improve in the second half of the year. Gas prices have come down since peaking in early May at a national average of nearly $4 per gallon. Prices averaged $3.59 a gallon nationwide on Friday, according to AAA.
And manufacturing activity expanded in June at a faster pace than the previous month, according to the Institute for Supply Management. That suggests the parts shortage caused by the March 11 earthquake in Japan is beginning to abate.
Still, the government said last month that the economy grew only 1.9 percent in the January-March quarter. Analysts are expecting similarly weak growth in April-June quarter.
The economy will grow at a 3.2 percent pace in final six months of the year, according to an Associated Press survey of 38 economists.
Still, growth must be stronger to significantly lower the unemployment rate. The economy would need to grow 5 percent for a whole year to significantly bring down the unemployment rate.
Economic growth of just 3 percent a year would hold the unemployment steady and keep up with population growth.
The Associated Press contributed to this report.