Intel officials tight-lipped on American militant fighters back in US, admit tracking is difficult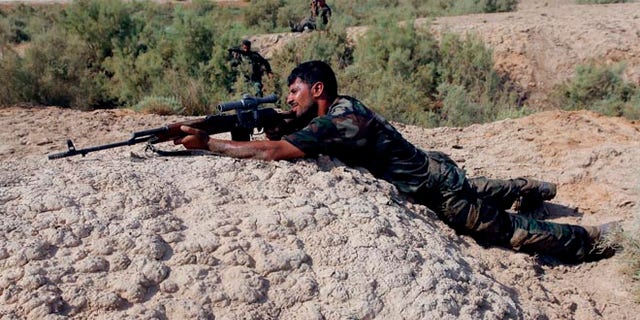 NEWYou can now listen to Fox News articles!
U.S. intelligence officials declined to say Wednesday exactly how many Americans who went overseas to fight with foreign militant groups have returned to U.S. soil to pose a terror threat -- but acknowledged difficulties in identifying them and noted some have likely returned undetected.
"We know what we know, but we understand there is intelligence we don't have," Nicholas Rasmussen, the director of the National Counterterrorism Center, testified on Capitol Hill. "But it's possible there are great numbers."
He was joined before the GOP-led House Committee on Homeland Security by Michael Steinbach, an FBI counterterrorism expert, who told members: "This is a number we don't know about," regardless of the best intelligence.
Officials testified that roughly 20,000 people from around the world -- including at least 3,400 from Western countries -- have flocked to join the Islamic State and other extremist groups.
Rasmussen said the rate is "without precedent" and far exceeds anything similar in the past 20 years.
Officials think as many as 150 Americans have tried to reach the Syrian war zone. FBI Director James Comey said a few months ago that "about a dozen" had reached the zone and were actually fighting.
One known person is Douglas McAuthur McCain. The 33-year-old Californian died in August while fighting with the Islamic State near Aleppo, Syria.
However, the number identified as having returned to the United States is classified.
Committee Chairman Mike McCaul, R-Texas, called Islamic State fighters "barbaric terrorists" whom U.S. officials "must keep out of the homeland to protect the American people."
Officials said that foreign fighters with the Islamic State pose a particularly dangerous threat of returning to the West and carrying out deadly terror strikes, considering they return with battle-ground experience, explosives training and access to a network of terror-related groups.
At least one of the men responsible for the attack last month on a satirical magazine in Paris had spent time with Islamic extremists in Yemen.
Rasmussen and Steinbeck were also joined at the hearing -- titled "The Urgent Threat of Foreign Fighters and Homegrown Terror" -- by Francis Taylor, a Homeland Security Department under secretary. He said officials have no information right now about any imminent, credible domestic terror threat.
The State Department did not send a witness, which McCaul called "very disappointing."
McCaul also expressed concern about the Obama administration not having one federal agency in charge of countering the increasingly successful efforts by radical Islamic groups to convert Americans via social media without their having to leave U.S. soil. He also argued that none of the key federal departments or agencies have dedicated -- or "line item" -- spending for such efforts.
The intelligence officials also testified that a major problem in tracking foreign fighters overseas is that the U.S. Embassy in Syria is closed and the CIA has no permanent presence on the ground in that country.
"Once in Syria, it is very difficult to discern what happens there," Steinbach said. "This lack of clarity remains troubling."
The officials repeatedly said U.S. agencies continue to share information and work together on counterterrorism efforts.
However, they identified two other major concerns -- the need to improve information sharing with European countries and tracking foreign fighters engaged in what they called "broken travel" or hopscotching between countries by different modes of transportation to avoid detection.
"The volume and diversity of recruits flowing to and from the conflict areas make disruption especially challenging," Rasmussen said. "There is no single pipeline for foreign fighter travel into and out of Syria. Violent extremists take different routes, including land, air, and sea."
He also said most go through neighboring Turkey, which has signed visa, free-travel agreements with more than 69 governments. But he acknowledged the country has stepped up its efforts to deny entry to potential foreign fighters.
Another major concern was the State Department's interest in resettling tens of thousands of Syrian refugees in the U.S.
McCaul called the idea a potentially "federally funded jihadi pipeline."
Taylor said he also was "concerned" and that the State Department would need to look at watch lists to see if there was a connection to terrorist groups.
The Associated Press contributed to this story.