Immigration Reform Bill Unveiled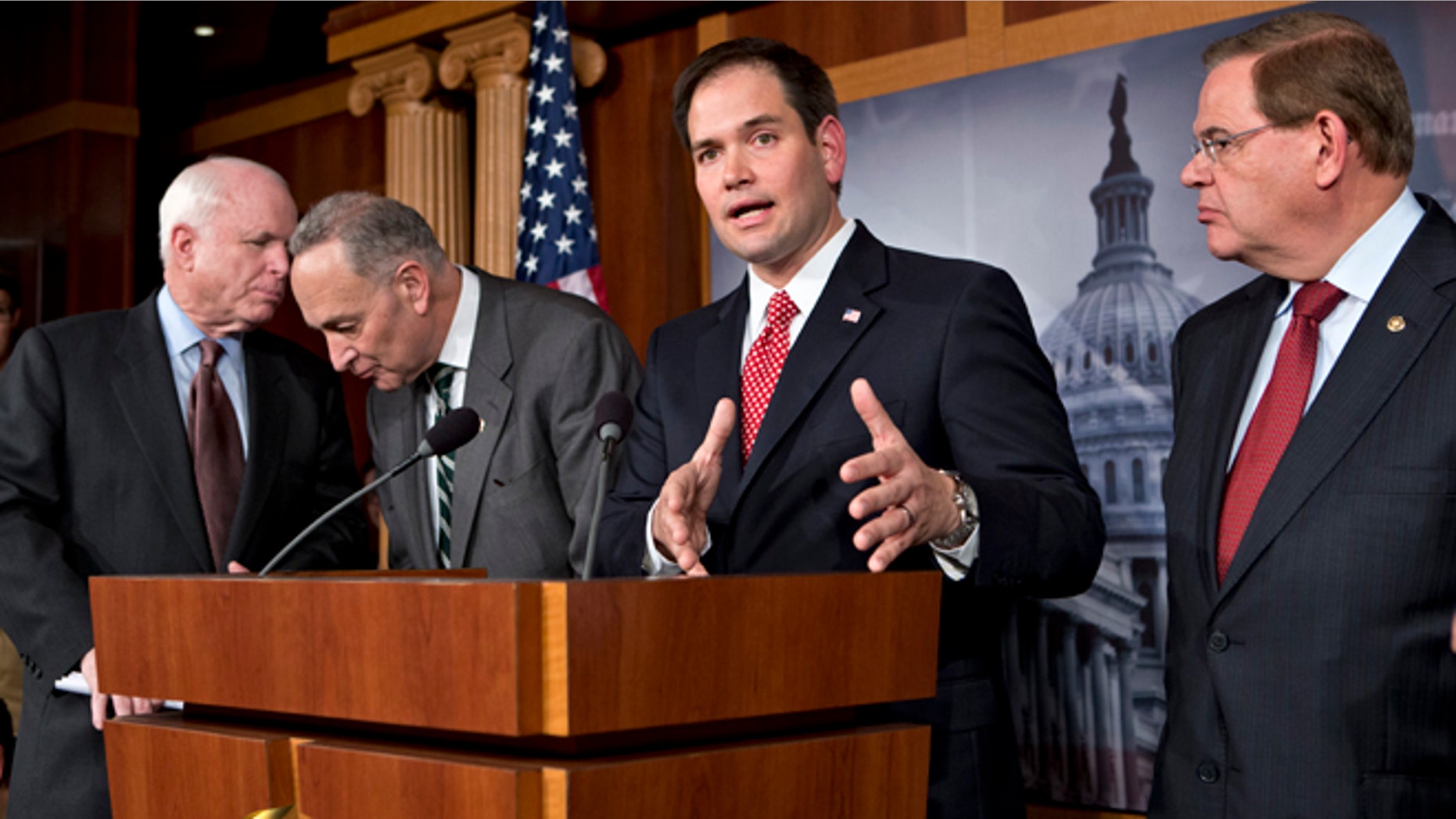 WASHINGTON – The most sweeping immigration reform bill in the last 26 years, meant to dramatically remake the U.S. immigration system, was officially filed on the Senate floor by Sen. Chuck Schumer at around 2 a.m. Wednesday morning.
The Bill
The 844-page immigration bill, completed by four Democrats and four Republicans, the so-called "Gang of Eight," would usher in new visa programs for both low- and high-skilled workers, require a tough new focus on border security, institute a new requirement for all employers to check the legal status of their workers, and install a path to citizenship for 11 million immigrants in the country illegally.
Read A Summary Of The Bill Here
The "Border Security, Economic Opportunity & Immigration Modernization Act of 2013" would shift the U.S. immigration system from emphasizing family ties to U.S. citizens or permanent residents in determining who can come to this country, to putting a much bigger focus on their skills or employment opportunities. People who've been deported would have the opportunity to come back to the U.S. if their spouses or children are in the country.
The path to citizenship is expected to draw the most controversy. Under the filed bill it would take 13 years for immigrants already living in the U.S. illegally to become citizens, the first 10 of those in a provisional legal status during which immigrants would not have access to federal benefits. Immigrants would have to pay $2,000 in fines plus hundreds more in fees, and outstanding taxes. No one with a felony conviction or more than three misdemeanors would be eligible, and no one who entered the country after Dec. 31, 2011, could apply.
Programs improving border security, a major caveat of the bill for Republicans, would have to be fully in place before the citizenship process can begin for the estimated 11 million people in the U.S. illegally. The bill allocates over $5 billion over ten years, $3 billion of which will be given to the Department of Homeland Security for more border patrol agents, increased surveillance, and unmanned drones.  If the most high risk border areas see an improvement of 90 percent or higher within five years than border security is deemed complete, and undocumented immigrants can begin applying for citizenship.  If the border security goal is not reached, a commission made up of border governors and experts will be established.
Under the terms of the bill, undocumented immigrants can begin to apply for legal status six months after the law is enacted as long as DHS submits an operational border security strategy to Congress by then.  The comprehensive reform bill requires a mandatory employment verification system to be in place and requires air and sea ports to be retrofitted with electronic systems that track those visiting the country temporarily.
Obama Approves
President Barack Obama is urging the Senate to move quickly on a comprehensive immigration overhaul drafted by a bipartisan group of senators. Obama says that the bill is a compromise measure and that nobody will get everything he wants — including him. But he says it's largely consistent with his own principles for immigration reform.
Republican Sen. John McCain (R-Ariz.) and Democratic Sen. Chuck Schumer briefed Obama on the details of the bill Tuesday at the White House.
"This bill is clearly a compromise, and no one will get everything they wanted, including me. But it is largely consistent with the principles that I have repeatedly laid out for comprehensive reform," Obama said. "I urge the Senate to quickly move this bill forward and, as I told Sens. Schumer and McCain, I stand willing to do whatever it takes to make sure that comprehensive immigration reform becomes a reality as soon as possible."
The White House says Obama is having dinner with 12 Democratic senators Wednesday at the Jefferson Hotel, where last month he dined with Republicans. He's trying to build support for his proposals, including the budget, guns and immigration.
Criticism From Both Sides
A a press event to roll the bill out was delayed until later in the week after the bombings at the Boston marathon. Nonetheless, outside groups and other senators already had plenty to say.
To some conservatives, it's amnesty.
To some immigration advocates, it's unnecessarily punitive.
The Senate's new bipartisan immigration bill drew criticism from the right and from the left Tuesday — convincing members of the bipartisan "Gang of Eight" that wrote it that they're on the right track.
"This has something for everybody to hate," said Sen. Jeff Flake, R-Ariz.
Said Sen. Chuck Schumer, D-N.Y., "No one gets everything they want."
"Our immigration system is broken, and the status quo of having 11 million undocumented people living under de facto amnesty will only continue if we do nothing to solve this problem," said Sen. Marco Rubio (R-Fl), a member of the "Gang of Eight." "This bill marks the beginning of an important debate"
To some on the left, the details of the path to citizenship were emerging as a concern.
"The proposed legislation falls short by placing unnecessary obstacles and delays in the path to citizenship and could unfairly exclude some of the 11 million aspiring Americans who are our neighbors, friends, family and fellow-worshippers," said Bishop Ricardo McClin, pastor of the Church of God Restoration in Kissimmee, Fla., and a member of PICO National Network, a faith-based organizing network. "PICO will be pressing for changes to make sure that the path to citizenship is real for the families in our congregations."
The path to citizenship also is contingent on various border security "triggers" first being met, an approach Obama administration officials and others have criticized.
Sen. Dick Durbin, D-Ill., defended the approach, which was sought by Republicans.
"Let me just tell you something. This was the price that Democrats had to pay to make this a bipartisan bill. And it's not too high a price," Durbin said.
On the other side, some Republicans were claiming that the bill amounted to a grant of amnesty for people in the country illegally, while opening a floodgate to immigration that could drive down wages for U.S. workers.
"The amount of immigration is going to be far more than most Americans think," said Sen. Jeff Sessions, R-Ala. He predicted that once the facts on the bill are known, the Senate might reject it. "Matter of fact, I don't think it's going to become law as written. It's far more monumental than people realize," Sessions said.
At the same time, the bill was getting plenty of support from business, labor, immigration rights groups and others. Many were eager to rally behind legislation that they see as representing the best chance in more than a quarter-century for Congress to enact meaningful immigration reforms even if imperfect.
"I don't think there's anybody out there that can say this is my dream legislation," said Clarissa Martinez, director of immigration at National Council of La Raza. "But I think that it's important to keep the whole in perspective, and where we're trying to go."
The Cost
Members of the Gang of Eight were working to sell the bill to various constituents. At one meeting Tuesday with representatives from about a dozen outside groups, Republicans in the group ticked off the bill's benefits: it doesn't cost the federal government money, won't undermine American workers, and "the pall of illegality will be removed and we can get on with the business of improving the economy. And we agree with all that," said one attendee, Daniel Garza, executive director of the LIBRE Initiative, a center-right organization that advocates for Hispanics.
The bill is expected to contain expenditures of around $17 billion, mostly for border security measures including hiring 3,500 new Customs agents, but should bring in more than that in fines and other revenue, according to a Senate aide Tuesday who spoke on condition of anonymity because the bill had not been released.
The Congressional Budget Office will have to analyze the legislation and confirm those figures, but lawmakers and aides have pledged that the bill won't cost taxpayers and they'll increase fees or fines in the legislation if it looks like it might.
The last serious effort to remake the immigration system, pushed by President George W. Bush, failed on the Senate floor in 2007. The biggest difference this time around is changed public sentiment in favor of reform, McCain said.
A new Associated Press-GfK poll shows 63 percent, including majorities across party lines, support providing a way for immigrants in the U.S. to become U.S. citizens. The poll was conducted by telephone April 11-15 among 1,004 adults and has a margin of sampling error of plus or minus 3.9 points.
The Associated Press contributed to this report.
Follow us on twitter.com/foxnewslatino
Like us at facebook.com/foxnewslatino