Hyde-Smith campaign says remarks about making it 'difficult' for 'liberal folks' to vote were a joke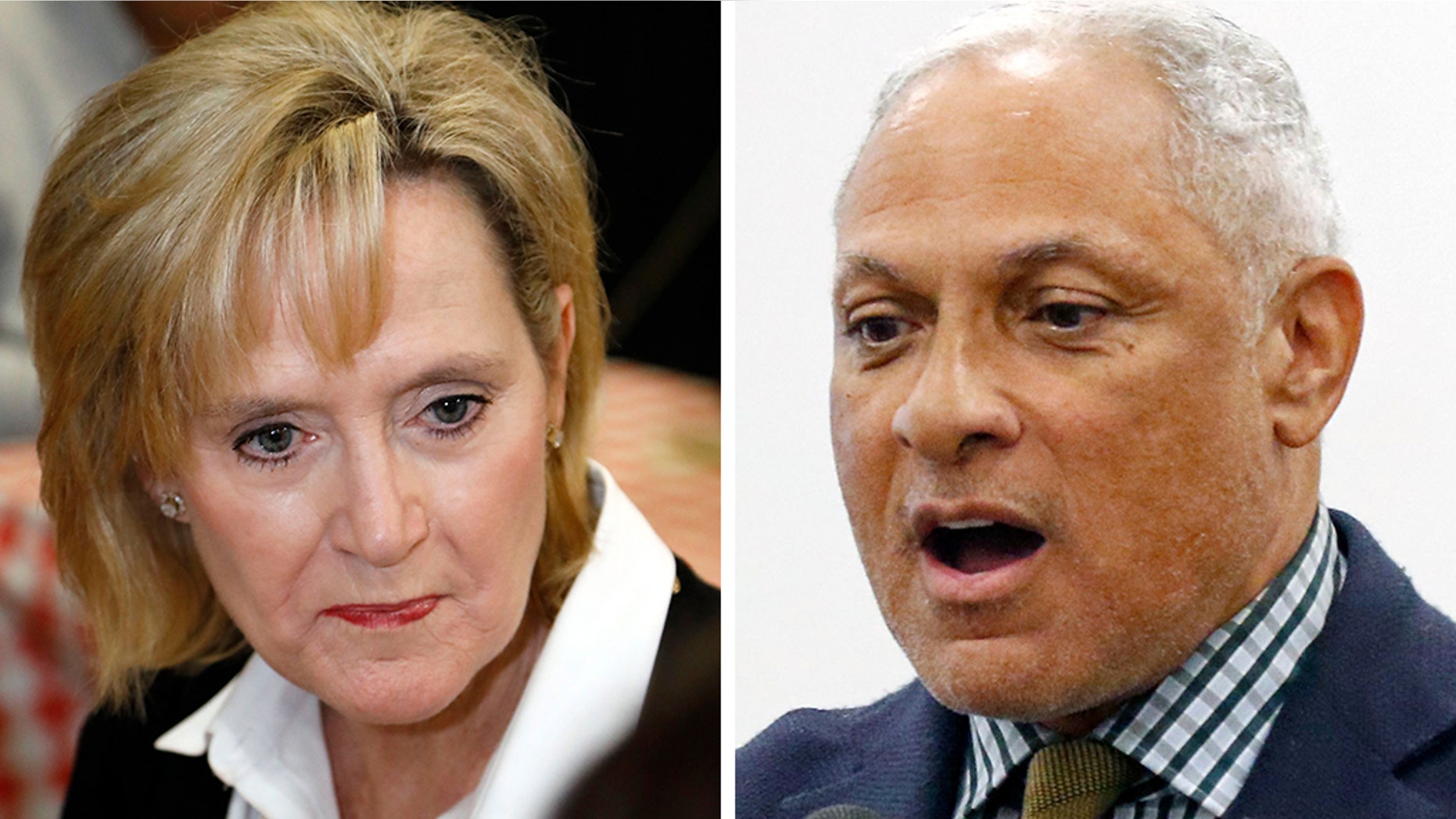 The campaign of Sen. Cindy Hyde-Smith, R-Miss., said Thursday that she was "making a joke" when she mused about making it more difficult for "liberal folks" to vote when speaking to a small group of supporters earlier this month.
The campaign statement came approximately one hour after video of the remarks was tweeted by Bayou Brief publisher Lamar White Jr., who earlier this week posted a clip of Hyde-Smith praising a supporter by saying: "If he invited me to a public hanging, I'd be on the front row."
ESPY SLAMS HYDE-SMITH'S 'PUBLIC HANGING' REMARK AS 'REPREHENSIBLE'
Hyde-Smith is facing Democrat Mike Espy, a former congressman and Secretary of Agriculture, in a Nov. 27 runoff election to determine the final makeup of the U.S. Senate. On Wednesday, Espy said Hyde-Smith's "hanging" remark was "hurtful and harmful" due to the state's history of racially motivated lynchings. Hyde-Smith claimed that the comment was an "exaggerated expression of regard" for a supporter and "any attempt to turn this into a negative connotation is ridiculous."
White tweeted that the latest video of Hyde-Smith was taken Nov. 3 in Starkville, where Mississippi State University is located. It is shot through a crowd and picks up Hyde-Smith in the middle of her remarks.
"And then they remind me that there's a lot of liberal folks in those other schools who that maybe we don't want to vote," the senator says. "Maybe we want to make it just a little more difficult. And I think that's a great idea."
Espy spokesman Sam Coleman tweeted that Hyde-Smith was "encouraging voter suppression." Espy campaign spokesman Danny Blanton said: "For a state like Mississippi, where voting rights were obtained through sweat and blood, everyone should appreciate that this is not a laughing matter. Mississippians deserve a senator who represents our best qualities, not a walking stereotype who embarrasses our state."
"Obviously Sen. Hyde-Smith was making a joke and clearly the video was selectively edited," Hyde-Smith campaign spokeswoman Melissa Scallan said in a statement. "Now the liberal media wants to talk about anything other than Mike Espy's record of corruption and taking $750,000 - and lying about it - from an African dictator now charged with war crimes, including murder, rape and torture."
Earlier Thursday, Fox News reported that Espy was paid $750,000 in 2011 for lobbying on behalf of then-Ivory Coast president Laurent Gbagbo's government. Espy initially claimed that he collected a fraction of that amount, but documents filed with the Justice Department show that he collected the full amount and terminated the contract just 15 days before it was supposed to end.
ESPY MISLED ABOUT $750G LOBBYING CONTRACT WITH AFRICAN DESPOT
The runoff winner will complete the final two years of a six-year term started by Republican Thad Cochran.
Republican Gov. Phil Bryant appointed Hyde-Smith to temporarily succeed Cochran when the longtime lawmaker retired in April.
Democrats haven't won a U.S. Senate seat in Mississippi since 1982, and Republicans hold most statewide offices. Hyde-Smith and Espy each received about 41 percent in a four-person field Nov. 6 to advance to the runoff.
The Associated Press contributed to this report.