Hillary puts 'secret weapon' Bill on campaign trail, fueling 'sexism' feud with Trump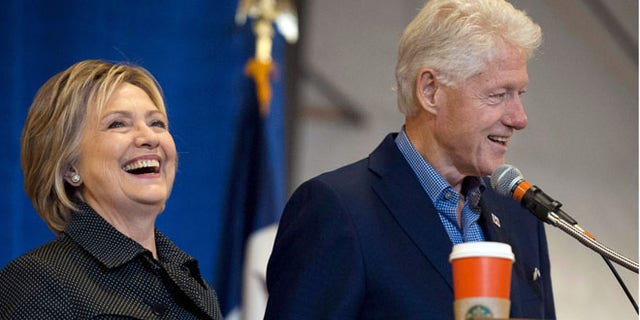 NEWYou can now listen to Fox News articles!
Faced with a tight battle in two, fast-approaching primaries, Hillary Clinton will bring husband Bill Clinton onto the campaign trail, a move already escalating the acrimony between her and GOP presidential candidate Donald Trump.
Clinton said after last weekend's Democratic primary debate in New Hampshire that husband and former President Clinton would join the campaign trail in January and called him her "not-so-secret weapon."
"We're going to cover as much ground in New Hampshire as we possibly can, see as many people, thank everyone who's going to turn out and vote for me to try to get some more to join them," she said.
Clinton is the clear Democratic frontrunner but remains in a close race with primary challenger Vermont Sen. Bernie Sanders in Iowa, which holds the first-in-the-nation balloting Feb. 1, and in New Hampshire, where voters go the polls eight days later.
She leads Sanders by 25 percentage points nationally but by just 6 points in New Hampshire, according to a RearClearPolitics averaging of polls.
Clinton campaign chairman John Podesta recently told supporters that his candidate was in a "dog fight" in New Hampshire, according to The Wall Street Journal.
The former president has already been on the 2016 trail for his wife, appearing on stage with pop star Katy Perry in late October before a key fundraising dinner in Iowa.
But he has largely remained behind the scenes, raising money and offering campaign advice to the former New York senator and secretary of state.
Though polls show Bill Clinton is still one of the most popular political figures in American politics, his efforts during Hillary Clinton's failed 2008 White House bid were occasionally criticized -- including his suggestion that race was a factor in eventual-winner Barack Obama defeating his wife in the South Carolina primary.
And Clinton's affair with White House intern Monica Lewinski while president will almost certainly become an attack line for the front-running Trump, whom Hillary Clinton accuses of being sexist.
Trump on Wednesday tweeted in response: "Hillary, when you complain about 'a penchant for sexism,' who are you referring to. I have great respect for women."
He also wrote in capital letters, "BE CAREFUL!"
And Trump spokeswoman Katrina Pierson has suggested that the campaign will make an issue of Bill Clinton's past behavior if his wife continues with the sexist accusations.
"Hillary Clinton has some nerve to talk about the war on women and the bigotry toward women when she has a serious problem in her husband," Pierson said on CNN.