Hillary Clinton compares Putin's Ukraine action to Nazi 'Heim ins Reich' policy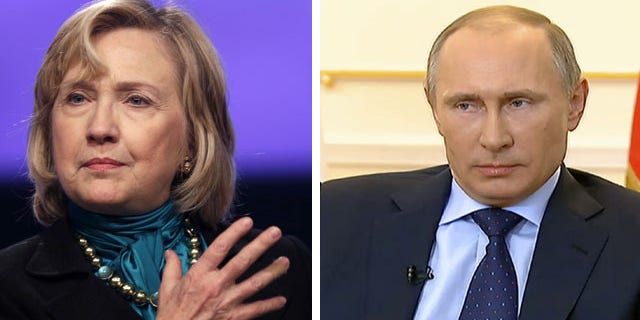 Former Secretary of State Hillary Clinton compared the recent Russian troop deployment in Crimea to policies implemented by Adolf Hitler's Nazi Germany regime.
Speaking at an event benefiting the Boys & Girls Clubs of Long Beach, Calif. Tuesday, Clinton drew parallels between what she described as a campaign by Russian President Vladimir Putin to give Russian passports to any Crimea resident with Russian ties and the so-called "Heim ins Reich" resettlement policy practiced by the German dictatorship prior to World War II.
"[This is like] what Hitler did back in the 30s," Clinton said, according to the Long Beach Press-Telegram. "All the Germans that were ... the ethnic Germans, the Germans by ancestry who were in places like Czechoslovakia and Romania and other places, Hitler kept saying they're not being treated right. I must go and protect my people and that's what's gotten everybody so nervous."
"Heim ins Reich," which literally means "Home into the Empire," was a policy pursued by Hitler beginning with the Anschluss of Austria and the annexation of Czechoslovakia's Sudetenland in 1938. The ultimate aim was to convince ethnic Germans living outside the Third Reich to agitate to be included in a so-called "Greater Germany." In practice, the policy required expelling non-Germans from their traditional homes as the Nazis pushed east and resettling ethnic Germans in their place, as well as transferring whole German communities from parts of eastern Europe for resettlement in Germany. The policy ended with the defeat of the Nazis on the Eastern Front by the Soviet Union in 1945.
At a press conference earlier Tuesday, Putin said that he would use force in Crimea only as a last resort, but he reserved the right to protect ethnic Russians in the region by any means necessary.
Later in her remarks, Clinton described Putin as a man "who believes his mission is to restore Russian greatness ... When he looks at Ukraine, he sees a place that he believes is by its very nature part of Mother Russia."
However, the former top American diplomat did strike a cautiously optimistic note as she claimed that the ongoing Crimea situation was "a real nail-biter, right now, but nobody wants to up the rhetoric. Everybody wants to cool it in order to find a diplomatic solution and that's what we should be trying to do."