Growing Chorus of Democrats Tells Weiner to Quit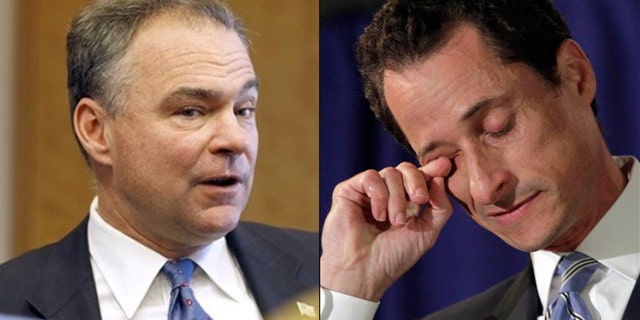 Rep. Anthony Weiner faced escalating calls from congressional Democrats to step down Wednesday over a racy photo scandal after the party's former leader, Tim Kaine, seemed to open the floodgates.
Kaine, the former DNC chairman, was the first prominent Democrat to say Weiner, a New York Democrat, should resign over the scandal.
"Lying is unforgivable. Lying publicly about something like this is unforgivable, and he should resign," Kaine said Wednesday.
Weiner, who is married, admitted Monday that he had made up a story about his Twitter account being hacked to cover up his inappropriate online and phone communications with six women over the past three years. Those communications were first exposed publicly when he accidentally revealed to his Twitter followers a crotch photo he intended to send to a female college student.
Democrats from across the country soon followed Kaine's lead Wednesday in calling for Weiner to step down.
Pennsylvania Rep. Allyson Schwartz, an official with the Democratic Congressional Campaign Committee, said Weiner should go, in light of his "offensive behavior online." Maine Rep. Mike Michaud said resigning would be the best move for Weiner and his family.
Massachusetts Rep. Niki Tsongas said through a spokeswoman that "it would be appropriate for Congressman Weiner to step down." Vermont Sen. Patrick Leahy said he thinks Weiner resigning would be in the best interests of his constituents and the U.S. House.
Arkansas' only Democratic congressman, Mike Ross, and its only Democratic senator, Mark Pryor, also joined the chorus. As did North Carolina Rep. Larry Kissell and Indiana Rep. Joe Donnelly.
Others in the party are, for the most part, either distancing themselves from Weiner or keeping their heads down. Republicans already had been calling for Weiner to resign. The reactions do not bode well for the seven-term congressman as he tries to convince his colleagues that he should remain in office.
House Democratic Leader Nancy Pelosi has called for an ethics probe into Weiner's actions and reportedly was very upset by his handling of the controversy. In the other chamber, Senate Democratic Leader Harry Reid gave an ice-cold assessment of the situation on Tuesday.
"I know Congressman Weiner. I wish I could defend him, but I cannot," Reid told reporters. Asked what he would say if Weiner were to call for advice, Reid said: "Call somebody else."
The White House had no comment on the controversy Wednesday. Current DNC Chairwoman Debbie Wasserman Schultz has likewise offered no public remarks on the controversy.
Weiner, though, has not backed off his claim that he will seek to remain in office. He reaffirmed to reporters Tuesday night in New York City, "No, I'm not resigning."
Meanwhile, Weiner reportedly has reached out to former President Bill Clinton to personally apologize. Clinton officiated at Weiner's wedding last year to Huma Abedin, a top aide to Secretary of State Hillary Clinton.
As the drama unfolds, Abedin is traveling with the secretary of state this week to Africa. She was scheduled to arrive in the United Arab Emirates on Wednesday.
The controversy does not appear to be dying down, with a possible ethics committee investigation on the horizon and more salacious details emerging about his online indiscretions.
Meagan Broussard, a 26-year-old single mother, said she corresponded daily with Weiner online after they met on Facebook.
She told Fox News that Weiner's comments were occasionally explicit, but she "wasn't interested."
Another woman, a Las Vegas blackjack dealer, claims to have exchanged dozens of graphic messages with Weiner. According to TMZ, she wrote a note to Abedin Tuesday apologizing for their actions.
Making matters worse, an image that supposedly shows Weiner's genitals was posted online Wednesday by a shock jock. The photo was in conservative blogger Andrew Breitbart's custody, and Breitbart claims the radio host took a picture of it without his permission.