Weiner's Wife Is Reportedly Pregnant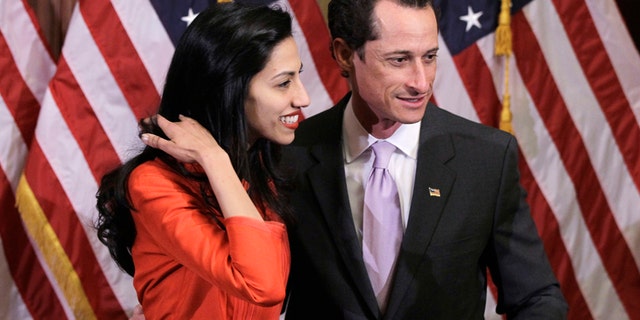 NEWYou can now listen to Fox News articles!
Disgraced New York Rep. Anthony Weiner and his wife, Huma Abedin, are expecting their first child, the New York Times reported Wednesday, mere days after Weiner admitted to inappropriate online and phone communications with a half dozen women.
Abedin, a longtime aide to Secretary of State Hillary Clinton, is in the early stages of pregnancy, sources told the newspaper. The report couldn't immediately be confirmed.
The two married less than a year ago and are now dealing with a scandal that could end Weiner's political career.
Weiner confessed Monday that he sent lewd photos and messages to six women via Twitter and Facebook after lying for days about his online activities. He initially claimed his Twitter account was hacked and that he was the victim of a prank, when actually he had accidentally sent a photo of his bulging underwear to all of his Twitter followers last week. Calls for his resignation are growing louder on both sides of the aisle.
But during his tearful news conference Monday, Weiner said he won't resign and that he and his wife are staying together.
"We will weather this," he said. "I love her very much, and she loves me."