Group Chides Clinton for 'Public Silence' on Saudi Woman Jailed for Driving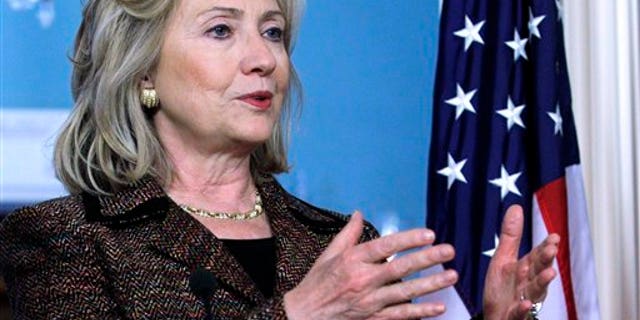 NEWYou can now listen to Fox News articles!
Hillary Clinton held an event Monday launching the "Women's World Cup Initiative" to empower women through sports. But a coalition of rights activists is asking the U.S. secretary of state to get involved in a case dealing with an issue just as basic: driving while female.
Chiding the U.S. government for its "public silence" on the issue, the rights group has called on Clinton to take a stand in the case of a mother arrested for driving in Saudi Arabia.
Manal al-Sharif has been at the center of a protest movement since she was arrested last month for violating the kingdom's ban on women driving. Saudi Arabia is the only country in the world that prohibits women from getting behind the wheel -- something Saudi Women for Driving wants Clinton to publicly condemn.
"We were encouraged to see media reports that U.S. diplomats have quietly pressured the Saudi government to give women the right to drive," the group said in an open letter to Clinton, referring to reports on leaked embassy cables that predated the latest incident. "But given the recent arrests of women trying to drive, now is the time for the U.S. to show its muscle and make that pressure public."
Expressing "deep concern" about the United States' response so far, the group called on Clinton to make a "public statement supporting Saudi women's right to drive."
"We do not make this request lightly, but we believe that you making a public statement of support for Saudi Arabia opening the country's roads to women would be a game-changing moment," the group wrote.
Al-Sharif reportedly has been released from custody, but that hasn't stopped activists from pushing ahead with a planned protest June 17 in Saudi Arabia. Al-Sharif was arrested after she posted video of herself driving on Facebook and YouTube, but the campaign for the right to drive has since surged online.
A State Department official welcomed the news of Al-Sharif's reported release and called Clinton as an ardent proponent of women's rights around the world.
The latest petition, organized through advocacy platform Change.org, has so far collected nearly 14,000 signatures. Another open letter was penned to European Union High Representative for Foreign Affairs and Security Policy Catherine Ashton.
A representative from Saudi Women for Driving told FoxNews.com Monday that Clinton has not yet responded to the petition.
"Such a statement falls perfectly within U.S. policy and Secretary Clinton's personal views, yet we need to launch an international campaign to demand it. Is it too much to ask for a Secretary of State who has championed women's rights all over the world to support the right of women to drive?" the representative said in an email.
The U.S. government has had a tricky time addressing Saudi Arabia, as the Obama administration calls on other Middle Eastern nations to heed the public clamor for democratic reform and human rights. Though the kingdom is one of the most conservative Muslim nations and one of the most oppressive toward women, the oil-rich country is also one of the United States' closest allies in the Middle East.
State Department spokesman Mark Toner earlier deflected questions on al-Sharif's arrest.
Asked last month about al-Sharif, Toner acknowledged there was an "active debate" regarding social issues in the country and said, "we trust the government of Saudi Arabia to ... give careful consideration to these voices of its citizens as they speak about issues of concern."
Asked a few days later whether the U.S. had expressed its concern to the Saudis about her detention, he said: "I don't know that there's been direct contact with the Saudi government."