Graham-Cassidy in peril: Sweeteners not enough to win over Paul, Cruz
Republican authors behind a last-ditch plan to overhaul ObamaCare struggled Monday to win over Senate holdouts, even after reworking the funding formula in the latest version to give key states more money.
A spokesman for Sen. Rand Paul, R-Ky., whom President Trump tried to woo over the weekend, said Monday that the Kentucky lawmaker has not budged from his opposition.
Paul's state was among those seeing a funding increase under the latest version of the "Graham-Cassidy" bill, but the Republican has concerns the plan would spend too much without really replacing ObamaCare.
"No change on his position," Paul's spokesman told Fox News.
A senior aide to Sen. Ted Cruz, R-Texas, indicated he also "remains at this point" a no on the health care bill.
"It is our intent to try to find a path to yes," the aide added.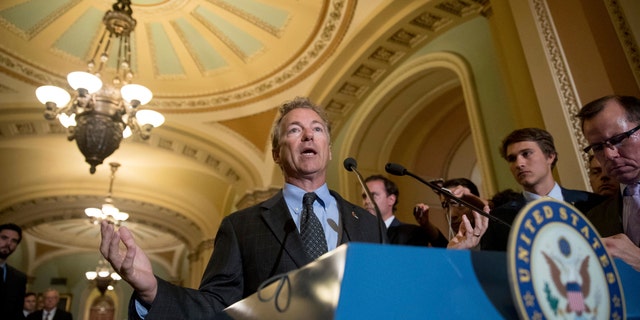 Sponsors Lindsey Graham, of South Carolina, and Bill Cassidy, of Louisiana, are trying to win over support from the chamber's GOP holdouts. A new chart released by Cassidy's office shows a range of states getting extra health care funding, including those represented by each one of those GOP holdouts: 4 percent more for Kentucky; 49 percent more for Texas; 3 percent more for Alaska; 43 percent for Maine and 14 percent more for Arizona than under current law.
Sen. John McCain, R-Ariz., joined Paul last Friday in opposing the bill, setting off the scramble to either win over Paul or at least convince other wavering senators to support the bill. Republicans can only afford to lose two senators on the floor.
The focus is heavy on Alaska, where GOP Sen. Lisa Murkowski does not want to back any measure that would increase the state's already sky-high cost of providing health care in its many remote, rural communities.
Yet, while the latest funding boost for Alaska would not appear that significant, the boost for Maine is substantial. The state is represented by Sen. Susan Collins, who has been leaning "no" on the bill for days.
While Texas also would see a big boost, Fox News is told that Cruz remains concerned that the additional money does not necessarily resolve concerns about lowering premiums -- and that the bill does not permit the sale of health insurance plans across state lines.
The bill would provide block grants to states, allowing them to execute to their own plan to manage a federally backed health care program.
White House legislative affairs Director Marc Short acknowledged on "Fox News Sunday" that the bill's funding formulas were being revised over the weekend.
However, Cassidy's office has not responded to requests to explain the new state-by-state data in more detail.
Collins and Murkowski, along with McCain, voted no in July when the GOP-controlled Senate held its only final floor vote this year on a full ObamaCare repeal-replace measure.
The failed effort has soured President Trump on Senate Republicans, who hold a 52-48 majority in the chamber, considering Trump made repealing ObamaCare a major campaign promise.
Republican have until Saturday to pass the bill by a simple, 51-vote majority under so-called budget reconciliation rules, with the potential for Vice President Pence to cast a deciding yes vote.
Trump this weekend continued to try to rally votes and suggested that Alaska and Maine would be among several states to benefit from the new bill, if passed.
"Alaska, Arizona, Maine and Kentucky are big winners in the Healthcare proposal. 7 years of Repeal & Replace and some Senators not there," Trump tweeted Sunday.
Arizona is the home state of McCain, who cast the decisive no vote in July and on Friday said he wouldn't vote for the new bill.
Trump, in response, blasted McCain while turning his attention to Paul.
Trump on Saturday tweeted: "I know Rand Paul and I think he may find a way to get there for the good of the Party!"
An analysis released last week by the firm Avalere Health showed 34 states getting less funding -- with Arizona, California and New York among those appearing to face the deepest cuts.
Texas stood to get the biggest increase -- $35 billion -- and states overall would get $215 billion less through 2026, according to the report.
"The Graham-Cassidy bill would significantly reduce funding to states over the long term," said Avalere Vice President Caroline Pearson. "States would have broad flexibility to shape their markets but would have less funding to subsidize coverage for low- and middle-income individuals."
No congressional Democrats support dismantling former President Barack Obama's signature health care law.
On Monday, House Minority Leader Nancy Pelosi, D-Calif., said the weekend "tweaks" to Graham and Cassidy's bill "only worsen the crushing costs and cruelty their bill inflicts on millions of Americans with pre-existing conditions and working families."
Fox News' Joseph Weber, Chad Pergram and Mike Emanuel contributed to this report.