GOP uses Trump comment mirroring Hillary slogan, pokes fun at 2016 election defeat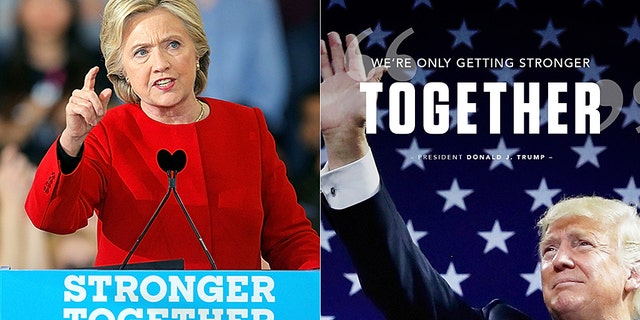 A line from President Donald Trump's El Paso speech on Monday night is testing the limits of the phrase: "imitation is the sincerest form of flattery."
Trump's event, held at the El Paso County Coliseum for his first "Make America Great Again Rally" of the year, came amid the continuing border wall funding debate.
The president told the thousands in attendance El Paso is one of the "safest cities" in America thanks to a "powerful border wall".
It was another remark however, that caught the attention of many – including the Republican Party.
Speaking about his love for Texas, Trump told his supporters: "It's been a great romance."And we're only getting stronger together." The GOP -- as it often does -- was quick to pull out part of Trump's remark and share it with more than 1.8 million Twitter followers.
BETO VS. TRUMP: O'ROURKE SAYS 'WALLS END LIVES' IN COMPETING EVENT ALONG US-MEXICO BORDER
FBI SCRAMBLED TO RESPOND TO HILLARY CLINTON LAWYER AMID WINER LAPTOP REVIEW, NEWLY RELEASED EMAILS SHOW
However, many were quick to point out Hillary Clinton's failed 2016 campaign used the same phrase as its official slogan – after trying out a number of other options including "I'm with her" and "fighting for us".
"Stronger Together" was also the title of the book Clinton wrote with running mate Tim Kaine in 2016.
As many were pointing out the Trump-Clinton crossover, the GOP instead used the shared saying as a way to remind Democrats of their 2016 defeat.
CLICK HERE FOR THE FOX NEWS APP
"When you lose your campaign, you lose your monopoly on any slogans. As we saw at his packed rally, President Trump continues to unite the American people behind his pro-border security agenda," RNC spokesman Steve Guest told Fox News.
As for the rest of his rally on Monday, Trump chided potential 2020 opponent Beto O'Rourke, poked fun at embattled Virginia Gov. Ralph Northam, and stressed the importance of building a wall along the southern border.