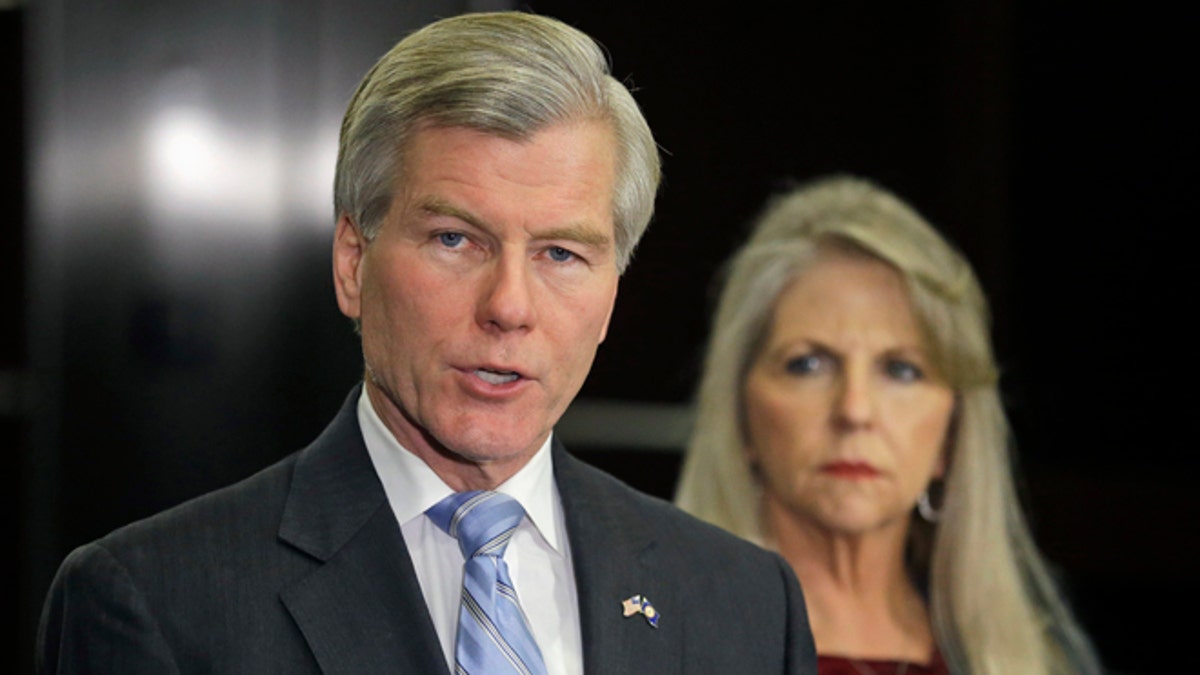 RICHMOND, Va. – Former Virginia Gov. Bob McDonnell, his reputation already tarnished and his political future destroyed by a gifts-for-favors scandal, faces the possibility of an even greater loss when his trial on federal corruption charges begins Monday.
The onetime rising Republican star and his wife, Maureen, could be sentenced to decades in prison if convicted of the charges in a 14-count indictment issued by a grand jury 10 days after McDonnell left office in January. They are accused of accepting more than $165,000 in gifts and loans from Jonnie Williams, the founder of a dietary supplements company, in exchange for helping to promote his products.
Legal experts have said the case is no slam-dunk for the prosecution, however, and exceptionally strident language in court filings point to a no-holds-barred battle that will pit the motives and credibility of the former first couple against Williams, who will testify for the prosecution under immunity. Defense attorneys have suggested the case is politically motivated and argued that prosecutors have stretched the meaning of federal bribery laws to cover routine and long-accepted political courtesies.
"The defense team for the governor appears to have been very active and aggressive, and that's what you have to do to meet the challenges in these kinds of cases," said Andrew Sacks, a defense attorney who represented a former Virginia lawmaker convicted of bribery and extortion in 2011.
After Sacks' client, former Del. Phillip Hamilton, was sentenced to more than 9 years in federal prison, McDonnell said: "Today's judgment is a reminder that no one is above the law."
That's a theme the prosecution is likely to lay out for the jury during a trial before U.S. District Judge James R. Spencer. It is scheduled to last at least five weeks.
Barry J. Pollack, a criminal defense attorney who is not involved in the McDonnell case, said one of the key questions for the jury will be whether McDonnell believed it was criminal to accept the gifts — including a Rolex watch, designer clothing, golf trips and $15,000 for a daughter's wedding expenses — while supporting Williams' efforts to grow a Virginia business.
"The mere fact that he accepted gifts doesn't mean he accepted them with corrupt intent, and that's what the case is going to come down to — whether the jury believes the governor was acting with corrupt intent," Pollack said.
The defendants have hired a small army of attorneys, led by former federal prosecutor John Brownlee for McDonnell and ex-White House lawyer William Burck for his wife. A group of McDonnell supporters that established a legal defense fund has estimated the case will cost the McDonnells at least $1 million. It's a daunting figure for a couple who raised five children primarily on his salaries as a hospital supply company employee, assistant prosecutor, state lawmaker and attorney general before becoming governor. The defense fund has raised about $250,000.
On the other side, with the vast resources of the federal government at its disposal, is a team of veteran prosecutors led by Assistant U.S. Attorney Michael Dry.
Pollack said the government tends to carefully choose which cases it tries, but some defendants are acquitted, even in high profile cases.
He said prosecutors likely will counter defense claims of a lack of criminal intent by portraying the McDonnells as dishonest.
"The government necessarily will call Gov. McDonnell's character into question," Pollack said.
Prosecutors also will portray the couple as financially desperate. McDonnell, who was widely considered a possible Mitt Romney running mate in 2012, has hired an accountant as an expert witness to testify that his finances were sound.
Defense attorneys have signaled in court papers that part of their strategy will be to put Williams' character on trial. They have said the case boils down to "a credibility contest" between a former governor with a distinguished career in public service and a businessman whose companies have been investigated by regulators and sued by shareholders, and who is now getting a sweetheart deal for cooperating with prosecutors.
The jury also will have to weigh the two sides' competing interpretations of federal bribery laws. McDonnell claims his dealings with Williams did not involve any "quid pro quo" — the Latin term used in the law that means one thing for another. McDonnell argues that while he arranged meetings with government officials for Williams and hosted an event at the Executive Mansion to launch Star Scientific's signature product, such accommodations fall short of sort of benefits historically associated with bribery — government grants and jobs, for example.
Prosecutors counter that an exchange of benefits need not be so specific to be illegal. The McDonnells' willingness to help Williams on "an as-needed basis" and Williams' expectation of something in return, whether he received anything or not, qualifies as a quid pro quo, they say.
To some extent, the trial could pit the couple against each other. Bob McDonnell's attorneys have said in court papers that most of the allegedly shady dealings cited in the indictment were by Maureen McDonnell, including a New York City shopping spree, a $50,000 loan and the $6,500 Rolex as her gift to the governor — all bankrolled by Williams.
Spencer rejected the couple's request to be tried separately, which the former governor says deprives him of testimony his wife otherwise would have offered in his behalf. Maureen McDonnell said in court filings that she would not testify if she and her husband were tried jointly. It's not clear if the former governor will take the stand.