Georgia Law Enforcement Officials Get Training and Guidelines on What They Can Do Under New Immigration Law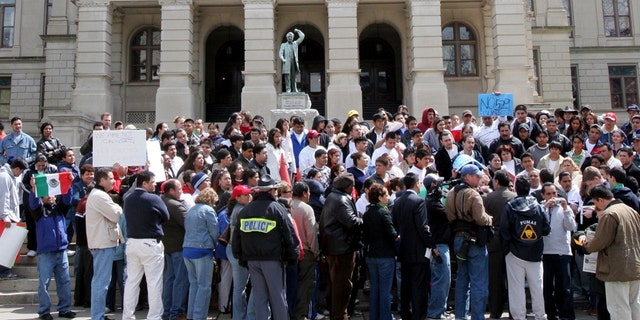 Law enforcement officials in Georgia are preparing for a new immigration law that is to take effect on July 1.
The new law authorizes law enforcement to check the immigration status of a suspect who cannot provide an acceptable form of identification. But many officers lack the capability to check immigration status while out in the field.
Police departments and sheriff's offices around the state are drafting guidelines spelling out what their officers can and can't do under the new law, said Dale Mann, director of the Georgia Public Safety Training Center.
The law is among the strictest on immigration at the state level in the nation. On Thursday, a coalition of civil rights groups, including the American Civil Liberties Union, filed a lawsuit asking a federal judge to block the law from going into effect on July 1.
The coalition says that immigration is a federal matter, and that it will lead to profiling by law enforcement officials.
Mann led a training session Wednesday at Columbus State University to educate several dozen managers from law enforcement agencies around the state on new legal issues that affect them, including the immigration law.
Many attendees said they had just begun to look at the law that was signed by the governor in mid-May, and that Wednesday's meeting was the first in-depth explanation they'd heard.
"I think we're going to need to fully understand the law before we start to enforce it," said Columbus police Chief Ricky Boren, who attended the meeting.
While the new law will authorize law enforcement officers to detain anyone they determine is in the country illegally and to turn them over to federal authorities, they cannot do so unless federal immigration authorities agree to accept the person, Mann said. Often, immigration authorities prefer to focus on felony offenders, he said.
Many meeting attendees said they didn't believe the new law would significantly affect their agencies' operating procedures.
"It seems like a lot of parts of this law are things that law enforcement currently has the authority to do," said Athens-Clarke County police Chief Jack Lumpkin.
The new law also penalizes people who, during the commission of another crime, knowingly transport or harbor illegal immigrants and makes it a felony with stiff penalties to present false documents or information when applying for a job. Another provision set to be phased in starting in January will require many businesses to check the immigration status of new hires.
The Georgia measure's law enforcement provisions are very similar to those in a law enacted earlier this year in Utah and also echo some parts of a law enacted last year in Arizona. All or parts of both those laws have been blocked by federal judges.
For that reason, Mann said he's a little hesitant to push forward with aggressive training on the new law.
It's important for managers of law enforcement agencies to be aware of what the law says so they can start adjusting or replacing their operating procedures, and it will be discussed at statewide conventions for police chiefs and sheriffs and will be incorporated into ongoing training for officers and deputies, he said.
"I'm going into this slowly because I know there's going to be a constitutional challenge. And I don't want to have to go back and unteach anything if parts of the law are thrown out," he said. "I don't even know that this law will be in effect a year from now or what it will look like."
This is based on a story by The Associated Press.
Follow us on twitter.com/foxnewslatino
Like us at facebook.com/foxnewslatino