General Defends Move to Prohibit Pregnancy, Calls Female Soldiers 'Invaluable'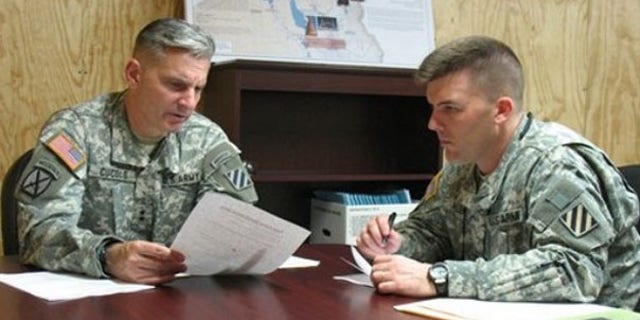 NEWYou can now listen to Fox News articles!
The U.S. Army commander in northern Iraq who prohibited pregnancy in his ranks defended his decision Monday, saying his female soldiers are "invaluable" and that he can't afford to lose anyone under his watch at a time when U.S. forces are already drawing down.
Maj. Gen. Anthony Cucolo insisted that those who violate the new rule would not face court martial, even though his new order lists pregnancy under a section of violations punishable by prosecution. So far, the punishments have been in the form of written letters of reprimand.
But he said the order is critical to the goal of keeping his "combat power together."
"I've got a 22,000-man task force and I need every soldier I've got. We are facing a drawdown and anyone that leaves earlier than the expected 12 months creates a burden on their teammates," Cucolo, head of Multi-National Division-North, told Fox News. "My female soldiers are invaluable -- many of them hold high impact jobs. In general, my troops are few in number and I need them all."
Cucolo told Fox News the new rule applies equally to men. "It's not in step with the warrior ethos," he said. "We have to keep an eye on every soldier and so men who break this rule are subject to the same punishments."
Cucolo's 22,000-person task force includes 1,682 women.
Since the rule was implemented Nov. 4, Cucolo said four women have gotten pregnant, leading to reprimands for seven people -- four women and three men. The fourth male was not identified and so was not punished. All of the violators got a written reprimand, but one of the men had that letter entered into his permanent record because he was married.
"That was adultery," Cucolo said.
Soldiers can effectively "take a plea" for violating the no-pregnancy rule, Lt. Col. Nate Banks, an Army spokesman, told Fox News.
If suspected of violating the ban, a soldier will face an Article 15 hearing, which results in non-judicial punishment such as a written letter of reprimand. However under Article 15, soldiers could receive a reduction in rank, forfeiture of pay or confinement to post for a certain time. An Article 15 finding does not eliminate the possibility of promotion in the future.
If a soldier opts out of Article 15 for a court martial, the punishment for a guilty ruling could be more severe, including jail time. Jail time would not be for more than a year and is very unlikely, Banks said.
In either case if a senior officer is involved he or she would likely be asked to resign his or her commission.
Cucolo said he made sure the rule was legal before making the change and that he hasn't gotten any "pushback on an official level" since implementing it.
Army spokesman Lt. Col. Christopher Garver made clear that Cucolo's order is not "Army policy."
"These policies are exclusive to General Cucolo's command in northern Iraq," he said.
The commander carefully explained the rationale behind the policy in a written statement.
"Anyone who leaves this fight early because they made a personal choice that changed their medical status -- or contributes to doing that to another -- is not in keeping with a key element of our ethos, 'I will always place the mission first,' or three of our seven core values: loyalty, duty and selfless service. And I believe there should be negative consequences for making that personal choice," Cucolo wrote.
"I do not expect those who have never served in the military to completely understand what I have tried to explain above," he concluded. "As intensely personal as this topic might be, leaving those who depend on you shorthanded in a combat zone gets to be personal for those left, too. This addition to a standing general order is just a small part of our overall effort to motivate thoughtful and responsible behavior among our soldiers."
Fox News' Justin Fishel contributed to this report.