Fraud in Europe's Cap and Trade System a 'Red Flag,' Critics Say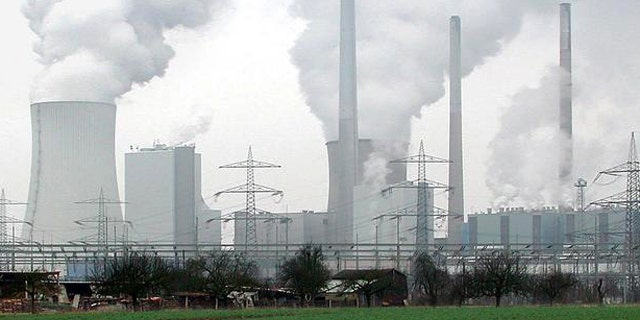 The top cops in Europe say carbon-trading has fallen prey to an organized crime scheme that has robbed the continent of $7.4 billion -- a massive fraud that lawmakers and energy experts say should send a "red flag" to the U.S., where the House approved cap-and-trade legislation over the summer amid stiff opposition.
In a statement released last week, the Europol police agency said Europe's cap-and-trade system has been the victim of organized crime during the past 18 months, resulting in losses of roughly $7.4 billion. The agency, headquartered in the Netherlands, estimated that in some countries up to 90 percent of the entire market volume was caused by fraudulent activities.
"These criminal activities endanger the credibility of the European Union Emission Trading System and lead to the loss of significant tax revenue for governments," Rob Wainwright, Europol's director, said in a statement.
Launched in 2005, the Emission Trading System seeks to reduce greenhouse gas emissions -- which many scientists believe contribute to global warming -- by allocating carbon pollution allowances to member states to fulfill its obligations under the U.N.'s Kyoto Protocol. Companies that emit less than their allowance can sell the difference on the trading market to firms that exceed their established limits.
But, according to a diagram of the scheme provided by Europol officials, the accused traders would open an account in a national carbon registry and then purchased emission allowances without value added taxes from other companies in other countries. Those allowances were then transferred to the country where they were registered before the accused trader moves them to an unregulated broker, selling the allowances on a trading exchange, often through various buffer companies. Finally, the accused trader charges the value added tax on the transaction but does not submit that money to authorities.
France has reportedly launched a criminal probe into four men who allegedly took part in the scheme, two of whom have been jailed.
It's a lesson to be learned, critics of cap-and-trade say. Creating such a system in the United States would invite "corruption, illegality and criminal activity," much as it has in Europe, said Max Schulz, senior fellow at the Manhattan Institute.
"This is the problem with politicians trying to create a market for something that the free market otherwise doesn't value," Schulz said. "An emissions trading market is an artificially, politically-created market....
"If we pass a system like Europe has, we're going to get all the problems Europe has experienced," he said. "You're asking for a lot of problems."
U.S. Rep. Joe Barton, R-Texas, ranking member of the House Energy and Commerce Committee, said it's no surprise cap-and-trade systems are vulnerable to corruption.
Barton said he recently asked the U.S. District Court for the Central District of California to unseal the court file of Anne Sholtz, a former environmental executive who co-created the Regional Clean Air Incentives Market (RECLAIM) in 1999. Sholtz's company, Automated Credit Exchange, provided a market for companies to buy and sell pollution credits under RECLAIM. In 2005, Sholtz pleaded guilty to wire fraud for using counterfeit credits to pocket more than $12 million. Sholtz was later sentenced to one year of house arrest. (Barton wrote about Sholtz earlier this year for TheHill.com.)
"We already know from an example in California that cap-and-trade systems are vulnerable to fraud, so the discovery of potential fraud in Europe shouldn't surprise anyone in America," Barton said in a statement. "What happened in California is that not much thought was given to the possibility that people with questionable intentions could manipulate the system. The case has drawn fresh attention because it looks like the Environmental Protection Agency and the Department of Justice still may not understand how to stop a vastly more destructive, Bernie Madoff-like scheme from taking advantage if the nationwide cap-and-trade system is approved by Congress."
Diana Furchtgott-Roth, the former chief economist for the U.S. Department of Labor and now a senior fellow at the Hudson Institute, said she was concerned with political favoritism as much as outright fraud if a cap-and-trade system is implemented.
"Depending on how many emission allowances you have to purchase and how many emission allowances you are given, you can be a winner or a loser," she said. "It'll be an opportunity for corruption, not by tax avoidance but by political corruption, both on the state level and the national level."
Furchtogott-Roth said the fraud allegations are a "real example" of why any carbon-trading system in the U.S. should not include a value added tax (VAT).
But such a scheme won't happen stateside, namely because a value added tax won't be part of any carbon-trading system in the United States, said William Whitesell, director of policy research at the Center for Clean Air Policy, a Washington-based nonprofit think tank.
"We don't have a value added tax in this country, but there will be attempts [to defraud a carbon-trading system], so we have to have a robust regulatory framework around a carbon market," Whitesell told FoxNews.com. "But we don't want to throw out the baby with the bath water."
Whitesell cited the massive fraud of disgraced trader Bernie Madoff as evidence that potential fraud doesn't negate the potential benefits of a cap-and-trade system, which would "reduce the cost of controlling carbon," he said.
"You don't close the stock market because of fraud," he said. "You increase regulations."