Four Miami Cuban Exiles Detained In Havana, Accused Of Terrorism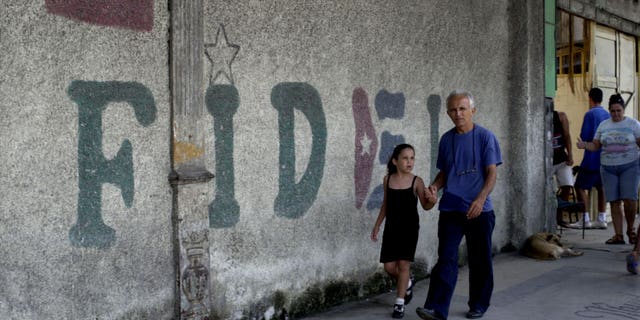 Havana (AP) – Four Cuban exiles from Miami have been detained on the island and accused of planning "terrorist actions," Havana authorities said Wednesday, the first such arrests in years.
The Interior Ministry said the men were taken into custody on April 26 and alleged that their targets were military. Few details were released, and it was not clear why it took so long to make the arrests public.
"They intended to attack military installations with the goal of perpetrating violent actions," the ministry said in a statement published by Communist Party newspaper Granma. "To such ends, since mid-2013, three of them had made several trips to the island to study and carry out their plan."
The arrests come amid increased exchanges between exiles and their homeland, including visits by several prominent former hardliners who had vowed never to set foot on the island while brothers Fidel and Raul Castro were still in charge.
The statement listed the detained men as Jose Ortega Amador, Obdulio Rodriguez Gonzalez, Raibel Pacheco Santos and Felix Monzon Alvarez.
None are well-known within the exile community in South Florida, but Cuba claimed they were acting on orders from others who do have a history of militancy.
In its statement Wednesday, the Interior Ministry said the alleged Miami-based masterminds were Santiago Alvarez Fernandez Magrina, Osvaldo Mitat and Manuel Alzugaray. It also linked them to perhaps the best known militant Cuban exile, Luis Posada Carriles, whom Cuba and Venezuela have sought to prosecute for a 1976 airliner bombing that killed 73 people aboard a flight bound for Cuba.
Cuba's Interior Ministry said it was reaching out to U.S. authorities to investigate.
"We have seen the statement by the Cuban Ministry of Interior," said U.S. State Department spokeswoman Jen Psaki. "We don't have any further information at this time. The Cuban government has also not been in touch with us yet on these cases. We have not been in touch at this point."
The U.S. Interests Section in Havana and the FBI office in Miami had no immediate reaction.
Santiago Alvarez and Mitat pleaded guilty in 2006 in the United States to conspiracy after an informant tipped the FBI that a large cache of weapons — including automatic machine guns and a grenade launcher — was being moved from apartments Alvarez owned.
A subsequent search of a storage area at the apartment revealed more weapons and thousands of rounds of ammunition. Another arms cache was found in the Bahamas, including C-4 plastic explosives, that prosecutors claimed was linked to Alvarez. He was sentenced to 30 months in prison and Mitat got a two-year sentence.
Contacted Wednesday in Florida, Santiago Alvarez denied involvement in any plot and said he did not know the detained men. He said he rarely speaks to Posada Carriles and only sees Mitat occasionally. Posada Carriles declined to comment.
Alvarez accused Havana of trying to drum up an excuse to crack down further on island dissidents. He said he still supports change on the Communist-run island, but no longer condones violence.
"Honestly, if I could, I would be doing it," he said. "But the truth is, the thought of everybody of how to fight the dictatorship in Cuba has changed — the tactics at least."
"This is nothing more than a plan to use my name to go against the opposition in Cuba."
In 2001, three Cuban-Americans were detained on the island after coming onshore with guns and ammunition, according to Cuban authorities. They were prosecuted nine years later over an alleged plan to place a bomb in the famous Tropicana nightclub.
In 1997, a series of hotel bombings hit Havana, one of which killed an Italian man. Salvadoran and Guatemalan nationals were arrested and pointed to Posada Carriles and other exiles as the intellectual authors of the attacks.
But it has been years since Cuban authorities have reported a specific terror threat such as the alleged one announced Wednesday.
Elizardo Sanchez, a Cuban non-governmental human rights monitor on the island, said he had not heard anything about the detained exiles. His organization has regular communication with people in Cuban lockups.
"''It is very strange," he said. "This feeds the idea that there is an external threat. "
Follow us on twitter.com/foxnewslatino
Like us at facebook.com/foxnewslatino