Former Obama official calls Susan Collins 'fake' feminist
Former Obama White House official Jen Psaki, appearing on CNN's "State of the Union," derided Sen. Susan Collins, R-Maine, as a "fake" feminist for her support of Brett Kavanaugh, who was confirmed to the Supreme Court on Saturday amid allegations of sexual assault.
Collins was considered a key swing-vote until she confirmed her support for Kavanaugh during a floor speech on Friday.
"(Collins) struck a nerve to me in what she said and how she voted, because that's political cowardice," Psaki said on the Sunday broadcast. "That is somebody who is pretending to be a feminist but that is a fake feminism."
You can't say somebody is credible and then completely question their story.
Kavanaugh was ultimately nominated to the Supreme Court late Saturday by a narrow 50-48 margin, despite allegations that he committed sexual assault against Christine Blasey Ford, a psychology professor, in the early 1980s. Kavanaugh has denied the allegations.
"You can argue Democrats mishandled things, they certainly did," Psaki added. "But this is about a woman who is accusing someone of sexual assault, something that often many, many women do not come forward to do."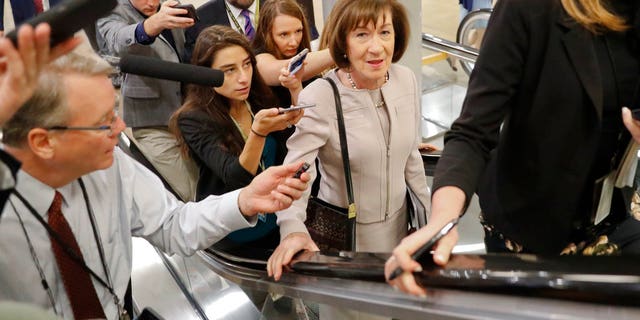 Collins called Ford credible but said there was not enough evidence to corroborate her claims. Psaki said that people who worry about the accused miss the bigger issue that women face.
"It's much more likely that women hold back and they don't put these accusations forward that they don't. That is the issue in this country, not being falsely accused," Psaki said. "You can't say somebody is credible and then completely question their story."