Former first lady Barbara Bush guarded by Secret Service after death, report says
Even after the passing of former first lady Barbara Bush, agents with the Secret Service reportedly remained by her side.
As Bush's casket lay in St. Martin's Episcopal Church in Texas, she was flanked by agents who were among the members of her personal detail, local outlet KTRK reported.
This, as thousands of people paid their respects Friday to the wife of former President George H.W. Bush during a public viewing. A funeral was held for her on Saturday.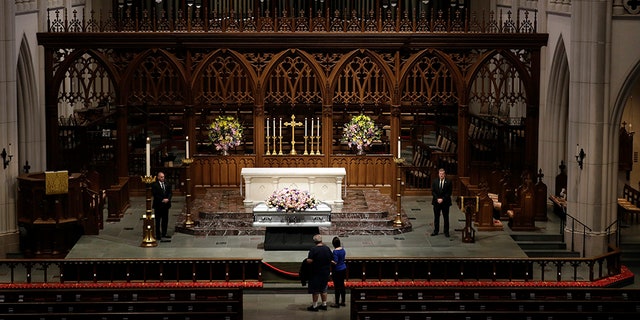 Secret Service agents were going to stay with her until she was buried, the outlet said.
A former Secret Service agent and member of Bush's detail, Thom Bolsch, spoke to the outlet and described her as "one of the most gracious people we've ever protected."
"She went out of her way to make us feel like part of the Bush family," he continued. "It was just a wonderful relationship we had."
FORMER PRESIDENT GEORGE H.W. BUSH HONORS LATE WIFE'S COMMITMENT TO LITERACY BY WEARING SOCKS WITH BOOKS
Bolsch explained that Bush spent a lot of time with the Secret Service agents, saying "They are family to her."
"Agents on her detail, they're the ones posted around her house all of the time," he told KTRK. "They're the ones who bring her shopping. They're the ones who bring her to events."
The former first lady died at age 92 on Tuesday.
Following her death, the agency tweeted a photo of Bush and said she was "the epitome of class and grace during and after her service to our country as First Lady of the United States."
FORMER FIRST LADY BARBARA BUSH TO BE LAID TO REST IN HOUSTON
It shared a second post on Saturday to honor her: "Rest in Peace Tranquility."
The elder Bush, who'd been married to his wife for 73 years, was assisted into the church in a wheelchair on Saturday behind his sons, former President George W. Bush and former Florida Gov. Jeb Bush, and other Bush relatives.
Jeb gave a eulogy during the service and said he was blessed to have a teacher like his mother.
"We learned not to take ourselves too seriously and that humor should be enjoyed and shared," he said.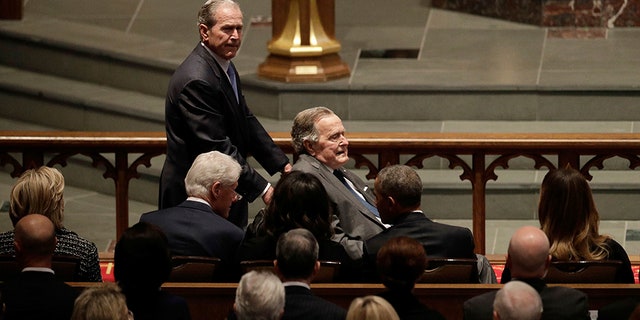 POWERFUL PHOTO SHOWS FORMER PRESIDENT GEORGE H.W. BUSH LOOKING AT WIFE'S CASKET
In an emotional moment, he said his mother was "beautiful" until the very end.
Among the service attendees was the current first lady, Melania Trump, and former presidents Bill Clinton and Barack Obama, who were accompanied by their wives. Other guests included former Rep. Gabby Giffords and her husband, retired astronaut Mark Kelly, professional golfer Phil Mickelson, Karl Rove and other former White House staff.
President Trump was not present – the White House previously said in a statement that he would not attend "to avoid disruptions due to added security, and out of respect for the Bush family and friends attending the service."
"The president has offered his sympathies, praising Barbara Bush as 'a titan in American life.'"
On Saturday he tweeted, "Heading to the Southern White House to watch the Funeral Service of Barbara Bush. First Lady Melania has arrived in Houston to pay our respects. Will be a beautiful day!"
Fox News' Kathleen Joyce, Lucia I Suarez Sang and The Associated Press contributed to this report.