For young Latinos, student loans could be hot-button issue in 2016 campaign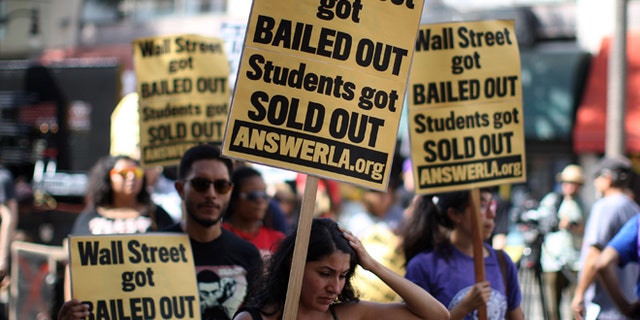 NEWYou can now listen to Fox News articles!
Two of the fastest-growing electoral groups in the United States are Latinos and young people, so it isn't surprising that they are being courted by presidential candidates from both political parties.
And with a larger and larger percentage of young Latinos going to college, you can expect to hear a lot this election cycle about the access to and repayment of student loans, which many educators and student activists say have terms and interest that are too harsh for people just starting out on their careers to deal with.
So far the candidates are keeping their policy on student loans relatively close to the vest, but they may have to show their cards sooner rather than later.
"Young Hispanic voters will care about this issue," Luis Maldonado, chief advocacy officer for the Hispanic Association of Colleges and Universities (HACU), told Fox News Latino. "This issue's going to be something that they pay a lot of attention to."
Democratic front-runner Hillary Clinton has put a plan on the table that supports the idea of debt-free college, while Sen. Bernie Sanders (I-Vermont) has talked about covering the cost of tuition, and former Maryland Gov. Martin O'Malley has focused more on capping student loan payments.
Democratic National Committee insiders say that, while it may not be a major talking point now, their party's candidates are better aligned on the issue than anyone across the aisle.
"Republicans like Marco Rubio, Rand Paul and Ted Cruz also support gutting education funding – from early education to Pell Grants for college students – and voted against a proposal to let students refinance their college loans," Pablo Manriquez, the DNC's Hispanic media director, told FNL. "The GOP presidential field's agenda would slam the door for future generations of Latino students to achieve their dreams through higher education."
While none of the Republican candidates have made public any specific plans, Rubio, former Florida Gov. Jeb Bush and New Jersey Gov. Chris Christie have all described the current student debt policy as an obstruction to upward economic mobility.
As a whole, the Republican leadership has shied away from a number of student loan proposals because they involve more government spending, but it does support the idea of making colleges pay a percentage of their graduates' defaulted student loans, as well as establishing a legal framework for income-sharing arrangement that would allow investors to pay students' tuition in exchange for a guaranteed percentage of their future income.
"The crisis of college affordability has marched up the income spectrum in a way that it hadn't in past cycles, and it's going to be a defining issue for the middle class," the American Enterprise Institute's Andrew Kelly told the Washington Post. "Republicans have ceded a lot of the ground to the Democrats on this. They've made the issue about how much we spend rather how we spend it. And that's been a mistake."
While Latinos acquire slightly less student-loan debt than their white counterparts, on average $49,700 as opposed to $54,000, this does not mean that they are in any better position when – or if – they finish school. Many Latinos opt to work through college instead of taking on a large debt burden, Maldonado said, and that leads to a longer amount of time spent in school and a lower chance of actually graduating.
According to statistics from the public policy organization Demos, 31 percent of Latino students drop out of college.
Maldonado added that for many first-generation Latinos the massive amounts of paperwork and financial records needed to attain loans under the Free Application for Federal Student Aid (FAFSA) program can be off-putting to both student and parents, especially when their English-language skills are limited.
"Many students don't have a clear path," he said. "They [need to be guided] into obtaining loans, and how to pay for them."
One problem for Latino students who do go into debt is that many of them choose nonfederal loans that carry with them a variable – and generally a much higher – interest rate. They can also have longer repayment periods than federally-backed loans do.
"Essentially, Latinos are taking out riskier loans at a higher interest rate than their counterparts, creating scenarios where they will be paying back more money over a longer period of time," Amilcar Guzman, senior manager for data and evaluation at CASA de Maryland, wrote in the Harvard Journal of Hispanic Policy.
To help offset this trend, HACU is working with the non-profit organization, American Student Assistance (ASA), to help spread the word about the SALT program, a financial education resource to help students gain financial literacy skills.
The SALT program, named for what is believed to be the world's first form of currency, features a number of online tools to help students keep track of their debt and manage loan payments, including the program's signature "My Money 101" online personal finance curriculum. It also features a Repayment Navigator to track loans and compare repayment plans.
"So far we have not supplied students with the proper tools to pay back their loans," Paul Combe, ASA president and CEO, told FNL. "Programs like SALT help people borrow the right amount and pay back over time without the fear of default."
Experts like Combe and Maldonado say that while it is important to educate incoming college students, presidential candidates also need to address the 40 million or so American voters who are currently struggling with repaying their college loans.
The vast majority of them are between the ages of 30 and 50.
"This is an economic issue because people with debt don't buy houses, they have trouble buying cars, they have trouble even comprehending retirement," Combe said.