Feinstein gets primary challenge from California Senate leader Kevin de Leon
California Senate leader Kevin de Leon on Sunday became the first Democrat to officially announce a challenge to U.S. Sen. Dianne Feinstein's 2018 reelection effort, saying he owes the bid to his single, immigrant mother and millions like her "who do everything in their power to protect their children."
His official entry was no surprise, considering California Democrats have been buzzing for weeks about a Feinstein challenge and de Leon as a top prospect.
However, de Leon, a Latino politician, made no mention of Feinstein in his roughly 1-minute video announcement. Instead, he touted his commitment to helping underserved communities and women like his mother, with whom he would ride a transit bus to her maid jobs.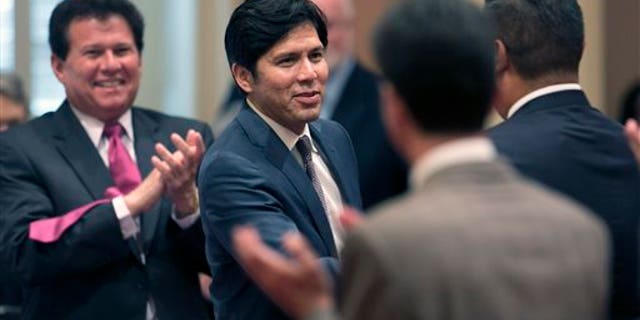 "It was there that I witnessed the value of hard work," the 50-year-old de Leon said in the video. "It's incumbent that policymakers and leaders provide real opportunities so everyone can succeed."
Talk about a primary challenge to Feinstein, a California senator since 1992, started in late August when she expressed optimism about Trump becoming "a good president."
The 84-year senator promptly qualified the remark.
But other comments from the longtime lawmaker appeared to have invited further challenge, particularly from the party's left wing. Feinstein also said earlier this year that the Obama-era Deferred Action for Childhood Arrivals program, which Trump has threatened to end, is on shaky legal ground, and again expressed reservations about the so-called single-payer health care plan championed by many progressives.
California progressive Democratic Rep. Ro Khanna reportedly had suggested that Rep. Barbara Lee, a fellow California Democrat, would be a more effective senator than Feinstein. After de Leon threw his hat in the ring, he promptly received Khanna's endorsement, The San Jose Mercury News reported.
The group Justice Democrats, which has ties to Vermont Sen. Bernie Sanders' 2016 presidential campaign, could announce a challenge from the party's progressive wing as early as next week.
And, California environmentalist and Democratic megadonor Tom Steyer is also being discussed as a possible challenger, as is Los Angeles entrepreneur Joseph Sanberg, a progressive champion.
Still, denying Feinstein a sixth term will be a difficult, considering her support among independent and women voters, as well as the backing of top California Democrats.
They including Sen. Kamala Harris, the state's junior U.S. senator, former Sen. Barbara Boxer, Lt. Gov. Gavin Newsom and Los Angeles Mayor Eric Garcetti, who last week held a fundraiser for Feinstein.