Fallout Builds Over Helen Thomas 'Palestine' Remarks, Credentials Called Into Question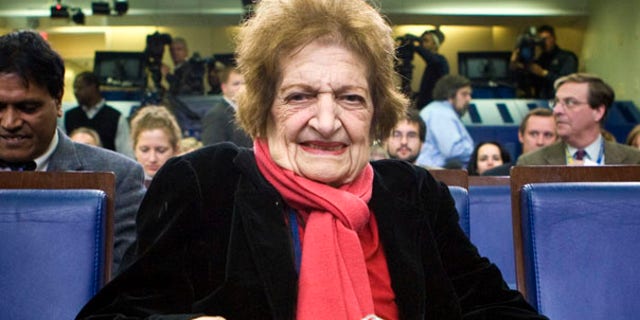 The fallout over veteran White House reporter Helen Thomas' controversial comments about Jews continued to build as a Washington-area high school abruptly canceled a graduation speech she was scheduled to deliver. The cancelation came after the speaking agency that represents Thomas dropped her.
Alan Goodwin, principal of Walt Whitman High School in Bethesda, Md., wrote in an e-mail Sunday to students and parents that Thomas would be replaced as speaker for the school's June 14 graduation.
"Graduation celebrations are not the venue for divisiveness," he wrote.
Thomas, known as the dean of the White House press corps, has long been critical of Israel but remarks caught last month on video by a New York rabbi led several former White House officials to call for her to be fired or at least have her credentials reconsidered. In the video, Thomas said Jews should "get the hell out of Palestine" and suggested they go instead to Germany, Poland or the United States.
White House Press Secretary Robert Gibbs on Monday called her remarks "offensive and reprehensible." Her front-row seat was empty at the Monday press briefing on the BP oil spill with Gibbs and Coast Guard Adm. Thad Allen.
Thomas, who for decades worked as a UPI correspondent, now is a columnist for Hearst. Dana Perino, White House press secretary during the George W. Bush administration, said her comments should call her privileges in the briefing room into question.
"Now she's a columnist. It's the first time I think ever that in a White House press briefing room you've had a columnist have the middle, front-row seat. And her comments were so offensive to so many, so personally hurtful, and they would not have been tolerated by anybody else," she told Fox News on Monday. "And so I think that the White House press corps is probably going to have to take a good hard look at itself and whether or not that seat should belong to a person like that at the moment, and I don't know what they'll come up with."
Perino said the cancellation of the graduation speech was "absolutely appropriate."
Thomas' speaking agency also reportedly dropped the veteran correspondent following the controversy. Diane Nine, president of Nine Speakers, said in a statement posted by Congressional Quarterly that the agency could not continue to represent her under the circumstances.
"Ms. Thomas has had an esteemed career as a journalist, and she has been a trailblazer for women, helping others in her profession, and beyond. However, in light of recent events, Nine Speakers is no longer able to represent Ms. Thomas, nor can we condone her comments on the Middle East," she said.
In a written statement issued Friday after the video was posted on several prominent websites, Thomas apologized for the comment to Rabbi David Nesenoff. She said she deeply regretted her remarks and they "do not reflect" her "heartfelt belief that peace will come to the Middle East only when all parties recognize the need for mutual respect and tolerance."
"May that day come soon," she added.
Gibbs, responding to the controversy, said Thomas "should and has apologized."
But some said the apology did not go far enough or did not appear sincere.
"Her remarks were outrageous, offensive and inappropriate, especially since she uttered them on a day the White House had set aside to celebrate the extraordinary accomplishments of American Jews during Jewish America Heritage Month," said Abraham Foxman, Anti-Defamation League national director. "Her suggestion that Israelis should go back to Poland and Germany is bigoted and shows a profound ignorance of history. We believe Thomas needs to make a more forceful and sincere apology for the pain her remarks have caused."
Lanny Davis, former special counsel to and White House spokesman for President Bill Clinton, said the apology "was not direct and didn't address the merits of her belief in the stereotype that Jews are aliens in Israel and don't belong there."
"She should be at the least suspended from all privileges in the White House press room since bigots don't merit such privileges. And I believe Hearst should consider a similar suspension of her position as a nationally-syndicated columnist until she owns up to her bigotry and apologizes for it," Davis said, claiming Thomas had revealed herself to be "an anti-Semitic bigot."
Davis and Ari Fleischer, President George W. Bush's press secretary, were early to criticize Thomas for her statements. Fleischer led the call in an e-mail Friday to the Huffington Post saying Thomas' comments amount to "religious cleansing."
He told Fox News on Monday that Thomas should lose her job over the comments.
"This goes beyond all boundaries. ... My view is her employer should let her go. It's time for her to be let go," Fleischer said. "When you advocate that people need to be separated on the basis of their religion ... this is hatred, this is bigotry, this is prejudice."
Fleischer and Davis suggested a double standard for Thomas, the 89-year-old White House Press Corps dean who has covered every president since Dwight Eisenhower.
"If she had asked all blacks to go back to Africa, what would White House Correspondents Association position be as to whether she deserved White House press room credentials -- much less a privileged honorary seat?" Davis asked, adding that those who say Thomas is protected by her right to free speech would likely be less tolerant if she were talking about other minority groups.
At a Jewish Heritage Month celebration at the White House last week Thomas, who is of Lebanese descent, said the Palestinian people "are occupied and it's their land" and that Israelis should "go home" to Poland, Germany, America "and everywhere else."
Thomas has a long history of anti-Israel rhetoric at White House press briefings. Last week at a briefing with Press Secretary Robert Gibbs that followed a flotilla raid by Israeli commandos, Thomas called the raid a "deliberate massacre" and "an international crime."
"What is the sacrosanct, iron-clad relationship where a country that deliberately kills people and boycotts -- and we aid and abet the boycott?" she asked.
Click here to watch the video of Thomas.
The Associated Press contributed to this report.