Expert warns proposed overtime rule could hurt retailers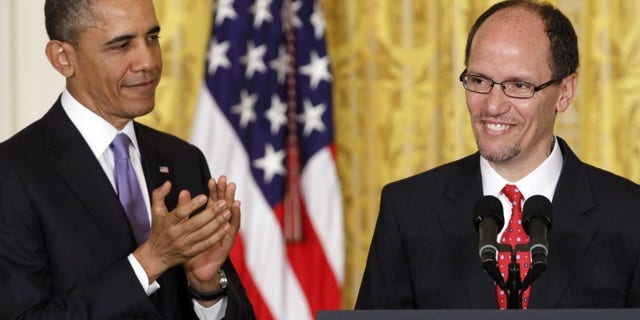 NEWYou can now listen to Fox News articles!
The National Retail Federation is warning that a possible change to overtime rules could negatively impact retailers.
"This summer, the Department of Labor is expected to propose changes to the Fair Labor Standards Act that would strip retail and restaurant managers of their salaried positions in favor of hourly pay and enact a limit on how managers are able to spend their time on the job," the NRF noted in a press release.
"It's difficult to predict where the Department of Labor is likely to end up, but some speculate that they will propose income thresholds based on where '70s-era income thresholds would have been, had they been tied to inflation — roughly $51,000 a year," NRF detailed. "They may also bring back complicated and burdensome duties tests that would attempt to categorize and segregate management responsibilities from other tasks in a retail or restaurant establishments."
David French, senior vice president for government relations at NRF, argued claims by the White House that the proposed rule change will benefit retailers are simply not true.
"These are the folks that will be the most impacted by the new overtime policy," French told The Daily Caller News Foundation. "Any change to Concurrent Duties might mean they have to account their hours more clearly."
The DOL defines concurrent duties as the time spent simultaneously performing exempt and nonexempt work. French notes this means managers, or those in similar roles, have the ability to do multiple tasks at once without having to account for the hours spent on the different areas. The rule change will require managers to account for all their duties as opposed to just being paid to perform them.
"And that's going to involve more paperwork and more bureaucracy," he continued. "We think this is a law that doesn't need to be changed."
"It's a solution to a problem that doesn't exist," French added. The last significant change was in 2004, which French notes addressed some significant problems. This new proposal, French argues, doesn't address any problem but rather actually makes things worse.
According to a study conducted by the NRF, the proposal to expand overtime and redefine what it means to be a restaurant or retail manager will likely harm managers, especially when it comes to their career paths and their ability to offer quality customer service.
When calling on the DOL to make the new overtime rules, the White House argued it's a plan retailers are begging for.
"Every day, I get letters from folks who just feel like they're treading water," President Barack Obama declared in a speech. "No matter how hard they're working — they're putting in long hours, they're working harder and harder just to get by, but it's always, at the end of the month, real tight. Workers like the ones with me here today, they want to work hard. They don't expect a free lunch and they don't expect to be fabulously wealthy, they just want a chance to get ahead."
"So today, I'm taking action to help give more workers that chance," he continued. "I'm directing Tom Perez, my Secretary of Labor, to restore the common-sense principle behind overtime: If you go above and beyond to help your employer and your economy succeed, then you should share a little bit in that success. And this is going to make a real difference in the lives of millions of Americans, from managers in fast food and retail to office workers, cargo inspectors."