Europe, Developing Nations Clash Over Who Will Replace IMF Chief Dominique Strauss-Kahn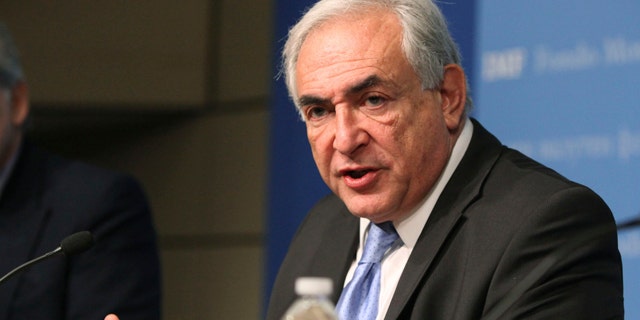 With imprisoned IMF chief Dominique Strauss-Kahn facing calls to resign in the wake of an attempted rape charge, a free-for-all is breaking out between Europe and developing countries over who should get his job.
Traditionally, Europeans head the International Monetary Fund while Americans run the World Bank. But developing nations are challenging that tradition, citing their increasing wealth and role in the global economy as reasons why it's their turn in the driver's seat.
Europeans, though, aren't buying that argument. They are citing the IMF's key role in fighting the eurozone's debt crisis as a key reason to keep the job on their continent. The IMF helps stabilize the globe by issuing emergency loans to countries who fall into financial trouble, and has contributed to bailout loans for Greece, Ireland and Portugal and is playing an important part in monitoring those countries' compliance with the loan conditions.
But Arvind Subramanian, a senior fellow at the Peterson Institute for International Economics and the former deputy director of IMF research department, said it's hard to follow the European argument.
"In the last 30 or 40 years, when developing countries were the predominant borrowers, I did not hear one voice say because the IMF is involved in Asia, we should have an Asian director," he told FoxNews.com. "What is that about?"
Strauss-Kahn, who is a powerful French politician who had his sights set on the presidency, remains jailed in New York after his arrest for allegedly sexually assaulting a hotel maid. His defense lawyers will try to secure his release Thursday at a new bail hearing.
But his departure from the agency is expected to be only a matter of time. While the IMF and the U.S. has repeatedly declared confidence that the agency can continue to fully function while Strauss-Kahn's case unfolds, pressure is mounting for him to step down.
U.S. Treasury Secretary Tim Geithner said Tuesday that Strauss-Kahn is "obviously not in a position" to run the IMF and that the organization needs to find an interim managing director. The United States has a major say in determining who will head the IMF, in part because it holds the largest number of votes at the 187-nation international lending agency.
The White House said on Wednesday it is not commenting on an ongoing legal matter and not going beyond what Geithner said.
Meanwhile, Europe and developing nations are jockeying for position to claim Strauss-Kahn's job.
German government spokesman Christoph Steegmans said Wednesday that Strauss-Kahn was entitled to presumption of innocence, but "if the top job at the IMF does have to be filled at some point, then the government argues that there should again be a European at the top of the IMF."
Germany's Steegmans didn't name any potential candidates or say whether Germany itself might propose one. But he said it "makes a lot of sense" to have an IMF chief who is "very familiar" with "Europe's particularities, the currency questions and also the political circumstances here."
Chancellor Angela Merkel has made the same point, along with several European finance ministers.
But South Africa's finance minister said that a new IMF chief should come from a developing nation to reflect the interests of all countries.
"Such a candidate will bring a new perspective that will ensure that the interests of all countries, both developed and developing, are fully reflected in the operations and policies of the IMF," Pravin Gordhan said in a statement
Brazil's Finance Minister Guido Mantega said it was time for "new criteria" when it comes to choosing the head of the IMF.
"We must establish meritocracy, so that the person leading the IMF is selected for their merits and not for being European," said Mantega. "We have to work toward a new criteria. We're going to fight for meritocracy in the monetary fund."
Mantega added that "you can have a competent European ... but you can have a representative from an emerging nation who is competent as well."
Subramanian told FoxNews.com that a new IMF chief from a developing nation wound give the agency more credibility if it had to lend more money to European nations.
"At this stage, you need a more objective perspective on this," he said.
Changes to the IMF's governance in 2008 and last year will shift 5.3 percent of voting share to emerging and developing countries, but all the changes have not taken effect yet.
Possible candidates mentioned in news media speculation include French Finance Minister Christine Lagarde, the former head of the German central bank, Axel Weber; the head of Europe's bailout fund, Klaus Regling; and Peer Steinbrueck, a former German finance minister.
Candidates from elsewhere include Turkey's former finance minister, Kemal Dervis; Singapore's finance chief Tharman Shanmugaratnam; and Indian economist Montek Singh Ahluwalia.
Yet more possibilities include Trevor Manuel, South Africa's former finance minister; Mexico's central bank governor, Agustin Carstens; former Brazilian central bank president Arminio Fraga; and China's Min Zhu, a special adviser.
But Subramanian said it's highly unlikely that one of them will be chosen because he says developing nations will be slow to converge around one candidate.
"So that's going to favor the status quo," he said.
The Associated Press contributed to this report.