Demonstrators protest Sessions resignation outside White House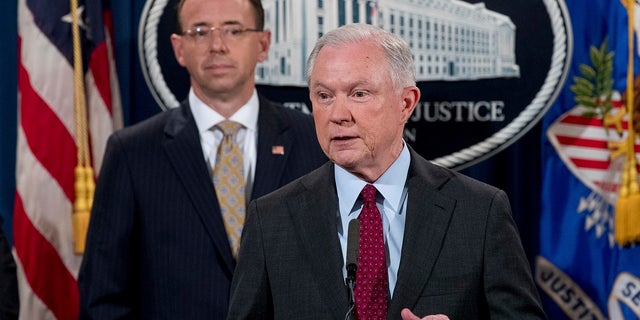 A group of demonstrators gathered outside the White House on Wednesday night to protest the resignation of former Attorney General Jeff Sessions.
Several people were seen holding neon letters spelling out "Protect Mueller" and others held signs saying "Trump is a dictator," the Hill reported.
Hours earlier, Sessions abruptly resigned his position at President Trump's request.
Matthew Whitaker, Sessions' chief of staff, was announced as acting attorney general. The move worries Democrats because of Whitaker's previous criticism of Special Counsel Robert Mueller's investigation into Russian medaling and possible collusion with the Trump campaign ahead of the 2016 presidential election.
"The Acting Attorney General is in charge of all matters under the purview of the Department of Justice," DOJ spokeswoman Sarah Isgur Flores told the Hill in a statement.
Trump and Whitaker have repeatedly called the investigation a "witch hunt," adding that no crime has been committed and the probe never should have started. Whitaker can hold his new post as the head of the Justice Department for six months without Senate confirmation.
He will now oversee the Mueller probe and the agency's other federal investigations. Sessions recused himself from the Mueller investigation, prompting blistering attacks from Trump.
On Wednesday, Trump said he could fire everyone associated with the special counsel's office, but wouldn't for political reasons.
"I could fire everybody right now, but I don't want to stop it because politically I don't like stopping it," Trump said.
U.S. Rep. Adam Schiff, D-Calif., the top Democrat on the House Intelligence Committee, said the probe was in "new and immediate peril."
On Thursday, a demonstration organized by groups connected with Nobody Is Above the Law Network is expected to take place outside the White House.
"Donald Trump just crossed a red line, violating the independence of the investigation pursuing criminal charges in the Trump-Russia scandal and cover-up," the group says in a statement on its website. "Trump putting himself above the law is a threat to our democracy, and we've got to get Congress to stop him."