Defense Secretary Carter gets closer assessment of Mosul anti-ISIS fight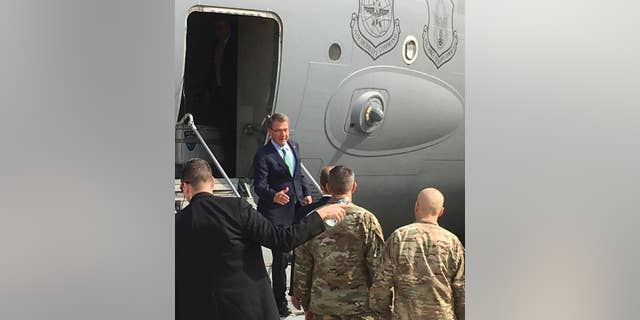 IRBIL, Iraq – U.S. Defense Secretary Ash Carter visited Irbil on Sunday for a closer assessment of the fight against the Islamic State group in northern Iraq and to hear from Kurdish leaders whose forces launched a new offensive in the operation to wrest Mosul from the militants' control.
EXCLUSIVE: INSIDE ISIS' EXTENSIVE TUNNEL SYSTEM

Carter met with Kurdish leader Masoud Barzani, as well as U.S. service members who are not far from the battle.
The Pentagon chief praised the efforts of the Kurdish forces, known as peshmerga, and acknowledged their battle losses.
REELING ISIS TRICKS BOYS AS YOUNG AS 8 INTO FIGHTING ON MOSUL FRONT LINES
"They fight extremely well. But because they're fighting hard, they suffer ... casualties," said Carter, who spent Saturday in Baghdad getting updates from his military leadership and meeting with Iraqi Prime Minister Haider al-Abadi. The U.S. is prepared to provide additional support for the fight if requested by Iraq and U.S. commanders, Carter said in the capital.
Peshmerga Brig. Gen. Halgord Hekmet, a spokesman for the Kurdish forces, told reporters that 25 of their troops have been killed since the battle to retake Mosul began and a "large number" had been wounded. Speaking through an interpreter, he said the peshmerga have had good coalition air support, but could use more military resources, especially armored vehicles.
He said that most of the fallen peshmerga were riding in regular cars and were more vulnerable. A second priority, he said, would be more devices to help detect roadside bombs.
The peshmerga are advancing toward Mosul from the north in long columns of armored vehicles and other trucks. More than 100 U.S. special operations forces are embedded with the Kurds and Iraqi military commandos. Irbil is about 55 miles southeast of Mosul.
Mosul is a Sunni majority town, and many worry about the involvement of government-sanctioned Shiite fighters. But they also are suspicious about the Kurds, who have ambitions to expand their self-rule area into parts of Ninevah province, where Mosul is located -- although not to the city itself.
U.S. military officials say the peshmerga will stop their advance about 20 miles outside of Mosul and hold that territory to ensure the militants don't regroup. Shiite militias have said they will not enter the city itself.
Carter fueled debate in Iraq on Friday when he met with Turkish leaders and suggested their country should play a role in the Mosul battle. On Saturday, al-Abadi balked at that idea, saying his country's own forces will oust IS from the city.
Some 500 Turkish troops at a base north of Mosul have been training Sunni and Kurdish fighters since December. The Iraqi government says the troops are there without permission and has called on them to withdraw. Turkey has refused and insists it will play a role in liberating the city.
IS captured Mosul and the surrounding area during a lightning advance across northern Iraq in the summer of 2014.