Cuban President Raul Castro will meet with Pena Nieto during Mexico visit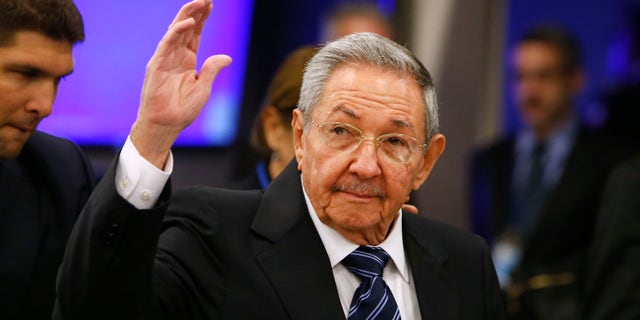 During Cuban President Raul Castro's visit to Mexico this week, immigration will be a top item on the agenda.
Cubans have been thronging into Mexico in an effort to reach the United States, a growing wave that is believed to be trying to get in on the belief that recently restored U.S.-Cuba relations will make it more difficult for them to stay here once they reach U.S. shores.
More than 1,500 Cubans went to October, Mario Madrazo of the National Migration Institute told Agence France-Presse, or AFP, an international news agency headquartered in Paris.
Castro, whose visit to Mexico marks his first as president, is scheduled to discuss immigration with Mexican President Enrique Pena Nieto on Friday in Merida, according to AFP.
For decades, Cubans have been trying to reach the United States by taking to the shark-filled Florida Straits, but more recently have been opting to avoid that treacherous trip in favor of reaching these shores via Mexico after going to various countries in Latin America.
More than 43,000 Cubans immigrated to the United States during the fiscal year ending on Sept. 30, an increase of more than 77 percent compared with the previous fiscal year, according to EFE, which cited the U.S. Customs and Border Protection.
The previous fiscal year, from Oct. 1, 2013 to and Sept. 30, 2014, there were 24,278 Cuban arrivals, EFE reported.
The overwhelming majority of those who arrived in the latest fiscal year, nearly 31,000, came over the U.S.-Mexico border.
Some 10,000 entered through Miami's airport, and thousands of others were intercepted by the Coast Guard in the Florida Strait, the Caribbean and the Atlantic Ocean, EFE said.
Figures kept by Mexican authorities confirm the trend, AFP reported.
Mexican data shows some 6,500 Cubans taken to migration centers in the first nine months of this year, three times the people who arrived in all of 2014.
AFP says Cubans heading to Mexico typically fly to Ecuador, which does not require visas.
Advocates for migrants in Mexico have accused Mexican government officials of extorting Cubans passing through the country en route to the United States.
Activists charge that migration officials hold Cuban migrants and call their relatives in the United States to demand payments while threatening harm to their loved ones.
Alberto Donis, a lawyer and head of a migrant shelter in southern Mexico, said that activists have documented hundreds more similar cases.
Mexico's National Migration Institute rejected what it called "unfounded accusations."
The Associated Press contributed to this report.
Like us on Facebook
Follow us on Twitter & Instagram