Conservatives Frustrated With Slow Progress on Spending Cuts in Congress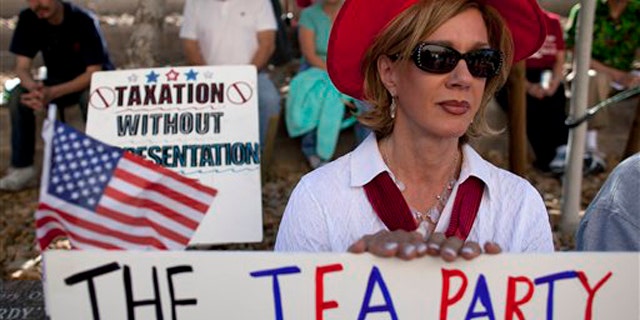 NEWYou can now listen to Fox News articles!
More than six months after a Republican wave began rolling over Congress, the conservative wing of the party is starting to get antsy.
To date, the U.S. government has successfully passed just 13 laws in 2011, including two dealing with the official names of courthouses. Arguably, its biggest accomplishment was passing the budget that should have been passed last year.
Anxiety about the snail's pace of progress is mounting as congressional leaders struggle to reach an agreement that would cut spending in exchange for a vote to raise the country's $14.3 trillion debt ceiling. Tea Party leaders in recent weeks have expressed concern that the GOP negotiators may extract only symbolic concessions from Democrats, allowing for a debt limit increase and another federal spending spree.
After dozens of House Republicans were elected with Tea Party support in November, conservatives are cautioning the party not to take their seats for granted.
"This is NOT a Democrat problem with spending or a Republican problem with spending. This problem is exclusively and equally blamed on BOTH of them," a Tea Party Nation activist fumed on the group's website Friday. "I don't recall seeing either side significantly reducing the size of the top five, most expensive, budget items on our spreadsheet."
That was after Tea Party Patriots co-founders Mark Meckler and Jenny Beth Martin published a column urging Congress to "stop borrowing," rather than negotiate new terms for another debt ceiling increase. They expressed concern that Republicans would accept a "placebo" by the close of budget talks.
Republican leaders insist they are demanding significant spending cuts as lawmakers on both sides of the aisle meet for budget talks hosted by Vice President Biden. While the administration warns that failing to raise the debt limit would lead to a devastating default on U.S. obligations, GOP leaders say the only way the cap will be lifted is if Democrats agree to budget reforms.
As the government reached its legal debt limit Monday, triggering special actions by the Treasury Department to extend the deadline, House Speaker John Boehner said: "There will be no debt limit increase without serious budget reforms and significant spending cuts -- cuts that are greater than any increase in the debt limit."
Boehner rejected the idea of "half-measures and gimmicks."
But some Republican leaders have also been less-than-absolute in their support for GOP Rep. Paul Ryan's budget plan -- specifically, his call to overhaul Medicare into a system of subsidized insurance for seniors. Democrats have assailed the plan as an attack on seniors, and Republicans have offered fluctuating levels of support.
Brent Bozell, Media Research Center president and ForAmerica chairman, said in a column earlier this week that, at a time when Republicans should be pushing "dramatic and consequential policy counter-measures," they are instead "gliding."
He lamented the "growing indecision" in the House and a lack of leadership in the Senate, and called out presidential candidate Newt Gingrich for criticizing Ryan's plan -- though the former House speaker has since apologized.
"The GOP leadership, and most especially its presidential candidates, need to get with the program," Bozell wrote. "It's time the GOP step up or move aside."
Frustration in the ranks is also growing. Sen. Tom Coburn, R-Okla., a leading conservative in Congress, criticized the "lack of leadership and initiative in the Senate" in a Washington Post column this week.
Coburn, who just bolted a group of six senators that's been working on a deficit-reduction plan for months, pinned the blame mostly on Senate Majority Leader Harry Reid, D-Nev. But he complained that the upper chamber as a whole has not dealt with the pressing issues.
"As of this week, the Senate has held just 72 roll call votes this year. ... By this time in 2009, we had taken 192 votes," Coburn said.
The House, meanwhile, was out of session.