Connecticut GOP Candidates Seize on U.S. Use of Russian Choppers in Afghanistan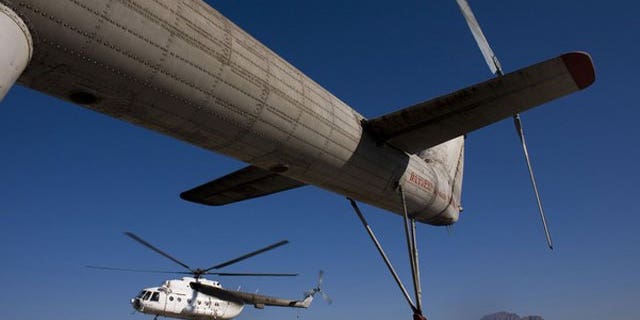 Connecticut Republican candidates trying to wrest control of congressional seats long held by Democrats are now seizing on a controversy over the Pentagon's plans to buy 21 Russian-made choppers for use in Afghanistan.
Sikorsky, a U.S. helicopter manufacturer whose headquarters in Connecticut, is formally protesting the U.S. Naval Air Systems Command (Navair) and seeking the ability to bid of the federal government contract, saying its S-61 model is comparable to and just as effective as the Russian Mi-17 that the U.S. is now eyeing.
And the company is now drawing the support of Republican candidates.
"It is outrageous to me that Sikorsky wasn't afforded the opportunity to bid on this contract," former WWE CEO Linda McMahon said in a written statement to FoxNews.com. "The Pentagon has both a fiscal responsibility and a patriotic responsibility to, at a minimum, allow American manufacturers to compete with foreign firms for these important contracts, particularly given that Sikorsky's helicopters are the world standard in military helicopters."
Jerry Labriola, a GOP congressional candidate in the state's third district, where the manufacturer is located, said the company's protest is a sign that it needs stronger representation in Washington.
"Sikorsky is a great plant with great people and I don't think they're getting the proper representation," Labriola, who is facing longtime Rep. Rosa DeLauro, told FoxNews.com. "When I'm in Congress, I'm going to fight hard for defense-related jobs in the district and I think there's some merit to their grieveances."
DeLauro's campaign declined to comment on the controversy. But DeLauro and Sen. Christopher Dodd, D-Conn., expressed their concerns in December about the Pentagon's use of no-bid contracts to purchase the helicopters in a letter to Defense Secretary Robert Gates.
The lawmakers urged Gates to "open this contract for a fair competition, including proposals by American aircraft manufacturers employing American workers, who have unparalleled track records with the Department of Defense."
The campaign for Attorney General Richard Blumenthal, who is taking on McMahon, said the Connecticut Democrat "strongly supports 'Buy American' legislation and believes the Defense Department should use American-made products, like the world-class helicopters produced here in Connecticut by Sikorsky."
"He will fight in the Senate to keep 'Made in America' provisions strong, so that the Defense Department and other government contractors are buying products 'Made in America' with American parts and by American workers," campaign spokeswoman Maura Downs said in a written statement to FoxNews.com
The NATO training mission in Afghanistan requested the Mi-17 helicopters because they are a good stop-gap in a region where they are needed immediately and have been used before, according to a defense official familiar with the situation.
Sikorsky filed the protest with the U.S. Government Accountability Office earlier this month.
"Sikorsky has a respected history of designing, manufacturing, maintaining and providing training for helicopters that are fully capable of meeting or exceeding the performance capabilities of the M1-17," the company said in the protest.
Sikorsky spokesman Paul Jackson told Fox News that the company "is not challenging the government's right to sole-source or 'brand-name' contracts in the absences of viable alternatives. In this case, we believe we offer a highly viable alternative."
The Pentagon says the contractors will have plenty of opportunities to supply other types of helicopters to the region.
The Pentagon has "committed to expanding the Afghan Air Force from 35 Mi-17s to 56 Mi-17s to meet immediate operational requirements, while also identifying alternative platforms for addressing longer-term needs."