Congressman Who Defended Daughter Against Home Invader 'Did What Every Father Would Do'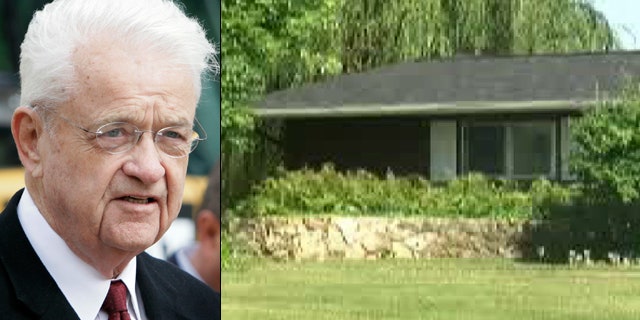 DES MOINES, Iowa -- Rep. Leonard Boswell said Monday his instincts as a father led him to try to tackle an armed man who burst into his home and attacked his daughter.
Boswell says the man wearing a ski mask burst into the home near Lamoni late Saturday, grabbed his daughter and demanded money.
"I did what every father would do," said Boswell, 77. "I went after him."
Boswell described the home invasion at a news conference where he was flanked by law enforcement officials. He said his wife, daughter and grandson were preparing for bed Saturday night when he heard a scream and rushed to find an intruder grappling with his daughter.
"He had his hand on her throat, a gun to her face," said Boswell. "I was reacting as a father."
Boswell said he was trying to get the gun away from the man but the intruder broke away and also confronted Boswell's wife, Dody.
"He proceeded upstairs and accosted her, demanding money," said Boswell.
Boswell said his 22-year-old grandson, Mitchell Brown, had the presence of mind to load a shotgun in a nearby room and threatened the intruder. The man, who was wearing a ski mask, then ran away.
"He never said a word and the guy bolted out the door," said Boswell.
Doctors have told him one rib is broken, Boswell said. He said the scuffle also left him with minor scrapes and bruises.
Decatur County Sheriff Herbert Muir says police are treating the case as a home invasion. He declined to say if they have suspects.
"Right now we don't know what he was trying to do," Muir said of the invader.
Muir said police generally advise those confronted with an armed intruder to cooperate, but said Boswell's decision to assault the man turned out fine.
"We tell a person to cooperate, but every situation is different," said Muir. "Nobody was hurt, nobody got shot. What I can say is he must have gone in the right direction."
Muir said police used a dog, which followed a scent to a nearby road before losing it.
"We found no vehicle in the area," said Muir.
FBI Supervisory Senior Resident Agent Barry Ferguson said his agency is involved because of Boswell's status.
"Obviously because it is a member of Congress we are involved," said Ferguson. "It's a joint investigation."
Boswell credited his grandson with keeping a cool head under pressure, finding the shotgun and making sure he loaded it. He said he has long kept guns in his home.
"I grew up with guns," said Boswell. "That's an individual decision. I've decided to have guns in the house."
Boswell said the intruder came through the unlocked front door of the home as the family was preparing to lock up for the night. Muir said it isn't unusual for rural homes to be unlocked. The largest town in the county is Lamoni, with a population of 2,300.
"They don't have the kind of problems they have in the larger cities," said Muir.
Boswell moved from his Decatur County farm to Des Moines after the redistricting in 2000 put him into a heavily Republican western Iowa district. Though his official residence is Des Moines, he kept his farm in Decatur County and visits frequently.
Boswell could find himself in another tough political fight in next year's election. The state lost one seat in Congress and Republican Congressman Tom Latham has announced plans to move into Boswell's district to challenge him. Redistricting this year tossed Latham into the same district as Republican Rep. Steve King.