A CNN correspondent said she was barred from an open White House press event on Wednesday following questions she asked President Trump earlier in the day.
The correspondent, Kaitlan Collins, says the White House denied her access to Trump's Rose Garden statement on trade with the European Union Commission president because officials found her earlier questions "inappropriate."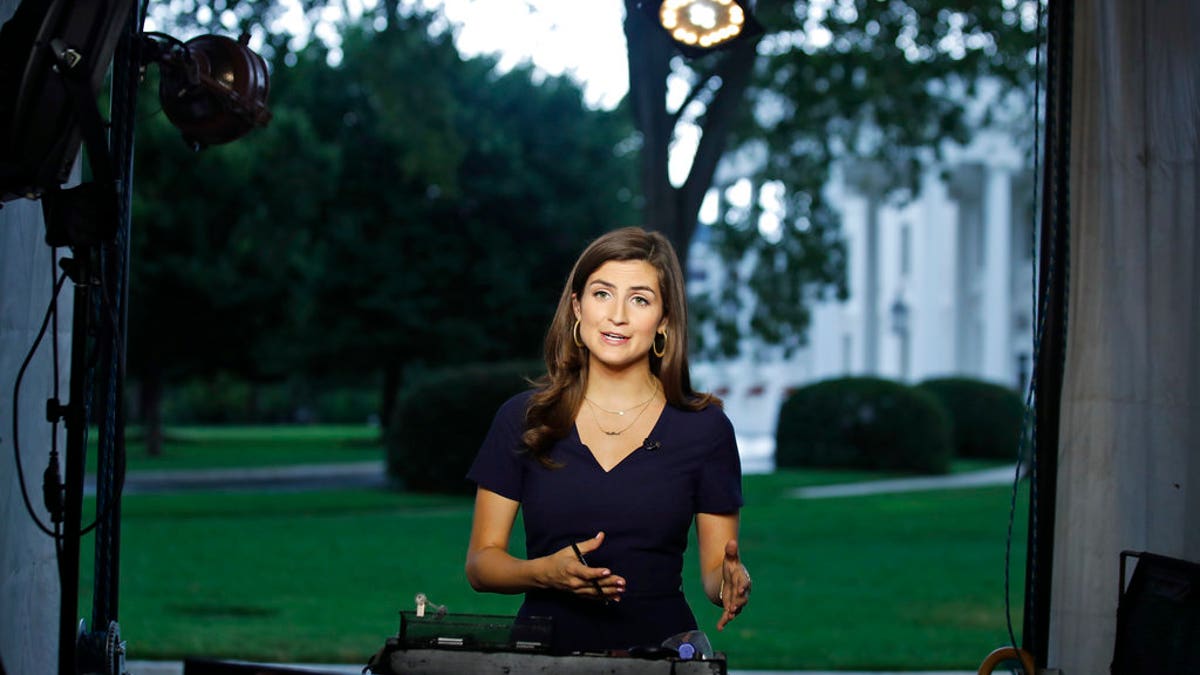 Collins' questions had focused on Trump's former lawyer, Michael Cohen, and the recent revelations of audio recordings of talk between the two men.
"Did Michael Cohen betray you, Mr. President," Collins could be heard asking Trump in a clip provided by CNN. "Mr. President, did Michael Cohen betray you? Mr. President, are you worried about what Michael Cohen is going to say to prosecutors?"
MEDIA 'OVERREACTION'? JEFF SESSIONS HAMMERED FOR 'LOCK HER UP' RESPONSE
Collins could also be heard asking about Russian President Vladimir Putin, who met with Trump in Helsinki, Finland, this month and was in the process of being invited to Washington for a followup meeting. "Why has Vladimir Putin not accepted your invitation?" she asked. "Why has Vladimir Putin not accepted your invitation, Mr. President? Are you worried about what is on the other tapes, Mr. President?"
The president did not address Collins' questions.
CNN backed their correspondent and dismissed the appropriateness issue.
"Today, CNN White House correspondent Kaitlan Collins was denied access to cover an open press event at The White House. After posing questions to President Trump earlier in the day as the network pool reporter, Collins was told by White House deputy chief of staff for communications Bill Shine and press secretary Sarah Sanders that her questions were 'inappropriate.' They were not. Just because the White House is uncomfortable with a question regarding the news of day doesn't mean the question isn't relevant and shouldn't be asked," the network said in a statement.
"This decision to bar a member of the press is retaliatory in nature and not indicative of an open and free press. We demand better."
Sanders did not deny that Collins was kept out of the event but claimed that other CNN journalists were welcome to attend in her place.
TRUMP DISMISSED 'FAKE NEWS CNN' REPORTER'S QUESTION
"At the conclusion of a press event in the Oval Office a reporter shouted questions and refused to leave despite repeatedly being asked to do so," Sanders said in a statement. "Subsequently, our staff informed her she was not welcome to participate in the next event, but made clear that any other journalist from her network could attend. She said it didn't matter to her because she hadn't planned to be there anyway. To be clear, we support a free press and ask that everyone be respectful of the presidency and guests at the White House."
Fox News President Jay Wallace said the network stood with CNN.
"We stand in strong solidarity with CNN for the right to full access for our journalists as part of a free and unfettered press," Wallace said.
"As a member of the White House press pool, Fox stands firmly with CNN on this issue of access," Fox News chief political anchor Bret Baier said on "Special Report" on Wednesday night.
The move to keep Collins away from the event was met with condemnation by the White House Correspondents Association (WHCA).
"We strongly condemn the White House's misguided and inappropriate decision today to bar one of our members from an open press event after she asked questions they did not like," WHCA President Olivier Knox said in a statement.
"This type of retaliation is wholly inappropriate, wrong-headed, and weak. It cannot stand. Reporters asking questions of powerful government officials, up to and including the president, helps hold those people accountable. In our republic, the WHCA supports the prerogative of all reporters to do their jobs without fear of reprisal from the government."
The Trump White House has frequently tangled with CNN and its reporters, with the president notably deeming the network "fake news."
Fox News' Bryan Boughton and The Associated Press contributed to this report.