Clinton Meets Syrian Activists as Pressure Mounts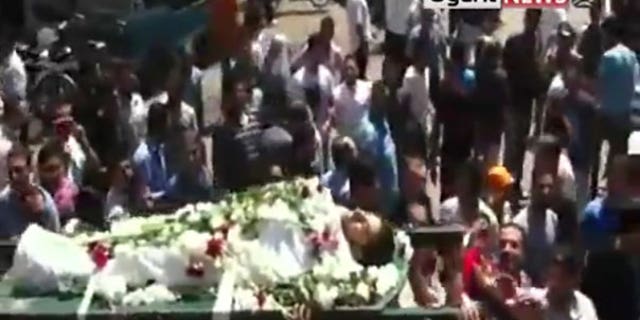 NEWYou can now listen to Fox News articles!
WASHINGTON – Secretary of State Hillary Rodham Clinton met Tuesday with U.S.-based Syrian democracy activists as the Obama administration weighed new sanctions on Syria, one of the few options at hand to protest a deadly crackdown on opposition demonstrators.
The meeting came amid mounting calls at the United Nations and in Congress for action against President Bashar Assad's regime, which has intensified the months-old crackdown despite growing international condemnation.
Clinton sat down at the State Department with Syrian-Americans who support the push for democracy inspired by uprisings elsewhere in the Arab Middle East this year. The closed-door meeting was meant to show solidarity with the opposition and express sympathy for those killed, which rights groups now say number nearly 100 since Sunday, the eve of the Muslim holy month of Ramadan. Syrian troops on Tuesday tightened their grip on the city of Hama, an opposition stronghold, sending residents fleeing for their lives.
In a statement released after the meeting, Clinton said she had expressed "profound sympathy for all Syrian victims of the Assad regime's abuse of its own citizens" and assured the activists that the administration was pursuing additional sanctions against the government.
"The United States is working to move forward with additional targeted sanctions under existing authorities," she said. "We are exploring broader sanctions that will isolate the Assad regime politically and deny it revenue with which to sustain its brutality."
Clinton assured them of U.S. support. "We have nothing invested in the continuation of a regime that must kill, imprison and torture its own citizens to maintain power," she said.
But there is little the U.S. is willing or able to do, beyond such demonstrations of support to the opposition and financial restrictions and other arms-length punishment to the Assad inner circle.
The administration has no inclination to use military force in Syria, a position underscored on Tuesday in Baghdad by the chairman of the Joint Chiefs of Staff, Adm. Mike Mullen. "There's no indication whatsoever that the Americans, that we would get involved directly with respect to this," he said.
"I think politically and diplomatically we want to bring as much pressure as we possibly can to affect the change that so many countries are calling for," Mullen said.
President Barack Obama on Monday called the violence "outrageous" and Clinton called on the Assad regime to "stop the slaughter" of its own citizens. Clinton also urged the U.N. Security Council to act and implored council members who have opposed action to reconsider their positions.
Clinton said the need for a strong U.N. response was clear given the growing evidence that the Assad regime is prepared to use disproportionate and extraordinary violence against civilians. "Our view remains that strong action by the Security Council on the targeting of innocent civilians in Syria is long overdue," she said, urging opponents to reconsider their stances.
Meanwhile, Italy recalled its ambassador to Syria on Tuesday to protest the suppression of anti-government protests and urged other European nations to do the same. Italy is the first European Union country to pull its ambassador, although the EU has been tightening sanctions, imposing asset freezes and travel bans against five additional military and government officials on Monday.
The Obama administration is unlikely to quickly follow Italy's example.
U.S. Ambassador to Syria Robert Ford is currently in Washington for consultations and is expected to return to Damascus next week although the State Department said Monday that that could be delayed depending on developments. Ford met with Obama at the White House on Monday to brief the president on the situation and testified before Congress.
Ford told the Senate Foreign Relations Committee on Tuesday that the actions of the Assad regime were "atrocious" and said he did not believe the government would willingly change its ways. But he also maintained it was important for him to be in Damascus as a sign of the administration's commitment to the Syrian people.
On Capitol Hill, increasingly incensed lawmakers are demanding that the administration impose additional sanctions on Assad and his inner circle. The administration has already hit Assad and a handful of senior Syrian officials with penalties and has said it is looking at more, including targeting the country's oil and gas industries.
On Tuesday, a bipartisan group of three senators said they would introduce legislation to ramp up pressure on the regime by penalizing foreign companies that do business in Syria's energy sector, which is responsible for about a third of Syrian export revenues.
"The United States should impose crippling sanctions in response to the murder of civilians by troops under the orders of Syrian President Assad," said Sen. Mark Kirk, an Illinois Republican, who is co-sponsoring the bill with Sen. Kirsten Gillibrand, a New York Democrat, and Sen. Joe Lieberman, an independent from Connecticut.
Lieberman had joined with two Republican senators, John McCain of Arizona, and Lindsey Graham of South Carolina on Monday to call on the administration and others "to demand Assad leave power and to mobilize the full diplomatic and economic weight of the community of nations to support the Syrian people in establishing the real transition to democracy that they seek in their country."