Clinton Invokes Climate Change Debate to Explain Pakistan Floods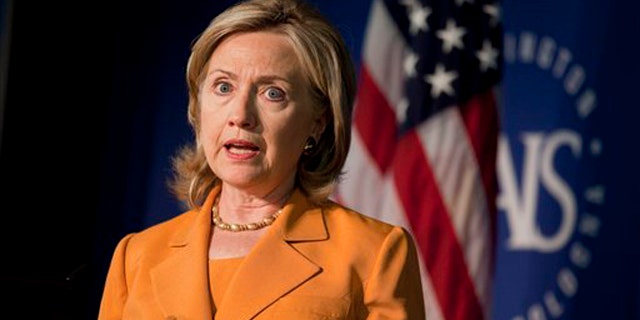 NEWYou can now listen to Fox News articles!
Secretary of State Hillary Clinton and other officials are pointing to the devastating floods in Pakistan and other extreme weather events as signs that climate change is getting worse.
Clinton, in an interview with Pakistan's Dawn TV, said "there is a linkage" between the recent spate of deadly natural disasters and climate change.
"You can't point to any particular disaster and say, 'it was caused by,' but we are changing the climate of the world," she said.
Clinton said that on top of the Pakistan floods, which have forced millions out of their homes, the forest fires in Russia stand as another example. She said there's no "direct link" between the disasters in Pakistan and Russia but that "when you have the changes in climate that affect weather that we're now seeing, I think the predictions of more natural disasters are unfortunately being played out."
Climate change skeptics say the planet is going through natural phases -- the kind it's gone through for eons. Pakistan, in particular, is prone to flooding and is routinely drenched by the monsoon rains. Some officials have partially blamed deforestation and inferior levee systems for the historic flooding which has affected one-fifth of the country's landmass and triggered nearly a half-billion dollars in international aid commitments.
Scientists who study climate change tend to offer more nuance in their explanations of the possible link to a rise in greenhouse gas emissions. They generally say that no one natural disaster can be chalked up to man-caused climate change, but that it can contribute to those disasters happening more frequently and more intensely.
Both the U.N. International Panel on Climate Change and the World Meteorological Organization reiterated that point in light of the Pakistan floods. WMO climate data chief Omar Baddour was quoted saying it's "too early to point to a human fingerprint" behind the recent disasters but climate change may be "exacerbating the intensity" of them.
But some government officials have shown little equivocation in directly linking the Pakistan disaster with climate change.
Shah Mehmood Qureshi, Pakistan's foreign minister, said Thursday that his country's flooding "reconfirms our extreme vulnerability to the adverse impacts of climate change."
Click here to read more at AolNews.com.
The flooding and Russian forest fires, which were sparked following a severe drought, coincide with record heat elsewhere in addition to downpours and landslides in China.
The renewed concerns over climate change come after international talks on a new treaty to reduce greenhouse gas emissions fell short at a summit last December in Copenhagen. Talks over climate change legislation have also stalled in the U.S. Congress.