Clapper Vows Cooperation as Next Intel Chief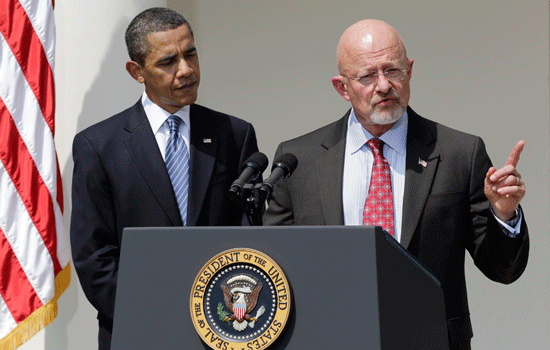 Pledging to increase trust with the U.S. Congress, retired Air Force Lt. Gen. James R. Clapper said Tuesday he would be candid with lawmakers if confirmed as the next director of national intelligence.
Leading senators voiced concerns that the next overseer of the 16 U.S. spy agencies faces major challenges caused by the growth of the intelligence community and must be a strong leader who can work well with Congress.
During his confirmation hearing Tuesday before the Senate Intelligence Committee, Clapper also said that his 46 years' experience working in the intelligence field makes him uniquely qualified for the job. He said he would be able to exercise authority over all of the intelligence agencies using the powers the DNI already has, rather than "going through the trauma," of another reorganization.
He said he "would not agree to take the position if I was going to be a titular figure or hood ornament."
Congress created the DNI post in 2004 because of a perceived lack of coordination that preceded the terrorist attacks of Sept. 11, 2001. But critics from the White House to the intelligence community say the intelligence chief's role is ill-defined because lawmakers did not want to give the director the authority to override decisions made by the agencies under his or her purview. They contend that has reduced the DNI's role to what some call "the cajoler in chief."
Clapper sought to defuse criticism from some lawmakers about his many years spent in the military. He noted that he had been out of uniform for almost 15 years, and that he was once removed from his former position as director of the National Geospatial Agency by former Secretary of Defense Donald Rumsfeld because "I was regarded as too independent."
President Barack Obama nominated Clapper more than six weeks ago after pressing retired Adm. Dennis Blair to step down. During Blair's tumultuous 16-month tenure, he clashed with CIA director Leon Panetta over questions of overlapping authority. Blair was also seen as out of step with the inner national security sanctum led by White House counterterrorism chief John Brennan, who had to preside over the Blair-Panetta wrangles.
Clapper was asked whether he thought he had the power to overrule the CIA director in matters of intelligence. "I do," he answered, adding he had been reassured by Obama of that authority in a phone conversation before the hearing.
Clapper has faced the nomination process three times before -- first as director of the Defense Intelligence Agency, then to lead the National Geospatial-Intelligence Agency, and, most recently, as undersecretary of defense for intelligence.
Clapper has been praised by both Brennan and Panetta as someone they respect and work with regularly in his current role as the Pentagon's top intelligence official. Described as detail-oriented, Clapper is seen as less likely to pick turf battles with agency heads.
But Clapper's critics include the chairwoman of the Intelligence Committee, Sen. Dianne Feinstein, a Democrat who has complained that his military background is inappropriate for leadership of a mostly civilian intelligence network. Feinstein and some of her Republican colleagues had taken issue with a memo drafted by his Pentagon staff that expresses concern that some authority that would be given to the DNI in the 2010 intelligence authorization bill could encroach on the Defense Department's authority.