China invites Ivanka Trump, Jared Kushner to visit Beijing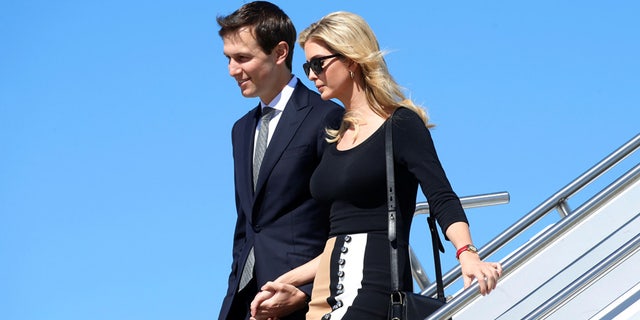 NEWYou can now listen to Fox News articles!
The Chinese government invited Ivanka Trump and Jared Kushner to visit the country's capital later this year, a White House official confirmed to Fox News on Tuesday.
Details of the possible upcoming trip were not disclosed, but the couple's visit may help President Trump prepare for his own trip to Beijing, according to Bloomberg, who first reported the news.
Trump's daughter and son-in-law are both advisers to the president in the White House.
The news comes after the couple hosted a dinner on Sunday for Terry Brandstad, the newly sworn-in U.S. ambassador to China, Bloomberg reported. Brandstad, who was the governor of Iowa, is expected to arrive in Beijing next week.
The couple has been taking on a larger role in the U.S.'s foreign relations. Kushner is scheduled to travel to the Middle East this week to meet with Israeli and the Palestinian officials.
Chinese President Xi Jinping met President Trump at his Mar-a-Lago resort in Florida in April.
"This meeting will set the tone in looking at the strategic framework between the U.S. and China for the next few years," Robert Daly, the director of the Kissinger Institute on China and the United States at the Woodrow Wilson Center, told Fox News at the time. "China wants to know what President Trump's framework toward Beijing will be and if he is a man they can work with."
Kushner and Ivanka Trump joined the two presidents at the resort.
Days after the Jinping's visit, Ivanka Trump's brand was also granted provisional approval for four trademarks in China.
Serafin Gomez contributed to this report.