Carson takes major steps toward a 2016 White House bid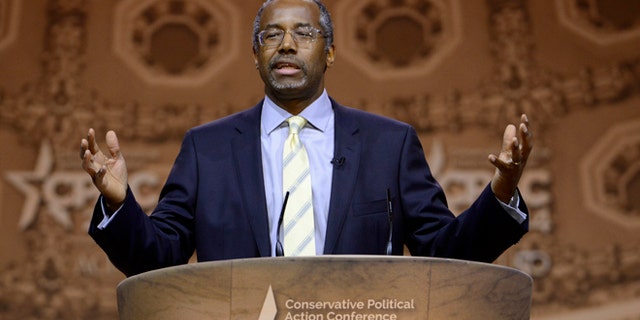 Dr. Ben Carson, a retired neurosurgeon and conservative sensation, is taking a couple of major steps toward a 2016 presidential bid, forming a political action committee and selecting a campaign chairman for a potential White House run.
The 62-year-old Carson made the announcement Friday after two days of meetings in Florida, as reported first by The Washington Times.
Carson has selected Texas businessman Terry Giles as the chairman and approved the formation of the PAC, named One Nation.
"No doubt he's one step closer to making a decision," John Philip Sousa IV, chairman of the National Draft Ben Carson for President Committee, told FoxNews.com on Saturday. "And we all think his decision will be to run."
Sousa said the super PAC, which is gathering signatures across the country to convince Carson to run, has already raised $8 million for the presidential campaign.
Carson suggested his decision will be largely influenced by whether Republicans take control of the Senate in November.
Carson has already shown the potential to make a solid presidential run, likely as a Republican candidate. He finishing third in this year's Conservative Political Action Conference poll and tied for third in the Northeast Republican Leadership Conference poll.
The Carson-for-president movement essentially started after his February 2013 National Prayer Breakfast keynote speech in which he gave a unflattering assessment of American today, taking issue with everything from the size of the federal debt to the country's education system to lawyers in politics -- with President Obama sitting just a few feet away.
Carson, an African-American and former director of pediatric neurosurgery at Johns Hopkins University, has since continued to make speeches, write op-ed pieces and serve as a publisher for The Times' new digital magazine for conservative blacks, American CurrentSee.
"Now is the time to start all of the appropriate exploration and investigation, and put down the structure that is necessary," Carson, whose new PAC will support like-minded candidates, told the newspaper. "Obviously we are very interested in what happens in November."