Campaign spies: when a candidate slips up, 'trackers' make sure the world is watching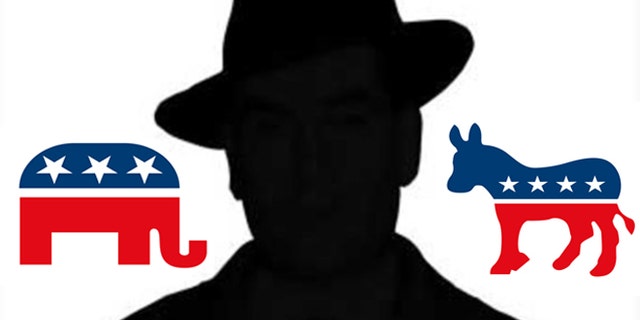 NEWYou can now listen to Fox News articles!
To most of those at the campaign fundraiser in Texas, it was a meeting among kindred spirits – an Iowa congressman speaking to a roomful of fellow lawyers about why he would do a better job in the U.S. Senate than the Republican incumbent, Sen. Chuck Grassley.
"If you help me win this race, you may have someone with your background, your experience, your voice," said Bruce Braley, a Democrat running for the seat of Iowa's other U.S. senator, retiring Democrat Tom Harkin "someone who's been literally fighting tort reform for 30 years in a visible and public way on the Senate Judiciary" Committee.
Then came the zinger – "Or you might have a farmer from Iowa who never went to law school, never practiced law, serving as the next chair of the Senate Judiciary," Braley said. "Because if Democrats lose the majority, Chuck Grassley will be the next chair of the Senate Judiciary."
We want to make sure we're there, so that someone can't go to a Chamber of Commerce event in the morning, and then talk to a group of farmers in the afternoon and say something different.
On that day, what happened in Texas might have stayed in Texas had it not been for a spy – known as a "tracker" in the political world – who captured Braley on video for America Rising PAC, the leading Republican-aligned opposition research group that lives solely to expose what Democrats running for (or already in) office would like to keep hidden.
"We were able to slip through the cracks," said Tim Miller, executive director for America Rising PAC and former Republican National Committee spokesperson. "Braley has gone through great lengths to avoid having trackers at [his] events. And he was the one who had the most damage caused by trackers."
Braley's disparaging comments about Grassley, who is popular in Iowa, came back to haunt the Democratic candidate, who later issued an apology for his comment.
"Senator Chuck Grassley is well-regarded in Iowa, and so are farmers in general," Miller said. "Agriculture is an important industry in Iowa."
Trackers long have been around in one form or another, but the practice became more organized and institutionalized only a few years ago, around 2008, those in the field say.
"It's more prevalent now," said Kelli Farr, a former tracker and vice president for American Bridge, the leading liberal group keeping tabs on Republican candidates through tracking, monitoring media and doing other research to sniff out any gaffes or contradictory comments.
"Tracking has definitely transformed and grown exponentially over the last couple of years."
Several years ago, tracking consisted of little more than a campaign sending out an intern with a camera to an opponent's event, hoping to capture an embarrassing moment that could be used later in an ad. That has changed.
"Our trackers aren't just cameramen capturing a gaffe on cellphone video," Farr said, "they're researchers in the field, they know what [candidates] said last year, they know their voting records, they look through financial records, they know when they change their stance and they put that with more traditional research."
American Bridge, which was started in 2012 with 20 trackers, now has 44 trackers in 41 states, and an annual budget of about $18 million. America Rising, which was created in 2013 by Matt Rhoades, who was Mitt Romney's 2012 campaign manager, has an annual budget of about $8 million and has 27 full-time trackers in 24 states, as well as many part-time trackers in other places.
In Iowa, Braley is trailing his opponent, state Sen. Joni Ernst, a Republican, in the latest polls.
And that is significant, because it would put Republicans closer to gaining six news seats in the Senate this November, which would give them the majority in that chamber. At present, Democrats have the majority in the Senate, and Republicans control the House.
"The tracker [for America Rising] is the reason the Iowa Senate race became so competitive," said Kirsten Kukowski, the press secretary for the Republican National Committee. "That was a real game changer in the Senate race. That's a true-life example of why tracking is so important."
Social media and 24-hour cable news added the dynamic of real-time slips and sound-bytes taking on a life their own, through a clip that is played over and over again on TV, or a comment or moment that goes viral.
"We're so much of a visual society now," Kukowski said, referring to the value of tracking in this new dimension of political campaigns. "There's Twitter, Facebook, different websites – getting sound and visuals is so important."
Farr and Miller say they like to see their work as helping to peel away the façade in election campaigns, and show voters a candidate's real views and character.
"Some people like to talk about gaffes," Farr said, "but a gaffe means someone had a slip-up."
What trackers often capture, Farr said, "is someone saying what they really think."
Miller put it this way: "It's the wolf and the sheepdog."
And getting that moment, that comment, is not hard to do with some political figures, such as U.S. Rep. Steve King, an Iowa Republican who is known for his lightning-rod comments about undocumented immigrants.
American Bridge recorded King in 2012 making his now-infamous comparison of immigrants to dogs at a town hall, telling constituents that the U.S. should pick only the best immigrants the way one chooses the "pick of the litter."
King told the crowd that when picking a bird dog, he learned this: "You want a good bird dog? You want one that's going to be aggressive? Pick the one that's the friskiest … not the one that's over there sleeping in the corner."
And that's how it should be with deciding what immigrants to admit into the United States, said King, who was seeking re-election at the time.
"You get the pick of the litter and you got yourself a pretty good bird dog. Well, we've got the pick of every donor civilization on the planet," King said. "We've got the vigor from the planet to come to America."
The recording of King making the comment went viral. King told Fox News Latino in an interview shortly after that his remarks were meant to be a compliment to immigrants.
"If someone is insulted by that, I don't know that they belong in this country," King said. "It gets repeated that I made disparaging comments about immigrants, that's how devious people on the other side are…it's such a rotten thing to do."
But Farr said American Bridge simply was capturing the true King.
"Our main objective is to capture every statement," she said, "when someone is trying to make people support them. We want to make sure we're there, so that someone can't go to a Chamber of Commerce event in the morning, and then talk to a group of farmers in the afternoon and say something different."
On occasion, trackers have been accused of using unsavory or even unethical tactics to get that one moment that could go viral and torpedo an opposition candidate's campaign.
In August, for instance, California congressional candidate Amanda Renteria, a Democrat, accused her opponent, incumbent David Valadao, a Republican, of having someone working for his campaign follow her into church.
The tracker, she said, followed her into Our Lady of Guadalupe Catholic Church in Mendota, California, asked her questions while she walked down the aisle, and even videotaped her as she knelt to pray.
"This is a step too far," Renteria, who uses trackers, said in an interview with the Fresno Bee. "If anyone does this, it is inappropriate. There is no way you should be invading a person's privacy in church when you are praying."
Valadao denied having any link to the tracker, who, it turns out, was working for America Rising, which later said that the person had gone too far.
"The tracker was used on a per event basis," America Rising spokesman, Jeff Bechdel said in an email quoted by the Fresno Bee. "His behavior was clearly too aggressive and violated our rules of conduct. He will no longer be tracking events for America Rising."
Those in the tracking business say that many political candidates have grown accustomed to having trackers around, and a few even exchange pleasantries with them.
"The most cordial about the fact that they're being tracked are usually the ones who are the most successful," Miller said, the ones who don't have things to hide.
"Others go to great lengths to prevent themselves from being taped," he said. "They have security to kick out trackers."
"The media gives attention to political gaffes, candidates saying something that's really dumb or really controversial, that's the kind of thing that drives the discussion – the 'gotcha' moments," Miller said. "We certainly will publicize them, but what we see as the greatest value is keeping the candidates honest."