California Takes Immigration Into Its Own Hands With Slew Of Bills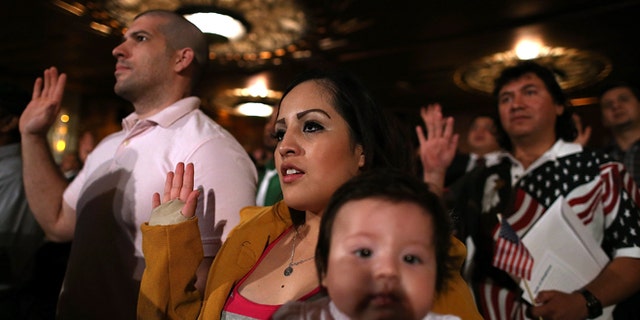 As Congress fails to bring immigration reform to a vote, the California legislature is taking matters into its own hands and moving it forward.
Maria Guillen, who's undocumented and has worked and lived in San Diego for the past 20 years, said she's lost all hope that Congress will pass comprehensive immigration reform.
"I thought it would happen," said Guillen.
"What you see now is that frustration boiling up into legislation," said California Assemblywoman Lorena Gonzalez, author of two of the several bills which could soon extend many of the same rights held by U.S. citizens to an estimated 2.5 million immigrants living in California illegally.
These include being a member of a jury, practicing law and getting a driver's license.
Other measures would bar police from turning over immigrants with minor offenses for deportation, make it illegal for employers to retaliate against workers by threatening to alert immigration authorities and go after attorney's defrauding non-citizens.
Gov. Jerry Brown on Thursday signed a bill that will temporarily require overtime pay for domestic workers in California, after he vetoed a broader measure last year that critics said would have opened the door for government regulation of part-time babysitting.
Under the new law, which takes effect in January, domestic workers must be paid time-and-a-half if they work more than nine hours a day or more than 45 hours a week. Baby sitters are exempt.
The overtime requirement will end in January 2017 unless renewed.
"Domestic workers are primarily women of color, many of them immigrants, and their work has not been respected in the past," the bill's author, Democratic Assemblyman Tom Ammiano of San Francisco, said in a statement. "Now, they will be entitled to overtime, like just about every other California working person."
Lorena Gonzalez praised the state for taking an initiative in addressing immigration.
"I think the state is acting responsibly in a way that allows immigrants, who are otherwise completely law abiding, to be able to fulfill their personal responsibilities, " said Gonzalez.
Critics of the bill said state legislators have gone too far on an issue. They believe it's a federal matter and states should stay out of.
"It's the super majority of the democrats that put on these ridiculous notions that we're going to pick and choose the laws that we're going to follow," said Republican activist Delores Chávez.
One concern is these measures may give immigrants a false sense of security, leading them to believe they can in some way or another avoid being deported.
Some also fear many of these measures could be challenged in federal court.
Seven immigration bills are on the governor's desk and he has until mid-October to take action.
The Associated Press contributed to this report.
For more San Diego-area news, check out http://fox5sandiego.com/
Follow us on twitter.com/foxnewslatino
Like us at facebook.com/foxnewslatino